How To Recreate Megan Fox's Glossy Y2K Lip Look From Jennifer's Body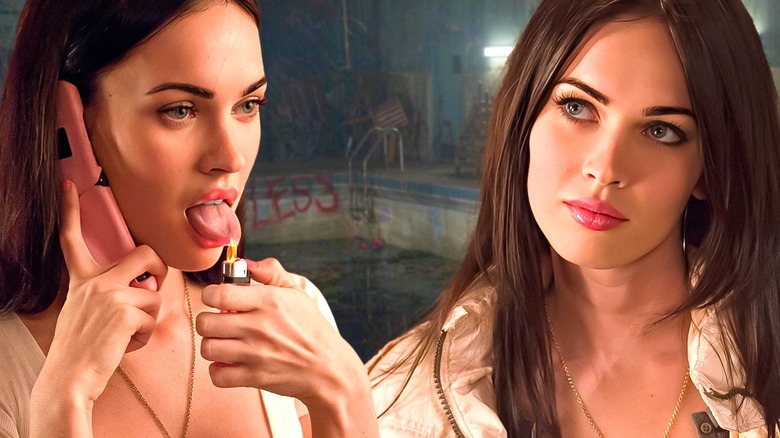 Static Media
Megan Fox and Y2K fashion are having a moment. After all, the former is evident from Fox's viral naked dress trend moment, and the latter is once again trending. So, what happens when you put these two together? A viral lip look that everyone wants to recreate. And we are here to help you do exactly that with just two lip products: a lip liner and a lip gloss.
The lip look in question is from the cult classic film of 2009, "Jennifer's Body," where Fox plays a high school hottie whose body is occupied by a demon. Turned into a man-eating succubus, she goes on a killing spree through her high school, targeting only the boys, of course. When the film first came out, it didn't have many takers. However, over the last couple of years, it has reached cult status thanks to its pro-feminist message, cute fashion moments, and perhaps, most importantly, the juicy, plump wet red lip look she sports throughout the film as a hungry for revenge but super sexy demon. 
Fortunately, TikTok stars have figured out how to recreate the exact glossy Y2K lip look from the film, and we are here for it.
The steps to recreate the lip look
In the movie, Megan Fox's character, Jennifer Check, achieves a glossy, supernatural pout by pairing two products together. Unfortunately, according to TikTok user Natalie both of these have since been discontinued, as per her initial TikTok clip. However, knowing what they are, allows us to find similar products to help us recreate her glossy lip look.
The original products used on Fox while filming were both from MAC Cosmetics, including the Cremestick Lip Liner in the shade Buerre, which outlined her lips, and Lipgelée lip gloss in the shade Cello Pink.
Luckily, there's no need to be disheartened that these products aren't available anymore. After all, according to Natalie's TikTok demo, there's a combo dupe that results in a similar lip look. In her clip, she recommends buying Essence's Extreme Shine Lip Gloss in the shade Pretty In Pink. As for liner, she suggests going for the Maybelline Color Sensational Lip Liner in Plum Passion. Coming in at a total of less than $15 for both products, it's not a bad deal for recreating a movie memorabilia moment that has gone down in history.
Once you have the two products, you simply start by lightly outlining the lines of your lips with the liner. If you seem to have gone too dark with the lip liner, try diminishing the bold color lines with a lip brush, similar to how Natalie did. Then, while trying to stay within the lines, go ahead and top off your lips with the gloss.
Other ways to recreate the lip look
We know how resourceful social media can be, especially when a trend has caught everyone's attention. So, it's no surprise that other beauty mavens on TikTok and Instagram have been playing around with a cocktail of products to achieve Megan Fox's juicy lip look from "Jennifer's Body."
In fact, beauty influencer turned therapist Mirella Bernal rocks a very similar pout in her post using a completely different set of products. In her Instagram caption, she writes, "Inspired AF by Megan Fox's glossy lips in Jennifer's Body!" On her lips, she sports a lip liner from Laura Mercier in the shade Plumberry, Sexy Lips lipstick from Charlotte Tilbury, and a lip injection gloss from Too Faced in the shade Tangerine Dream.
The results, as you can see above, are dewy, fresh, and plump lips that scream summertime sultriness. You could take our advice and use these steps to recreate Megan Fox's lip look. But, if you are on a tight budget, don't be afraid to play around with a bunch of different lip liners and lip glosses in hues of reds and oranges till you hit the sweet spot of that muted red glossiness yourself.