Athleisure Is Getting An Upgrade This Fall - Here's How To Wear It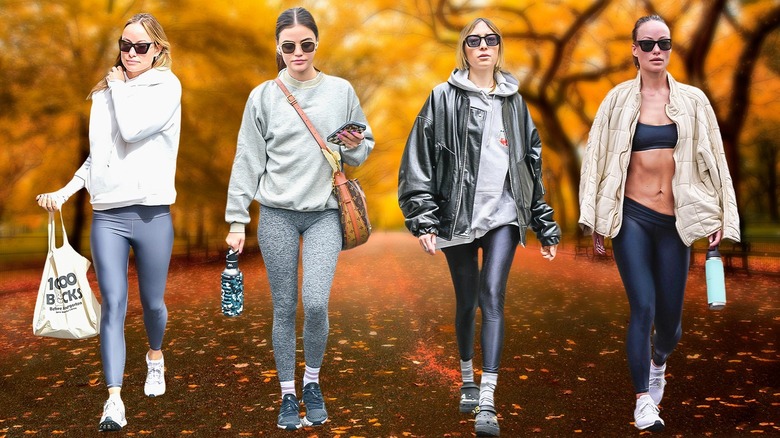 Static Media/Shutterstock/Getty
Fall is poised to usher in a number of comfortable and flexible pieces. This year has shown that clothing can be both chic and relaxed. Gone are the days of wearing painful garments just for the sake of fashion. Athleisure is stepping in to fill the void. While sweaters and coats will still be wardrobe staples, athleisure wear also seeks to claim a place in our closets.
Some critics have dismissed athleisure as sloppy and unfashionable. One Twitter user, for example, simply stated, "I hate athleisure so much [please] put on real clothes." Despite the naysayers, brands like Prada and Miu and Miu are taking notice of the move towards practicality and elevating athleisure pieces for the autumn season. This has led to showcases featuring easy-to-throw-on items that are both comfortable and high-end. While you don't need to shop designer to get the look, these labels have demonstrated how to put together athleisure in a stylish way that upgrades the overall experience.
Elevated hoodies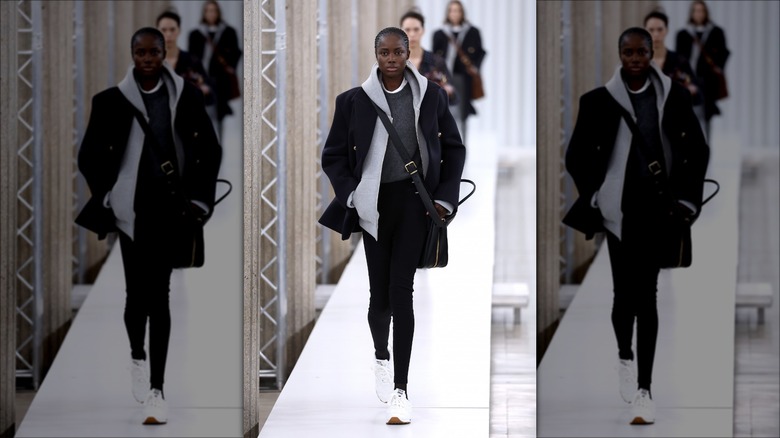 Estrop/Getty Images
Believe it or not, this season's hoodies are anything but untidy, thanks to Miu Miu Fall Winter 2023. Hoodies are now another layering piece that keeps us warm during the fall without ruining our vibe. For a designer-styling touch, pair your hoodie under a blazer or chic trenchcoat. There's no need to reach for a designer hoodie when you can opt for neutral-colored items for a cohesive look. This way, you can mix and match all the pieces in other outfits.
Luxurious joggers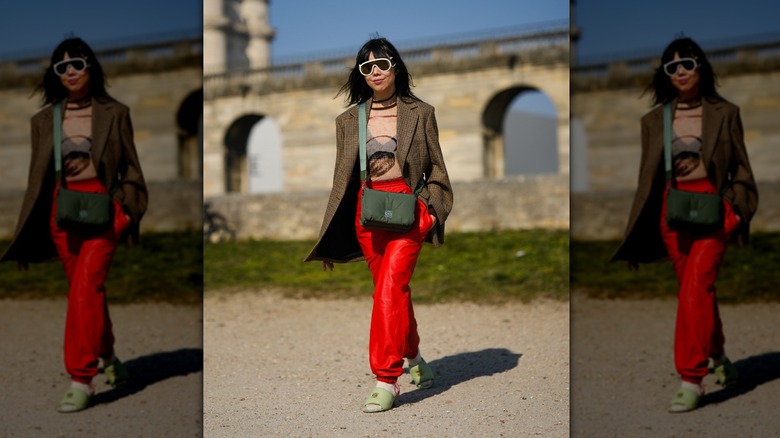 Edward Berthelot/Getty Images
You don't need to exercise to wear joggers, but there are a few rules to follow if you want to make them chic bottoms. Avoid cotton joggers and instead, opt for more specialized fabrics such as satin or nylon. While nylon joggers are traditional in activewear, their shiny texture adds a fun detail to any look. Satin elevates any garment and adds a touch of sophistication.
Active jackets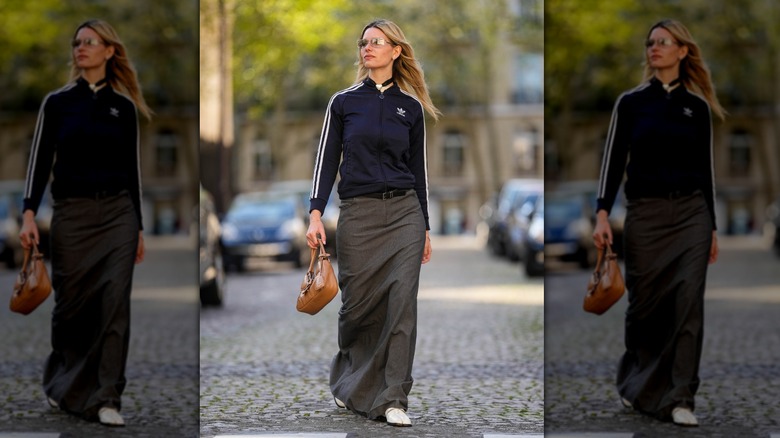 Edward Berthelot/Getty Images
Track jackets are a must-have this fall if you want to channel your inner Sporty Spice. In addition to keeping you warm, the sporty feel of a track jacket can complete any look. If you want a cohesive street-style outfit, look no further than a sporty jacket. These zip-ups are simple yet made with quality materials to keep athletes warm or cool during exercise. They also double as chic outerwear to replace stuffy leather jackets. Opt for timeless neutral colors that match all styles.
Stylish leggings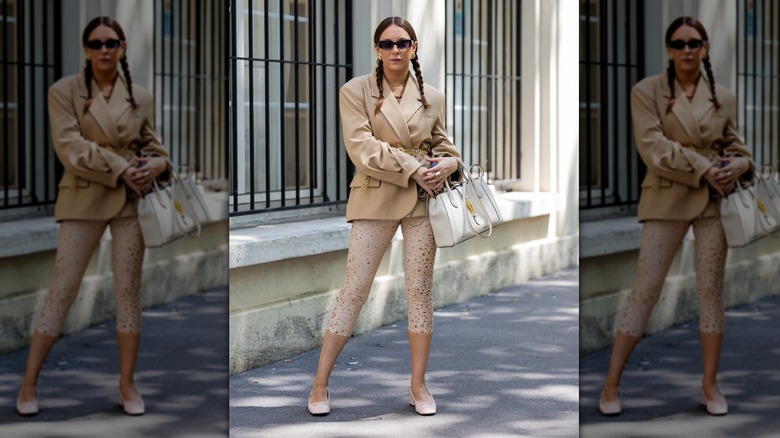 Christian Vierig/Getty Images
Ever since Blair Waldorf declared that leggings weren't pants in "Gossip Girl," there has been a debate about wearing these athleisure pieces outside of the gym. Despite Blair's fashion expertise, there's never been a better time to incorporate leggings into your everyday wardrobe. To elevate your leggings, pair them with dressier items like a monochrome blazer or a more formal top for a stylish contrast. Complete your look with sleek sneakers in a similar hue or a flat shoe that maintains a casual style.
Sporty sneakers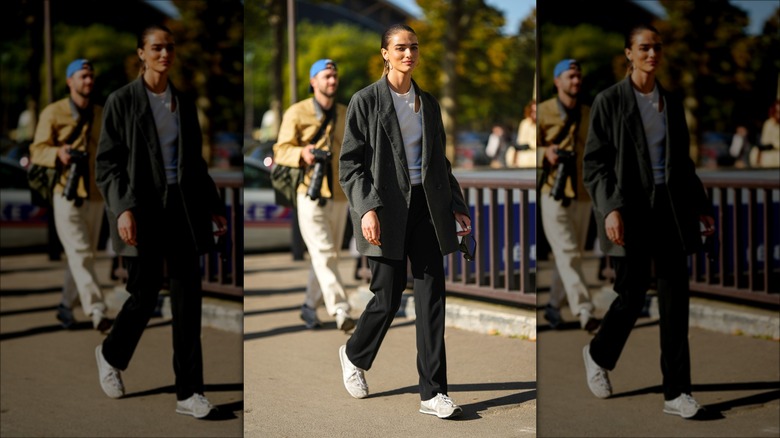 Edward Berthelot/Getty Images
It has been a few years since chunky dad sneakers made a comeback in the fashion world, and there seems to be no end in sight for this shoe trend. Although often referred to as running shoes, this type of footwear will become even more popular this fall. Ditch uncomfortable heeled boots for a sturdy pair of modern sports sneakers to achieve a more comfortable look. Not only will they look fabulous when paired with dressed-up pants, but they will also help you walk comfortably during the fall season.
Biker shorts galore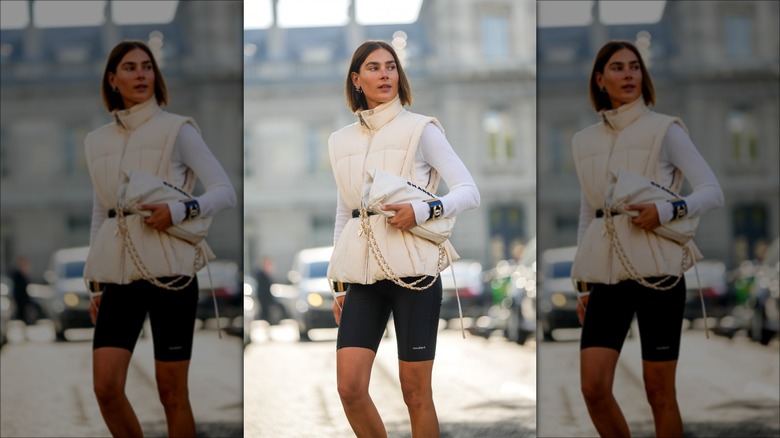 Edward Berthelot/Getty Images
Biker shorts are a divisive item, with some favoring their comfortable length and others opposing their relaxed nature. While their design remains unchanged, how we style them is becoming more fashionable. Similar to athleisure leggings, biker shorts can be styled with an oversized blazer or blouse for a modern look. To create a peplum effect, cinch the waist with a belt. For footwear, pair your biker shorts with crisp sneakers or elegant heels.