Laid Brand Pheromone Infused Hair Care: What Happened To The Brand After Shark Tank?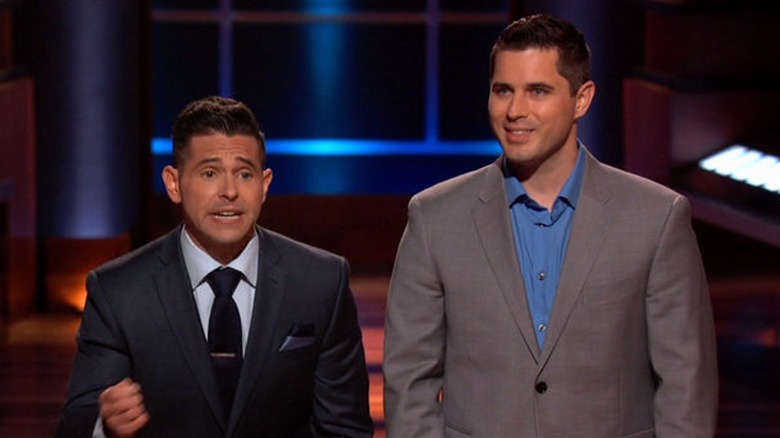 ABC
Not every episode of ABC's entrepreneurial hit "Shark Tank" plays out like a fairy tale. Some founders — like those of Laid Brand — walk away with their tails between their legs. In 2017 when Adam Rauch and Derek Shaw approached the Sharks on Season 8, Episode 24, they appeared confident that their pheromone-infused haircare products for women were destined to become a worldwide phenomenon. Unfortunately for the two hopefuls, their concept wasn't quite as unique as they thought it was.
Rauch and Shaw, however, weren't going to let the Sharks' doubt around their products' novelty or effectiveness stop them from success, insisting that they knew their product market and customer base. Are women indeed now clamoring to get their hands on Laid Brand hair products that contain pheromones for attracting a mate, or has this product remained squarely in the "Shark Tank" Hall of Flops? Join us for a deep dive into what happened on the show and how the company has fared in the years since. 
Laid Brand's Shark Tank pitch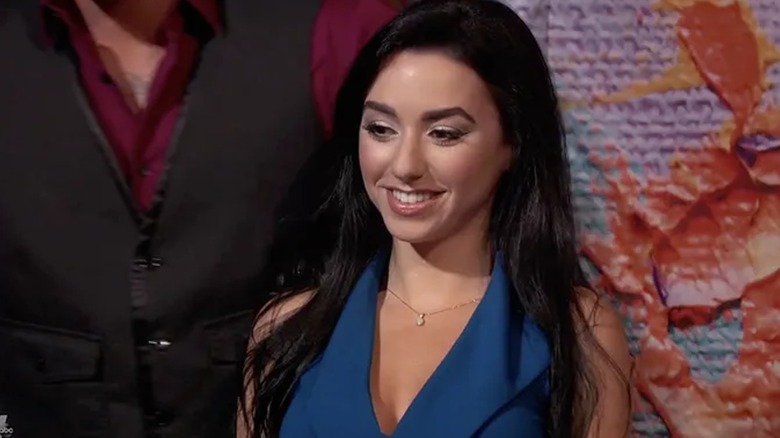 ABC
Adam Rauch and Derek Shaw began their pitch to the Sharks by laying out what they were seeking: a $30,000 investment in return for 30% equity in their company. After explaining the social advantages of using pheromones to garner extra attention from men, the pair presented the Sharks with their model "Laid Brand girl" — an attractive brunette in a bodycon dress named Jacqueline. After having a pheromone-infused product applied to her hair, Jacqueline handed out sample bottles to the Sharks.
Meanwhile, Rauch and Shaw attempted to educate the Sharks on the basics of pheromones. When questioned about whether the average woman would wish to be associated with a brand known as Laid Brand, Shaw assured the board that women are flocking to Sephora for "provocative" beauty brands like Urban Decay and Nars. Kevin "Mr. Wonderful" O'Leary responded by pointing out that retail space in stores like Sephora is "the most valuable space on earth" and assured Shaw that their brand would never be given shelf space. Mark Cuban and Robert Herjavec mirrored each other's statements that "using pheromones is not unique" and one by one, each Shark dropped out of the running. Somehow, the pair still walked out the doors insisting on the uniqueness of their product. 
Laid Brand after Shark Tank
After they failed to land a deal on "Shark Tank," the founders of Laid Brand continued to try to get their brand established. The signature product line — consisting of a volumizing spray called Fill Me Up, a hair oil called Rockin', and a detangler named Straight 2 Kinky — was offered both online and in Adam Rauch's salon. The brand was very active on social media until late 2018 when posts abruptly stopped. Unfortunately, it would seem that Laid Brand is not a company that garnered success without a Shark Tank deal.
It does not appear that the brand ever made it into Sephora or a similar large-scale retail space, and there is virtually no mention of the company or its products on Instagram or Twitter post-2018. The brand's website — laidbrand.com — is down, and the domain is up for sale. What's more, Shark Tank Blog attests to 2018 as being Laid Brand's last year of business. All signs suggest that the Sharks were correct in their assessment that pheromone hair products for women were a case of a company barking up the wrong tree with a product that wasn't unique enough to stand the test of time. 
Is Laid Brand still in business?
Based on the fact that the company's website is defunct, its social media accounts have been silent for over five years, and none of its products appear to be available for sale anywhere online, it seems safe to assume that the business has been dissolved. Founder Derek Shaw lists his current position as the founding partner of a business consulting firm on LinkedIn, along with mentioning his appearance on "Shark Tank" as a general credential, further cementing the end of the Laid Brand partnership. 
While there appears to be no official announcement of the business's end currently available online, there also seems to be no reason to doubt that the company has shut its virtual doors. While failing to land a deal with the Sharks is not always a death sentence for a business, it appears that it may have been just that for this pheromone-infused haircare company. 
Outlook for Laid Brand's founders
@robertherjavec remember me?! My wife created a genius idea in hand protection for our daughter. Would you be so kind to at least look at a deck or video? Would mean the world to us! Thank you for the time and energy on this. Hope you and fam are well! pic.twitter.com/u3tbhIt92X

— Adam Rauch (@AdamRauch16) May 27, 2020
Since Laid Brand stopped conducting business in 2018, it does not appear that Adam Rauch and Derek Shaw have gone on to work as partners on any other business venture. Shaw appears to operate a consulting firm known as Green Lyzard that advises other companies hoping to successfully launch new products and services. Hopefully, he learned enough from his experience on "Shark Tank" to be well-versed in what not to do.
Co-founder Adam Rauch has all but disappeared from the internet since Laid Brand appeared on "Shark Tank" and the business crumbled. Rauch appears to have briefly used Twitter in 2020, although his account consists of only two tweets, both of which pertain to "Shark Tank." In one of those tweets, he pleads with Shark Robert Herjavec to consider investing in his wife's new "hand protection" invention created for their daughter. It appears that Herjavec has not since publicly responded.