Stay Clean And Cool During The Summer Heat With This Brilliant TikTok Hack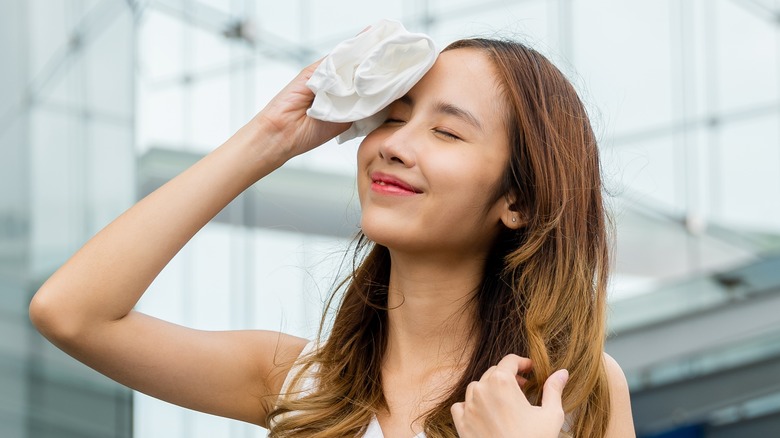 Sorapop Udomsri/Shutterstock
There are countless things to love about summer, but stifling, sticky weather isn't one of them. Feeling clean in the middle of a heat wave isn't exactly easy, whether you're prone to makeup sliding off of your face or simply hate the feeling of sunscreen mixed with sweat. True, powder-based products offer some protection against sweltering heat, but they can only do so much. And showering multiple times a day sounds good in theory, but it isn't always a realistic option when you're on the go.
But what can you do to keep your skin feeling fresh and avoid summer breakouts? You can find the answer to your query on none other than TikTok. According to a recent viral hack making the rounds, there's a brilliant new way to perk up your complexion and chill out instantly — no personal air conditioning system required. Plus, we've even included some additional tips to help you freshen up fast. So leave the sweating to the sauna room, and let's break down TikTok's latest trick for keeping cool all summer.
TikTok's refreshing trick for beating hot weather
As we've learned over the years, TikTok is a wellspring of life hacks, and this tip is perfect for those needing a pick-me-up after a long day outdoors. TikToker @ahimsa.mov has shown us there's a super-easy solution to summertime stickiness — and it starts in the kitchen. In the short video, Ahimsa walks along a sun-soaked street before returning home to grab some chilled Cetaphil Gentle Skin Cleansing Cloths from the freezer. After cracking open the package and sweeping a cold cloth across her face, Ahimsa breathes a sigh of relief. "Hot weather hack if you hate feeling dirty and sticky," she wrote, adding that she always keeps them on hand.
Since proposing the clever idea, nearly two million users have liked Ahimsa's clip. "You just changed my entire life," one user commented. "That looks so crisp," added another. Of course, Cetaphil's official TikTok account was quick to praise Ahimsa's method, too. "This is the best thing I've seen on the internet," the skincare brand commented. Still, others weren't as taken with the idea, citing concerns over single-use beauty products like the cleansing wipes shown. Fortunately, you can try an eco-friendly alternative to Ahimsa's TikTok hack if you prefer not to use disposable wipes in your routine.
Other ways to try this summertime skincare hack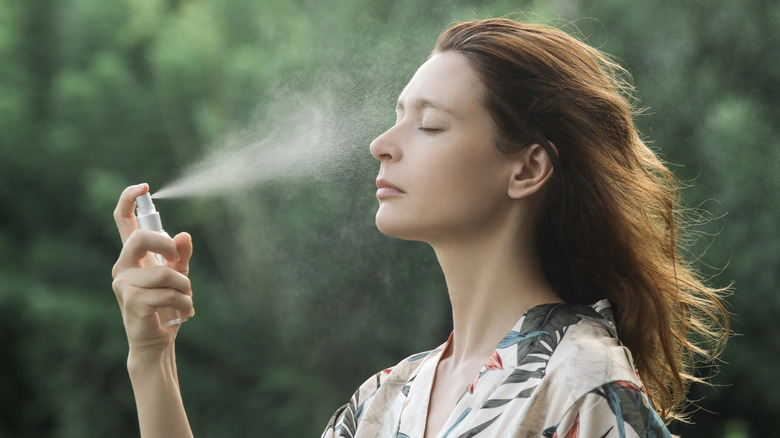 triocean/Shutterstock
Beyond splashing cold water on your face the moment you come home, there are other ways to emulate this invigorating TikTok hack. Whether you're looking to save a bit of cash or avoid single-use cleansing wipes, there's sure to be a solution to fit your needs. However, use caution if you're considering using a plain ice cube to cool your skin down. "Wrap it in a piece of soft gauze. And don't aim to ice your skin for too long if you struggle with sensitivity," dermatologist Dr. Sophie Shotter tells Real Simple. "It should feel a little tingly but not painful to avoid burning."
For the closest interpretation to Ahimsa's idea, try freezing wet washcloths and storing them in a reusable silicone bag or wrapping them tightly in recycled parchment paper. Those with very sensitive skin may want to stick with using plain water before freezing, but others can experiment with add-ins like aloe vera juice, rosewater, or — the essential oil Meghan Markle never leaves home without — a drop of tea tree oil.
Another way to stay chill and give your skin the hydration it craves? Try refrigerating skincare products like toners, facial mists, or serums. Paired with a soft, textured cotton pad, they can provide a similar cleansing sensation to the frozen washcloth hack. Best of all, travel-sized products can quickly go from your skincare fridge to your makeup bag for a quick skin refresher throughout the day.