The Setting Spray That Ensures Beyoncé's Makeup Doesn't Budge On The Renaissance Tour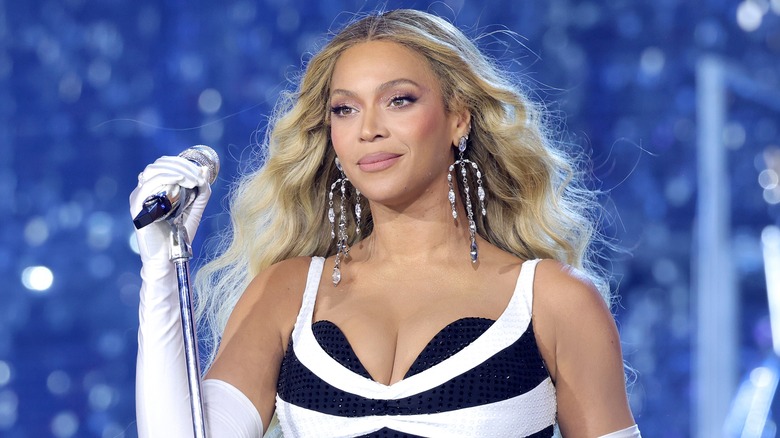 Kevin Mazur/Getty Images
In case you haven't noticed, Beyoncé is currently embarking on her Renaissance World Tour. And just about everyone has been feeling the effects of stormy summer weather lately, Queen Bey included. The legendary singer was faced with nonstop rain during an outdoor performance in Washington, D.C., on August 6, but you'd never be able to tell from pictures of the event. 
Despite the constant drizzle, it was clear that Beyoncé wasn't letting anything rain on her parade — or her makeup. So what's the secret behind her impressively set look? The answer lies within the setting spray. It may seem like magic, but it turns out you can get your hands on the same setting spray used on Beyoncé herself.
According to an Instagram post from One/Size by Patrick Starrr, the product in question is none other than the makeup brand's On 'Til Dawn Waterproof Setting Spray. Before tagging Beyoncé's makeup artist, the company wrote, "Queen Bey herself made it through the rain with the help of our On 'Til Dawn Waterproof Setting Spray during her Washington DC show!" Through rain or shine, this setting spray has Queen Bey's back (and perfectly-polished face) and has since gone viral.
On 'Til Dawn Waterproof Setting Spray really is waterproof
Obviously, there's no one more familiar with Beyoncé's beauty regimen than her beauty team. Rokael Lizama, founder and creator of Rokael Beauty, is Beyoncé's makeup artist for the Renaissance Tour. After the rainy show, Lizama revealed in an Instagram post the products used to create Beyoncé's show-stopping looks, from her lashes to — yup, you guessed it — her setting spray. The post looks to be now edited to omit the mention of the setting spray, but according to a TikTok video shared by Patrick Starrr, Lizama originally wrote in part, "@patrickstarrr I Love You!! Your spray helped us through the show!!! @onesize."
Turns out this setting spray really might make your makeup last 'til dawn. Retailing for $32 per 3.4-ounce bottle, the mattifying mist is sitting pretty with over five hundred five-star reviews on One/Size's website. The "light-as-air" formula promises to blur skin and provide flawless hold for up to 16 hours, with a subtle fragrance featuring notes of green tea and melon. Of course, the otherworldly setting spray works just as well when worn off-stage. "Used this product for the first time going to Beyoncé's Renaissance Tour in D.C.," wrote one reviewer. "Had my makeup on from 2:30 pm until 12:45 am the next morning [and] after being in the heat, the rain, and all, my face didn't budge."
Unfortunately, it might be a while before you can try it
Just as you might expect, the news regarding Beyoncé's setting spray caused a buzz across the Beyhive and makeup community at large. At the time of writing, One/Size's On 'Til Dawn Waterproof Setting Spray is completely sold out — both in full and travel-sized form — at Sephora, Kohl's, and One/Size's online stores. For some, the product's newfound popularity isn't music to the ears.
On Twitter, one user wrote, "Now everyone is using [One/Size] setting spray [because] Beyoncé uses it, and it's sold out everywhere. I knew I should have restocked last week ... I literally ran out today!" Others managed to get lucky, stocking up on their fave just prior to the announcement. "I'm glad I at least got a travel size O/S setting spray to try before it was Beyoncé-ized," a fan wrote.
Though it might be a minute before we see a One/Size restock, the good news is that there's another cult favorite product to hold you over in its absence. If you're looking for an all-day grip that won't let makeup move, even on oily eyelids or skin, you may want to try Mehron Barrier Spray. The theatrical makeup company's setting spray is a cult favorite for a reason, and you can even try a 1-ounce travel-sized bottle ($8.95) before you commit to anything larger. Above all, don't worry — we're sure Beyoncé's viral setting spray will be back in stock before you know it.