How To Apply Makeup To An Oval-Shaped Face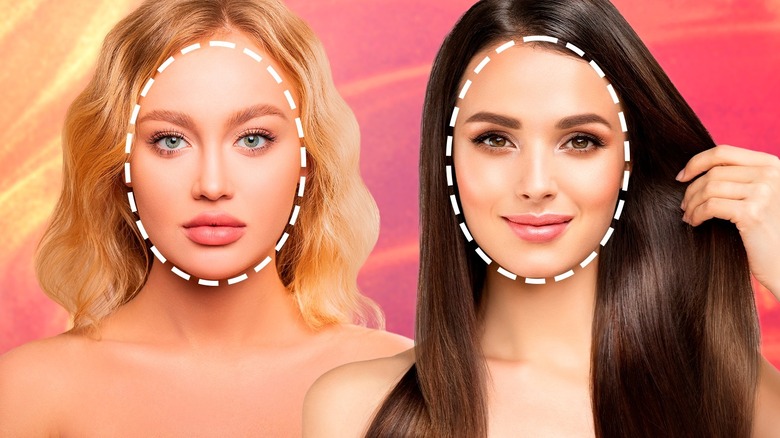 Static Media/Shutterstock
Knowing your face shape and working with it can help you create the perfect makeup routine. "It [...] allows you to play with dimension and know which parts of your face you want to emphasize or minimize," David Shafer, MD, a board-certified plastic surgeon and founder of Shafer Plastic, shared with Real Simple.
You probably already know what shape your face is, and if you don't, all you have to do is measure it. An oval-shaped face is mostly characterized by prominent cheekbones and an elegantly rounded chin. It's also usually longer than wider, but it isn't as long as an oblong face.
Because it is so easy to complement an oval-shaped face, it's often regarded as the ideal face shape. In general, if you have an oval-shaped face, you can probably pull off any hairstyle, your eyebrows don't need much other than a delicate angle to look good, and you can order sunglasses online without trying them on. Nine times out of 10, they will look good! As for makeup, there's an application technique you might want to follow.
Add width to an oval-shaped face
For an oval-shaped face, Byrdie advises to emphasize the cheekbones with a bronzer of your own choosing — but with a tapered brush. Using the right makeup brush for every step of your makeup routine is crucial for achieving a fine look. You can use the same brush to apply blush. Your goal here is to create the illusion of width, so keep the blush on the apples of your cheeks.
As for highlighting, the technique is basically the same for all face shapes. "The art of highlighting is to bring areas forward. You want to highlight the area under the eyes and downward, your chin area, down the bridge of the nose, under the brow bone and in the center of the forehead starting between the brows," celebrity makeup artist Keita Moore tells Maybelline.
The eye makeup can also go in any direction you'd like. "Try a colored eyeliner like a pretty plum or deep navy, and draw it out on your top lid à la Cleopatra, or in the seductive shape of a cat's eye. It'll add an intriguing angle to your oval-shaped face," celebrity makeup artist Molly Stern shared with YouBeauty.
Less is more when it comes to oval-shaped faces
As it's an easy face shape to work with, an oval face doesn't require much. According to Hector Espinal, a celebrity makeup artist, "An oval-shaped face is the most balanced," he shared with Byrdie.
"The best thing about having an oval face shape is that you don't need to work with makeup to try to fix anything. Instead focus on bringing out the angles," makeup artist Sonia Kashuk tells Refinery29. Still, you'll want to add some warmth and dimension to it. High-quality bronzer, blush, and highlighter will be your holy grail products here, as they are perfect for achieving a snatched look with minimal effort.
Most importantly, have fun. If you have an oval-shaped face, you've been blessed with the ability to rock almost any makeup trend out there. Whether it's the viral "I'm cold" makeup trend or you're looking to go shiny with metallic blush, an oval face can most likely pull it all off. Then, once combined with a perfect hairstyle for oval faces, you'll instantly look divine.