TikTok's 'Self-Care Booby Traps' Hack Ensures You'll Never Forget Your Hobbies Again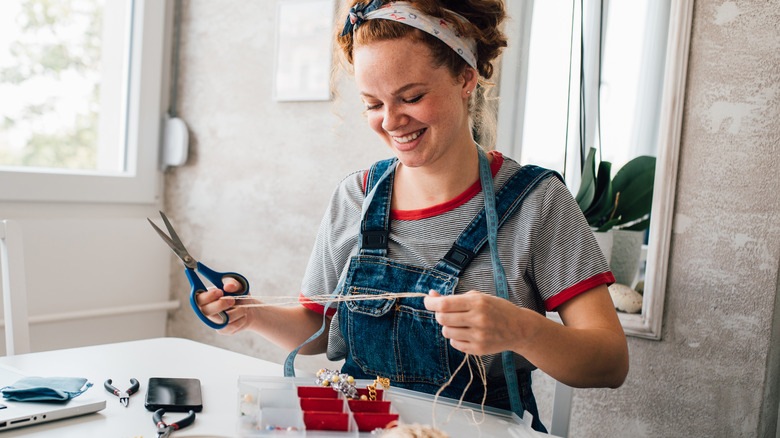 Rgstudio/Getty Images
These days, we talk a lot about self-care in the form of special breaks and regimens. And while starting a self-care routine is certainly a worthy goal, sometimes the idea of planning and sticking to premeditated self-care practices carries as much pressure as the nagging itch of those chores you've been putting off.
Of course, the last thing you want to do is undermine your rest and relaxation by turning the should-be reward of self-care into one more obligation and source of stress. And if you place too much emphasis on specific self-care activities as a necessity — just another item on your to-do list — you may need to ask whether your self-care ritual is actually helping or hurting your mental state. But it's not always easy to keep up with self-care practices like creative hobbies without intentionally setting aside time for them. So how can you carve out time for fulfilling self-care without adding to your workload?
Creators and self-development gurus are out there looking for an answer, proposing ideas like relieving pressure by "choosing a feeling" you want to achieve in your free time rather than scheduling a specific self-care activity. And a new TikTok hack known as a "self-care booby trap" is taking an even more guerilla approach, helping you organically work more self-care into the time you spend at home.
What are self-care booby traps?
The concept of self-care booby traps seems to originate from a TikTok video by user @awakenartswellness. The video shows the channel's creator — who goes by Caroline Ann on the Awaken Arts + Wellness Instagram account — placing clear boxes full of books and activities around their living space. As the caption notes, "I started by noticing where I sit and doomscroll the most and put the self-care booby traps there!" The creator adds further detail in the comments, explaining, "I strategically matched the vibes of the self-care kit to the place in the house I put it. [For example,] messy crafts at the kitchen table."
The implied purpose of self-care booby traps seems to be encouraging positive pastimes — and minimizing negative ones — by making hobby materials convenient and accessible throughout the home. This idea evidently resonates with other TikTok users, who are flocking to the comments to display their appreciation. User @uncannydevito says, "Hello? I'm sorry? You casually drop the world's best idea while I'm innocently eating noodles on my kitchen floor?" User @morganavalyn adds, "Realizing I lowkey do this with leaving my journals and sketchbooks everywhere but I could instead make it more organized and intentional."
While self-care booby traps are certainly a way to intentionally focus on interests you already have, they may also be a good way to help yourself pick up a new craft or hobby — especially if you're the type who usually forgets new interests after a week or two. By having supplies close to hand when the urge strikes, you may have better luck keeping up with the habit. There are so many good reasons to pick up crocheting and other creative hobbies — so even if you're a beginner, consider stashing craft supplies in self-care booby traps around your home.
Ideas for your own self-care booby traps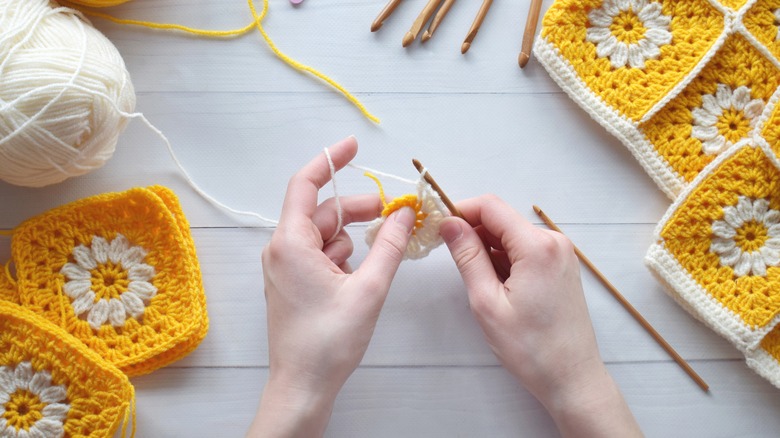 Oksana_Slepko/Shutterstock
In the trend-setting video, @awakenartswellness provides an example for your own riff on self-care booby traps by putting together entire boxes full of fun, inspiring, and creative treats. Upon closer examination, these boxes can be seen to contain various novels, crafting supplies like ribbon and washi tape, and Q&A-style journals full of exploratory writing prompts.
In the same vein, you can easily begin by stocking certain areas of your home with journals, art supplies, and pending books from your mile-long to-read list. But you can also branch out by including anything that plays into your personal idea of self-care. Maybe your booby trap will include a scented candle, a sheet mask, and a few nail polishes to refresh your manicure. Or perhaps it'll be chock full of niche hobby materials, such as beads and jewelry-making supplies, crochet hooks and yarn, or a full complement of scrapbooking gear like stickers, scissors, photos, craft paper, and glue.
Maybe it will even contain something like a whole kit of cute gel pens and highlighters to playfully annotate the book you're reading. The possibilities are endless! Remember, the most important part is that the items inside your self-care booby trap appeal to your unique interests — so get as odd and creative as you like. Just make sure the trap is individualized and engaging, to help you avoid mindless scrolling and get the most personal value out of your downtime.