How To Bring Your Favorite Miniskirt Into The Office With You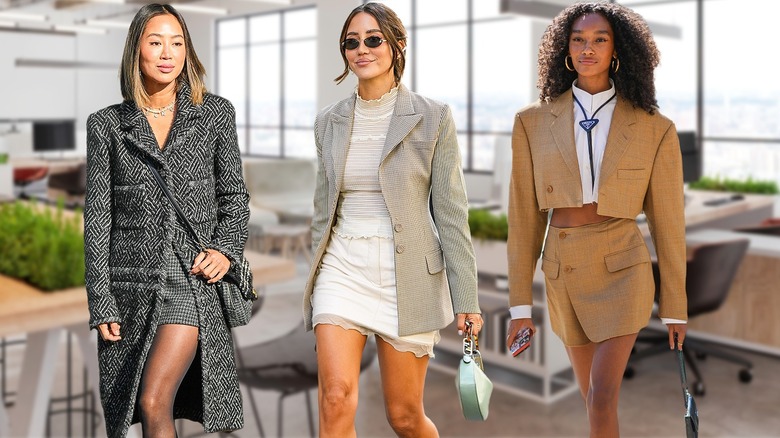 Static Media/Shutterstock/Getty
When you think of miniskirts, you probably think of them as a nostalgic staple piece that was reserved for nights out on the town. The micro miniskirt is yet another Y2K trend that's resurfacing and is bringing back those '90s styles we loved so much. It's the ultimate Y2K staple piece your wardrobe needs. Icons like Christina Aguilera, Destiny's Child, and Britney Spears all rocked miniskirts in the '90s to show off this skin-bearing trend. It likely has many of us wondering, how can a nostalgic piece be worn in the office in a grown-up way?
Fortunately, there are many ways you can transition a miniskirt into a trendy look that's also appropriate for the office. It's all about how you style and wear the miniskirt. Stylist Elizabeth Sulcer tells Harper's Bazaar, "I think the low hip-hugging styles can be really hard to wear for a lot of people. Showing skin on the bottom and [being] more covered on top could be a chic and still youthful way to embrace the trend." If you're looking for creative ways to style your miniskirt at the office, we've got you covered.
Tuck in an oversized sweater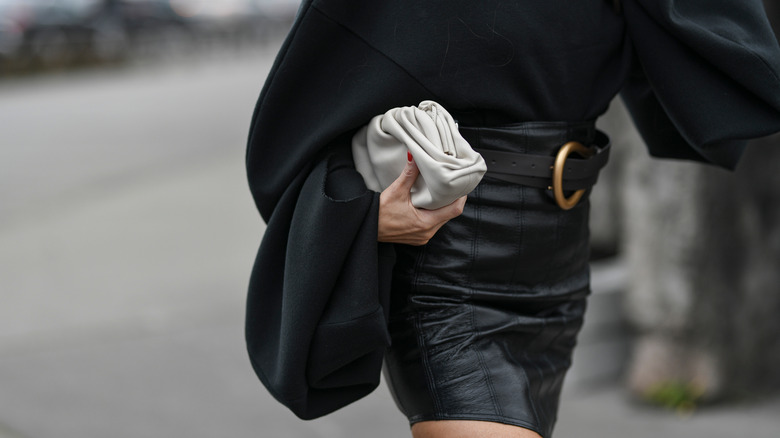 Creative Lab/Shutterstock
This ultra-sleek look is the perfect blend of comfort and professionalism that you can wear into the office. Pair your miniskirt with an oversized sweater that's more business casual than it is sporty. Avoid a crewneck or hoodie, as they're too casual for the office and won't work well with the skirt. Tuck the sweater into your miniskirt, and tie the look together with a simple belt. A miniskirt will look a lot more work-friendly when paired with a looser top to balance it out.
Pair it with a matching blazer
Sometimes, creating layers in your outfit is the simple fix to piece it all together. Match your miniskirt with a blazer for a chic and sophisticated look. By matching your skirt to your blazer, you'll give off the appearance of a matching blazer and pantsuit duo but with a chic twist. To complete the look, style it with a belt along with a pair of loafers, flats, or knee-high boots for the ultimate high-fashion fit.
Wear it with tights
If you're feeling unsure about wearing a miniskirt to work, style it with a pair of tights. Wearing black or sheer tights underneath your miniskirt will give it that business touch it needs, as well as help create a layered look. There are so many different tight colors and designs you can sport and play around with. For an all-black outfit like this one, you don't have to stick with black tights — have fun with different patterns and shades.
Style it with an oversized blazer
You don't need to be a fashion expert to know that oversized blazers are the it-girl trend that has been everywhere this year. Kendall Jenner, Hailey Bieber, Mary-Kate Olsen, and Meghan Markle are just some of the noteworthy celebrities that have been spotted wearing this iconic wardrobe staple. Add this piece to your miniskirt outfit to achieve a casual and chic look that will elevate your outfit and have you ready for a day at the office.
Rock a skirt with pockets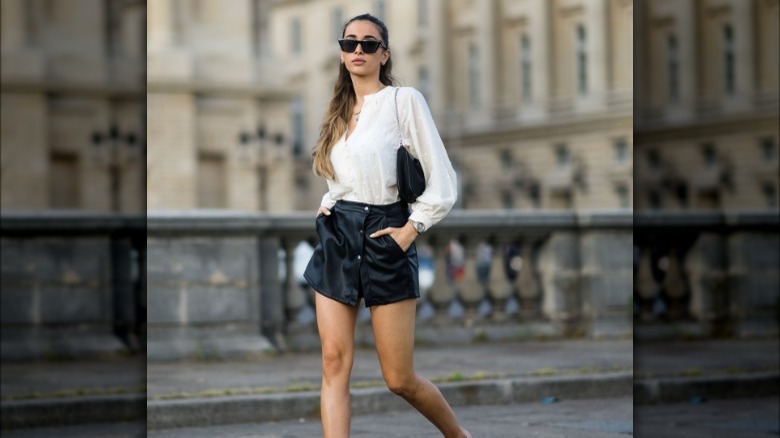 Edward Berthelot/Getty Images
Office outfits don't always have to be super dressed up. A miniskirt with pockets is a much more casual, office-appropriate variation of the skirt that is perfect for a polished fit. You can pair the skirt with a blouse or a dress shirt to dress up the outfit and top it off with a pair of flats or loafers with socks. Avoid jean miniskirts in this style unless you're going in for a casual Friday at the office.
Mix and match patterns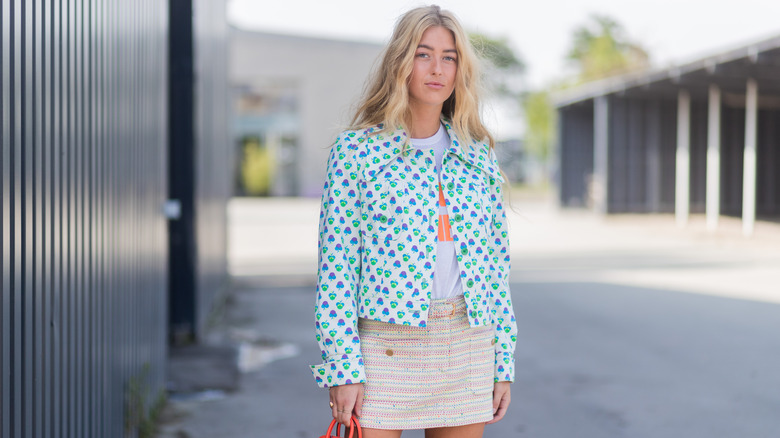 Christian Vierig/Getty Images
You don't have to stick to neutral or basic colors and patterns when wearing a miniskirt to the office. Office outfits can be colorful and fun when done right! While black and white are typically the go-to's when putting together a work outfit, vibrant patterns, and colors blended tastefully will make you stand out in a good way. This miniskirt is a great fit for the office because of its simple pattern and textured look, which gives it that professional edge.
Wear it with a jumper and collared shirt
A jumper with a white collared shirt underneath is a classic office outfit that's simple and sophisticated. To copy this outfit, we recommend wearing a high-waisted, pleated mini-skirt in any pattern paired with a white collared button-up top. Put a monochrome jumper that matches the outfit on top of the shirt and pull the collar out onto the jumper. You can also pull the sleeves out for a stylish and trendy fit.
Opt for a high-low mini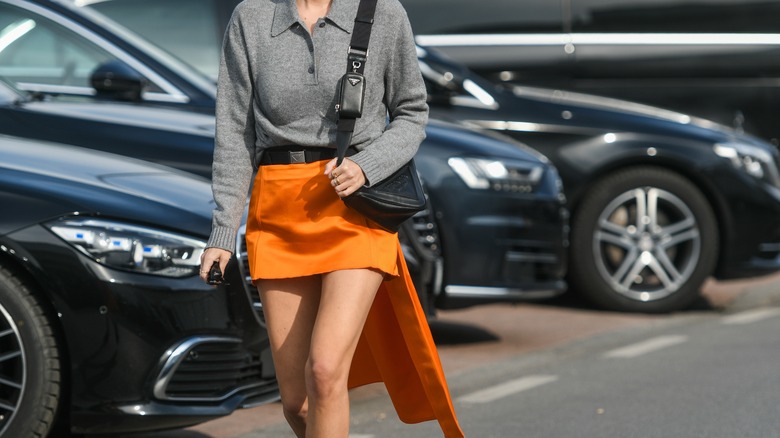 Creative Lab/Shutterstock
This unique miniskirt is the wardrobe staple you need in your closet. It works to give the illusion of a miniskirt at the front but has a long, sweeping back end, making it a much more appropriate and comfortable piece to wear into the office. Style a vibrant-colored skirt with a collared button-up pullover to recreate this elegant and sophisticated outfit. For a polished look, pair the skirt with a blouse and loafers.
Sport a pleated miniskirt
Not all miniskirts have to be tight, and if you're on the hunt for an office-appropriate outfit, a pleated skirt will do the trick. This flowy, textured skirt looks amazing paired with a blazer, blouse, or jacket for that ultimate cool-girl fit. The textured miniskirt has a more laid-back feel to it without being too casual for the office. To recreate the look, style your miniskirt with a cute turtleneck and matching trenchcoat.
Style it with long boots and a chunky sweater
Need an outfit you can throw together in a few minutes? This elegant and dressy outfit will give you a sophisticated look that works great in an office setting. Style your miniskirt with a chunky, oversized sweater. A sweater with a cute textured pattern like this one will spice up the fit. Top off the outfit with sheer black tights and a pair of long, and sleek heeled boots that make a statement.
Complete checkered look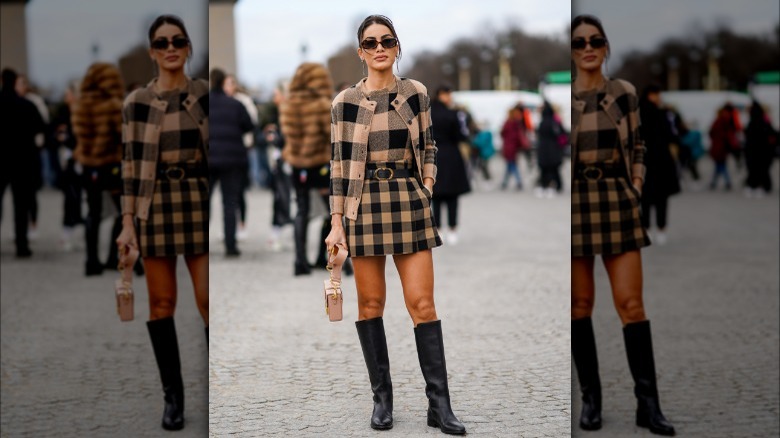 Edward Berthelot/Getty Images
This cute Clueless-inspired outfit is bringing back all of the nostalgia of '90s trends and styles. A matching checkered sweater and miniskirt are one of the defining outfits of the '90s that you can wear with a modern twist to it. Channel your inner Blair Waldorf with this iconic style seen in countless outfits featured in "Gossip Girl." Top off this fit with a classic black belt and a pair of boots, loafers, or flats. Don't forget to accessorize, even if you are just going to the office.
Black and white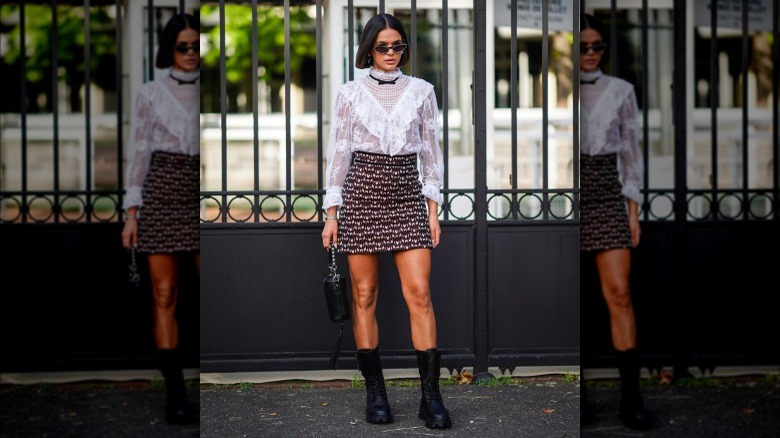 Edward Berthelot/Getty Images
Black and white is a classic color combination that you can't go wrong with and one that will give you an effortlessly sophisticated and professional look. It's the go-to pairing that always looks classy and never fails to make a statement. To recreate this dressy look, pair your black and white patterned miniskirt with a white blouse. We recommend finishing off the outfit with a pair of boots or heels to balance out the fit for work.
Pair it with an oversized trenchcoat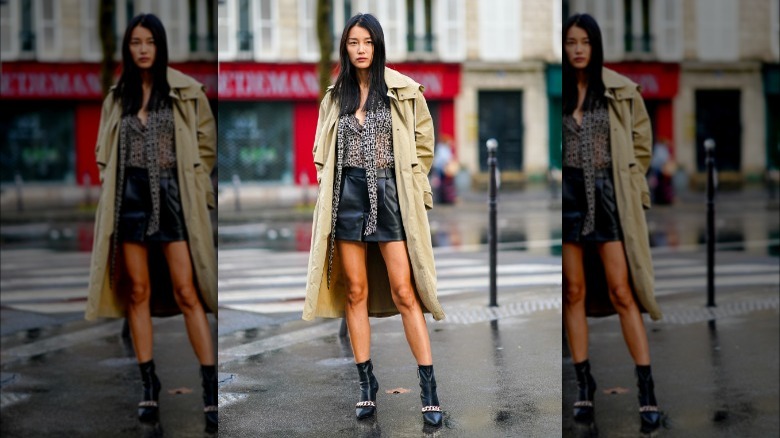 Edward Berthelot/Getty Images
When the weather is on the cooler side, you can still break out your miniskirt for a day at the office. Rather than making your miniskirt the statement piece of your outfit, put on an oversized trenchcoat for a stylish, dynamic outfit. The trenchcoat doesn't have to match the outfit and can be neutral for a simple look. For something more out there, sport a bright and colorful trenchcoat for a vibrant and eye-catching fit.
Style it with an oversized button up
The oversized button-up is an edgy but classy staple that you can wear seamlessly with your miniskirt. Sport a striped button-up with a monochrome miniskirt for a cute, stylish outfit. If your miniskirt is more fitted, the oversized button-up will tie your look together. For a more casual Friday style, rock a pair of sneakers with your fit, and to dress it up, put on a pair of work-appropriate heels or flats.
Drape a jacket over your fit
Drape a jacket over your miniskirt fit for a stylish and edgy look that's not too casual, and not too fancy either. We love how elegant this all-black outfit looks, and how effortlessly you can accessorize this outfit with a jacket. We recommend using a jacket that's slightly oversized for this fit, as a super form-fitting jacket may not drape as easily. To recreate this fit, style a black miniskirt with a matching black top, and then drape an oversized jacket in a different color over it.