Ingredients Curly Girls Should Look For In A Mousse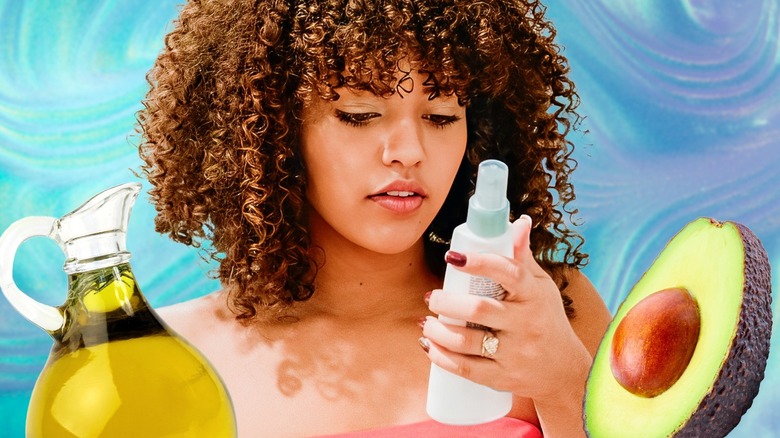 Static Media/Shutterstock
While pin-straight hair certainly continues to be a sleek, trendy look, more and more individuals are embracing their naturally curly locks. From Megan Thee Stallion's Vanity Fair Oscar Party ensemble to Selena Gomez's selfies, we're loving the moment that curly and coily hair is having right now. However, for those ready to opt for this natural look, styling this hair type can be its own type of challenge.
Finding the right products is essential for styling curly hair, but knowing what to choose with so many items on the market can be difficult. Hair mousse is one product that many experts swear by, boasting about its versatility and functionality. As Garnier consulting celebrity hairstylist Tommy Buckett tells Byrdie, "Mousse's soft, airy texture allows for liberal application but won't leave you with too flat hair you can get from over applying a serum or cream."
For those with curly hair, this product can be just what you need to get a natural but tamed look. However, not all mousses are suited for every hair type, so curly-haired girls should keep a lookout for some specific ingredients.
The best mousse ingredients for curly hair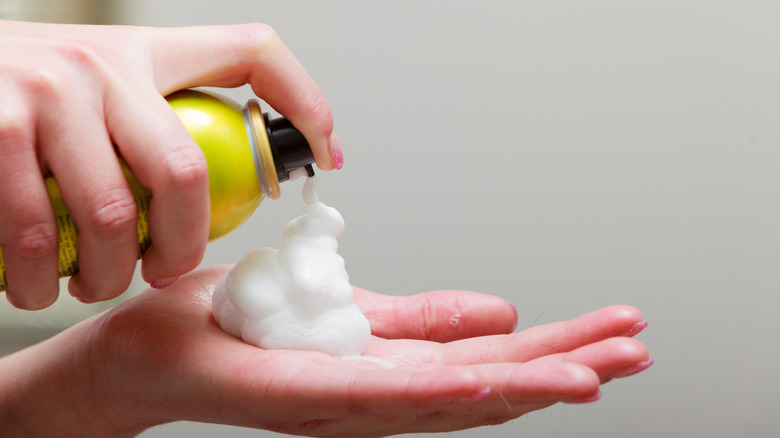 Voyagerix/Getty Images
When picking out the best mousse for your curls, experts first recommend identifying your curl type, as this is important in determining what you want in a product and knowing what formula would work best for you.
As professional stylist Nicolle Lemonds tells Byrdie, "If you have fine curls, you will need a very lightweight product so you won't overload your curls and weigh your hair down. Thicker and tighter curl patterns will need more product if you desire length and definition. If you want more volume and height, with thicker hair, you will need to use less product as well."
Additionally, celebrity hairstylist Jennifer Korab recommends looking for formulas that include hydrating ingredients, such as avocado and olive oils (via Who What Wear). Aloe vera and shea butter are also nourishing ingredients that are great for curly hair and can be found in hair mousse. Conversely, you'll want to avoid products with drying additives, including parabens, sulfates, and alcohol.
Mousse styling tips for curly-haired girls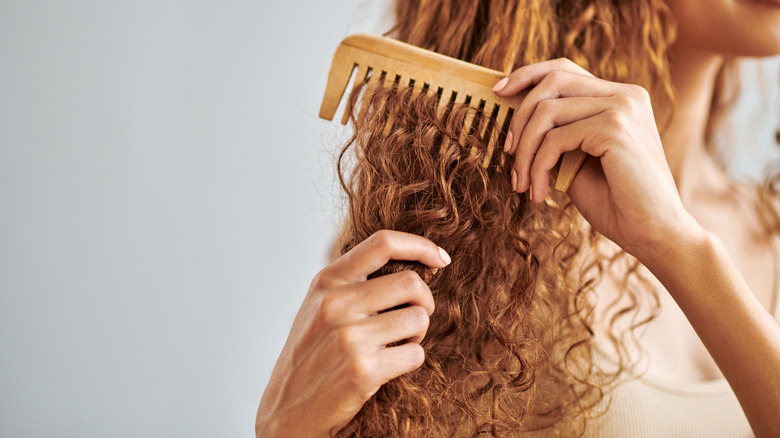 Delmaine Donson/Getty Images
While finding the right hair mousse for your curls is essential, hair stylists also emphasize the importance of your styling technique. First, it's recommended that you apply this product to wet hair, so either soak your locks before use or apply it after a shower. Then, make sure you towel dry your hair so it's not dripping wet. 
For the next steps, Jennifer Korab shared some advice with Who What Wear, suggesting, "Apply a generous amount section by section through your hair. Comb through to distribute the product evenly and then lightly scrunch." You can also flip your hair over to help you target your roots and apply the product evenly, but it may take some experimentation to figure out what works best for you.
Once you've applied your mousse, you'll want to finish the styling process by either air-drying or using a diffuser to blow-dry. Once down, your curls should look as natural and beautiful as ever!