Haircare Ingredients Brunettes Should Look For When Buying Blue Shampoo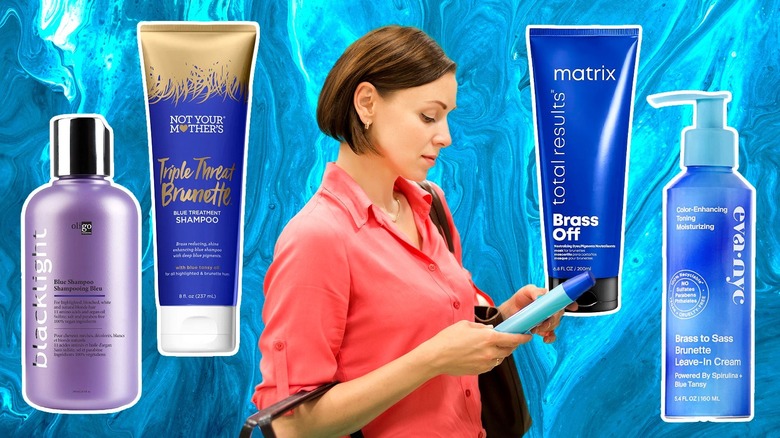 Static Media/Shutterstock
We may receive a commission on purchases made from links.
While bleaching your hair is notorious for its required amount of upkeep, dyed brunette hair requires the same amount of love and attention. It can be hard to know how to avoid damage when dyeing your hair at home or even at the salon, but using the right kind of shampoo is a great way to start. If you've ever gone blond, you know that purple shampoo is an absolute must, especially when it comes to maintaining the original shade and preventing unwanted orange tones.
Unfortunately, pesky brassiness can show up in dyed hair regardless of the color. Because of this, people with brunette hair need to be just as vigilant in maintaining their desired shade. That's where blue shampoo comes in. It's a vital step in keeping the damage minimal when going from blond to brown hair. Though it can be used by people with naturally brunette hair for healthy and vibrant tresses, it's usually most needed by those who've dyed their locks.
Since the goal is to keep your hair happy and healthy, you'll want to keep an eye out for certain ingredients. Don't just buy blue shampoo for the sake of it — be a conscious consumer. Your hair deserves nothing less.
What to avoid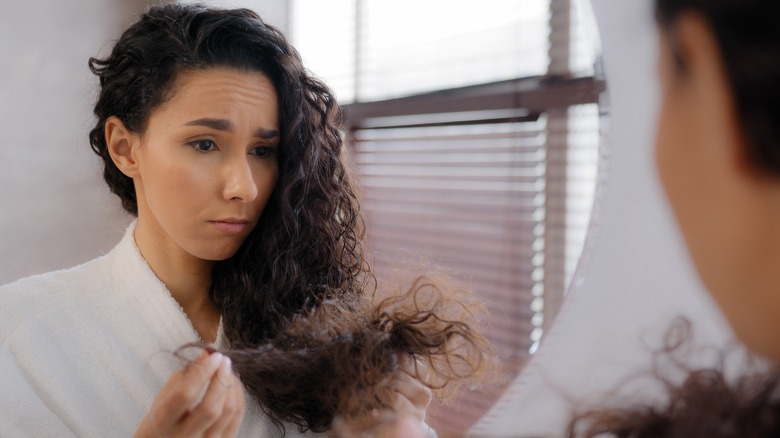 MAYA LAB/Shutterstock
Not every shampoo or haircare product is made with your hair's best interests at heart. Many are overloaded with drying ingredients, such as parabens and sulfates.
Sulfates are preservatives found in cleaning products, like soap. They're responsible for the lather in your shampoo, but other than that, they don't serve much purpose. In fact, they can be pretty irritating for those with sensitive skin and can do more harm to already damaged hair. While they aren't necessarily dangerous, people with dyed hair are safer staying away.
Parabens are chemicals that actually end up making a product expire more quickly. When looking at the ingredients list on your blue shampoo bottle, keep your eyes peeled for methylparaben, ethylparaben, and propylparaben, among others. They'll usually have the suffix "paraben" at the end, so they're easy to spot. They're not considered dangerous by the FDA, but it's better to be safe than sorry. Hairstylist Jennifer Korab told Marie Claire that people should steer clear of blue shampoos containing parabens, otherwise, the product might not work properly and could end up damaging your hair.
What to look for
It's no secret that hair dye can dry out your hair. If you're struggling with this, the last thing you want is to use a too-strong blue shampoo that sucks out even more moisture. Aim to buy shampoos with moisturizing ingredients, like aloe vera, avocado oil, and shea butter.
Shampoos containing certain vitamins are also a huge plus: "The best vitamins for hair growth include B vitamins, vitamin D, vitamin E, zinc, biotin, and iron," cosmetic dermatologist Michele Green told Forbes. Biotin, which is also recognized as B7, is especially helpful and can strengthen your hair, combatting any brittleness brought on by the dye.
A good example of this is Not Your Mother's Triple Threat Brunette blue shampoo. Complete with blue tansy oil, which is known for its thick, viscous quality along with its blue color, this shampoo hydrates and nourishes as it tones. Plus, it's fairly cheap, so why not give it a whirl? If you already have a favored blue shampoo, this brand also sells conditioning hair masks that'll leave your hair feeling super soft, providing you with the most bang for your buck.