How To Go From Blond To Brown Hair Seamlessly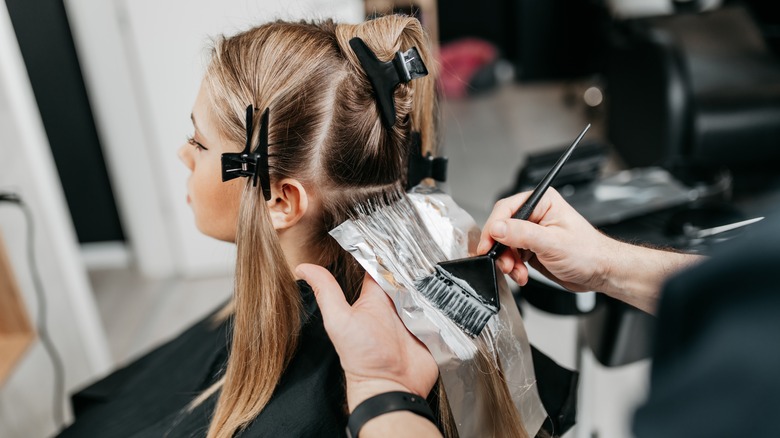 hedgehog94/Shutterstock
Only about 2% of the world's population is naturally blond, but that doesn't stop women around the world from heading into the salon to achieve this popular shade with the help of a bit of bleach. According to Mintel, blond is the most popular dye hair color in the United Kingdom, and it's no surprise why. It's summery, natural, and works on just about any skin tone. But after years of root retouch appointments, you may be ready for a fresh, lower maintenance color. Constant reapplication of bleach can leave you with fragile, damaged, and easily stained hair, but a darker, brunette tone typically requires much less effort and damage to keep up.
While it might seem like a simple switch, transitioning from light to dark hair, especially after bleach damage, can take a bit of extra work. Luckily, there are few steps you can take to ensure your hair stays healthy, shiny, and natural looking, even if you plan to take on the project yourself.
Assess your hair's porosity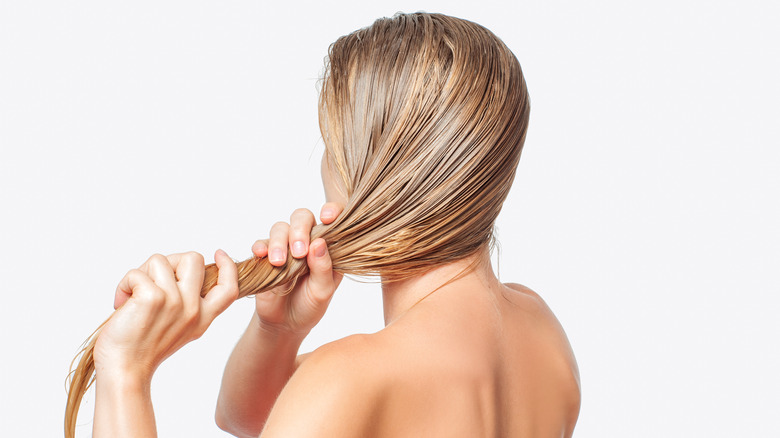 Dmytro Flisak/Shutterstock
After several rounds of bleach, your hair is likely facing a bit of damage, so it's necessary to assess its strength and porosity before applying more dye. According to Healthline, your hair's porosity influences its ability to absorb and hold on to product, an important factor to consider if you want to ensure your new brunette shade looks even instead of patchy after you rinse it to reveal your final look.
To figure out your hair's porosity level, try out a float test. All you need to do is take a fallen piece of hair and place it in a glass of room temperature water. Give it a few minutes, and see where it ends up in the glass. If it's on top, it's low porosity, meaning it's healthy, but not properly moisturized. If it hovers in the middle, it's good to go. If it sinks to the bottom, it's likely damaged and in need of some TLC to repair the cuticle and allow it to properly absorb both product and dye.
Treat your hair beforehand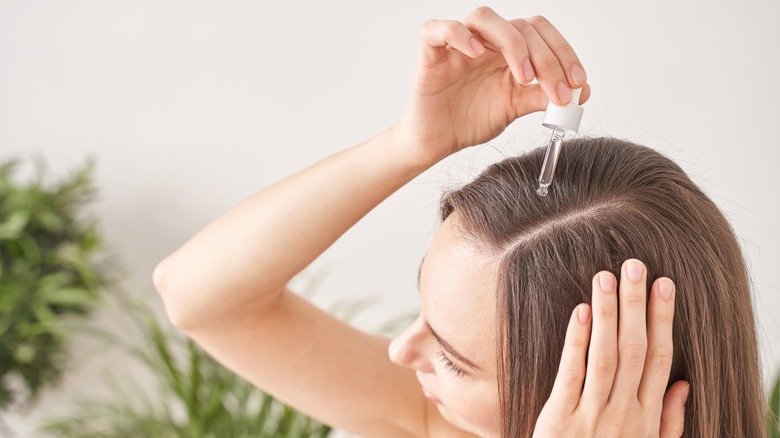 elenavolf/Shutterstock
Just because regular dye isn't quite as dangerous to work with as bleach, it doesn't mean that it doesn't also come with some damage. Permanent dyes still contain developer that opens the cuticle in order to properly deposit color, which can leave your strands more vulnerable after your treatment. They also strip your hair of its natural oils, so a new color could leave your hair and scalp feeling dry and brittle.
To combat this ahead of time, focus on healing treatments, especially if you found that your hair is low or high porosity. Proper care all depends on your hair type, but masks and oils that balance protein and moisture are your best bet. Dye bonds to proteins in your hair, so by using protein-packed treatments for a few weeks leading up to the day you plan to dye your hair, you'll likely end up with a much healthier, blotch-free result.
Choose the perfect shade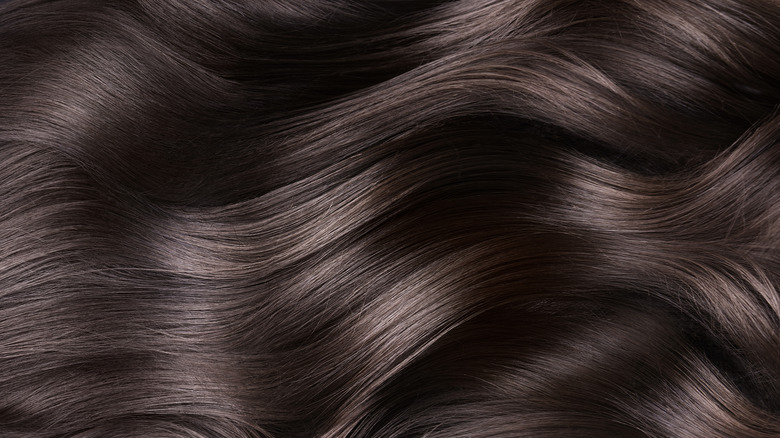 Kobrin Photo/Shutterstock
After you make sure your hair is healthy and ready to dye, you can get to the fun part: choosing your shade. While it might be tempting to just pull pictures of celebrities off Pinterest as inspiration, it's important to get more personal with your hair color choice to guarantee that your color looks natural and seamless next to your skin.
The easiest way to do this if you're a natural brunette is to use yourself as a reference photo. Look back to your hair color before you went blond, and try to match as closely as possible. If you want to switch it up a bit, however, you need to use a bit of color theory. Start by determining your skin's undertone by looking at the veins on the inside of your arm. If they lean more green, you're warm, and if they're blue, you're cool. Warm skin tones will likely look best in a more auburn or caramel brown color, while cool skin tones will shine with ash and mushroom brown shades.
Head to the salon — or to the beauty supply store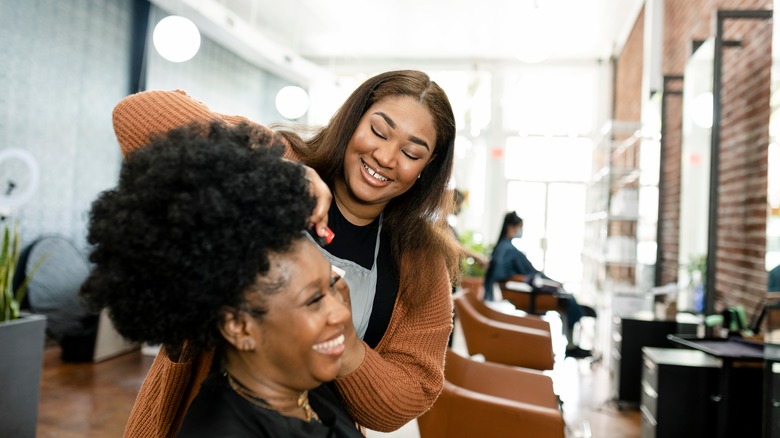 Rawpixel.com/Shutterstock
Most professional hairstylists recommend heading to the salon if you're going to make a major color shift, so if you're planning to schedule an appointment, you're in luck. Professional hairstylists will know how to treat your hair based off of its texture, what damage level you have, and what color you're looking to achieve, but it's important to be fully transparent with them about your hair's history, sometimes as far as a few years back, so they don't run into any surprises during your treatment.
If your plan is to tackle this switch at home, however, don't panic. Changing your color to brown is typically much easier than going blond because it's a single-process procedure. All you'll need to do is pick up the necessary supplies — dye, developer, gloves, a bowl, and a brush — and get to work. After evenly coating your hair with your dye mix and waiting for the recommended time, rinse and apply a cuticle-sealing treatment. You'll be left with a fresh look for a fraction of the price.
Revamp your haircare routine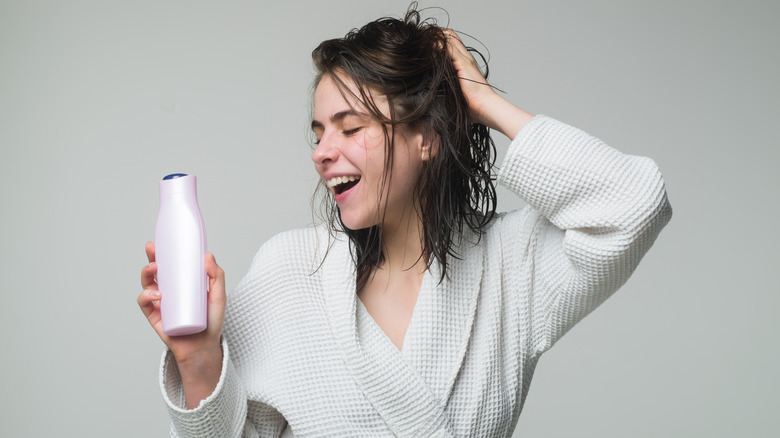 Volodymyr TVERDOKHLIB/Shutterstock
After you've achieved your new look, it's time to refresh the products you have on hand. You can toss the purple toning shampoo and conditioner — brassiness is no longer a worry — but it's time to invest in color-safe, sulfate-free products that won't cause your dye to fade more quickly than you want. Permanent dyes will never fully wash out of hair without a color remover, but with routine washing and exposure to sun, they can significantly fade. This is especially noticeable on a blond base, so upkeep is important in maintaining your brunette look.
It's also a good idea to keep using products that focus on building your hair's strength and moisturizing it from the inside out. Just because you're not routinely undergoing bleaching treatments, it doesn't mean that your hair isn't still damaged. Continue focusing on your hair's health with proper products and regular trims, and you'll eventually grow out the damage until you're left with an entirely unbleached head of hair.