Single-Process Vs. Double-Process Color: What's The Difference Between The Hair Dye Techniques?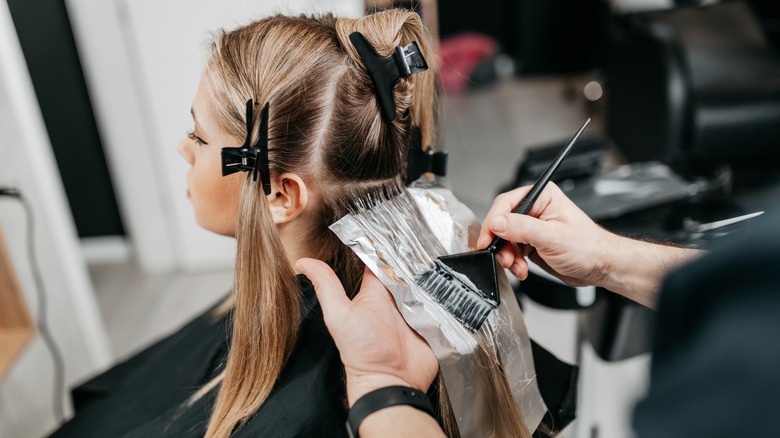 hedgehog94/Shutterstock
According to a study by Garnier, 80% of women polled dyed their hair at home for the first time during the pandemic (via PR Newswire). After achieving your ideal look yourself for a fraction of the cost, you might be choosing to take your hair into your own hands even after salons reopened. But if you're new to the world of dyeing your hair, all of the terminology and techniques can be a bit intimidating.
Advertisement
A simple cosmetic change like switching from blonde to mushroom brown might have you Googling for hours on end and looking up tutorials on YouTube, desperately trying to figure out if you need a degree in chemistry to work everything out. Dyeing your hair at home does require a bit of knowledge to guarantee the best results, but luckily, most of it is a lot easier to break down than you would expect. Today, we're tackling the differences between single-process and double-process procedures to help you decode the art of dyeing your own hair one step at a time.
Single-process color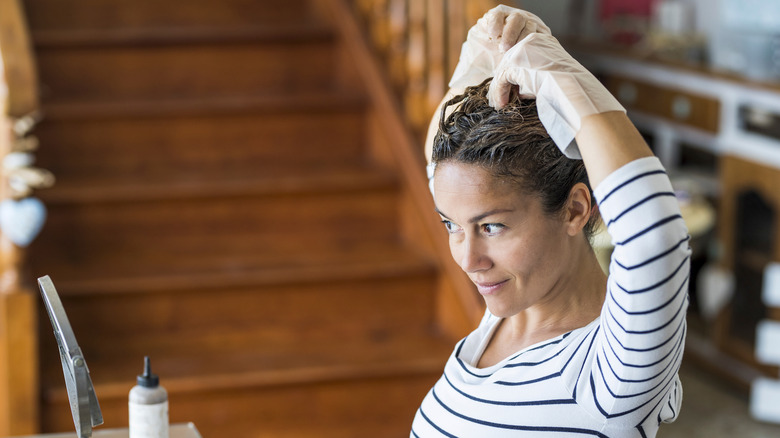 simona pilolla 2/Shutterstock
Single-process color is one of the most simple hair dyeing procedures, and if you're doing your hair at home, it's likely what you're most experienced with. According to L'Oréal Paris, a single-process dye is just what it sounds like — a one-step process that gives you an all-over color. For something like this, all you need to do is mix your color with the proper developer and apply. After following the recommended wait time, rinse, and you'll be left with a permanent color.
Advertisement
This process is so simple because it doesn't involve any highlights or toning on top of your initial application. If you've ever used box color, this is the same level of difficulty, but you'll have more freedom if you create your own mix by buying tubes of color and developer separately. It's a simple way to cover grays or switch up your look, but sometimes it can lack the dimension of natural hair and look a little flat. If you want to amp it up a notch, look to a double-process procedure.
Double-process color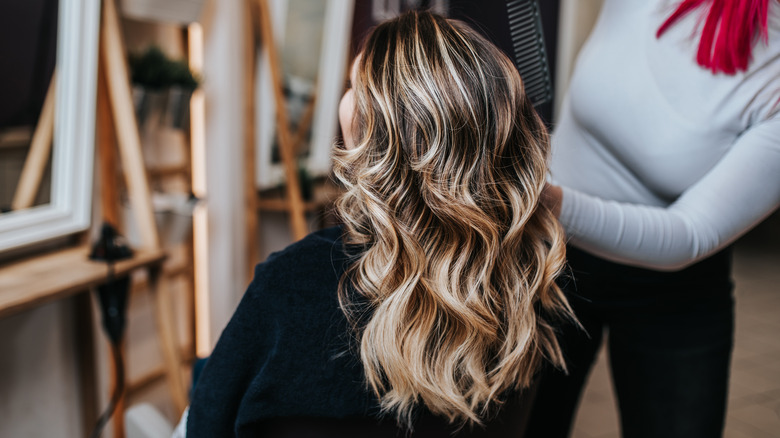 hedgehog94/Shutterstock
A double-process procedure, on the other hand, is two procedures done in the same appointment, and often features more advanced techniques than a single-process procedure. Examples include bleaching and toning, all-over color with highlights, or lightening and topping with a vibrant color. If you're just getting started, a lot of the time, these processes are best left to the professionals — the heftier price tag is worth not accidentally burning off your hair.
Advertisement
Heavy lighteners like bleach are more risky than your typical hair dye setup and can leave you with massive amounts of damage if you don't use proper technique. Something like an all-over color with an additional gloss on top, however, is much easier to do at home, just a bit time consuming. Whatever look you're going for, a professional will almost always be your best bet, but if you want to try your own hand, be sure to do a solid amount of research and consider starting out simple with something single-process.