Spicy Scents Are The Fragrance Trend Giving Your Perfume Extra Oomph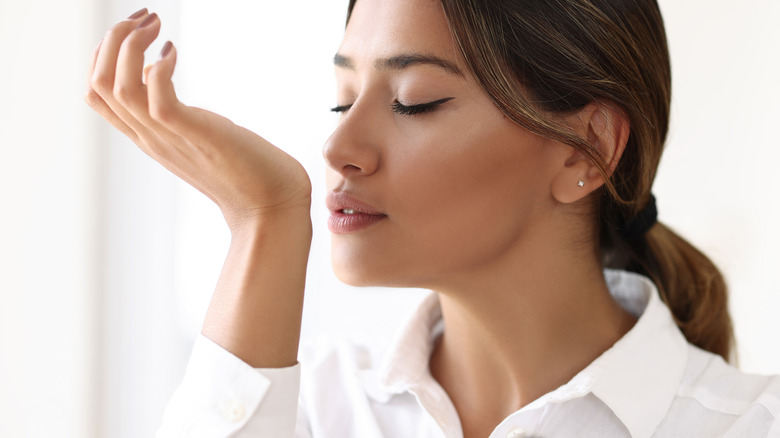 Bymuratdeniz/Getty Images
We may receive a commission on purchases made from links.
Earthy, fresh scents are trending for 2023. Meanwhile, sweet gourmand perfumes are on-trend in 2023, too. But we can't forget about spicy options. Like gourmand scents, spicy options typically smell delicious and are perfect for foodies. If most dessert-like gourmand scents are too sweet and soft for your taste, you should dip into spicier waters, as spicy perfume options are typically edgier, stronger, and sexier. And if you enjoy eating spicy foods, you need a spicy perfume in your roster.
"I think of those elements that both remind you of spiced food and also those that tickle your nose: notes like pink pepper, ginger, cardamom, and cinnamon," Bee Shapiro, founder of the Ellis Brooklyn scent brand, told InStyle. So, if you always order drinks with ginger notes, ask for extra cinnamon in your latte, or crave foods with some spice, spicy scents will satisfy your desire for those tasty smells — the only thing is that they might make you hungry.
Spicy scents bring the heat
While there's nothing wrong with sweeter, lighter floral scents and other typical girly perfume options, those fragrances can start to smell the same after a while. So many women opt for those delicate floral and fruit-inspired perfumes that wearing them might not help you stand out in a crowd or catch anyone's attention. But bolder spicy options will be sure to attract attention. For instance, dating and relationship specialist Kimberly Moffit posted a TikTok video explaining that sweet smells featuring black pepper undertones are extremely compelling, giving wearers a sexy appeal.
Plus, you can rely on your spicy scent to stay. In other words, it won't be as likely to wear off as daintier choices. "Spicy scents will possess heavier base notes where the molecules are denser, providing longer-lasting life on the skin," Marian Bendeth, a global fragrance expert with Sixth Scents, told Byrdie. A second TikToker even shared a video joking about how she doesn't "only" wear spicy scents — but she prefers them, as those spicy fragrances are her "type." So, if you want to stand out next time you go out and lure people in with an intriguing scent, a spicy perfume is your best bet.
Spicy scents to explore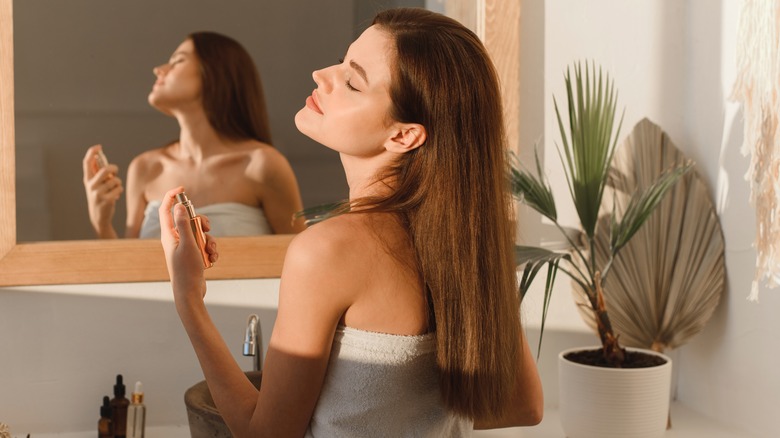 etonastenka/Shutterstock
If you're ready to start experimenting with spicy fragrances, you have many options, as there are many spices to try. For instance, if you want to smell like cinnamon, you should consider the Dior Hypnotic Poison, available at Sephora, which they categorized as "Warm & Spicy." This Eau de Toilette has 4.4 out of five stars at the time of writing, and one happy reviewer even wrote, "I personally love the scent of this perfume. I will say that it definitely reminds me of Dr.Pepper in the best way possible." So, if you enjoy Dr. Pepper's cinnamon flavor, you'll likely appreciate this product.
Furthermore, if you want a perfume featuring pink pepper, try the Glossier You Eau de parfum, selling at Glossier. This vegan and cruelty-free product gives spicy vibes, won't smell 100% the same on every user, and will stay on long. It currently has 4.3 stars, with reviewers describing it as "Heaven" and "Best scent I've ever smelled." On the other hand, if you want to smell a ginger scent mixed with sweet vanilla, check out the Good Kind Pure Vanilla Ginger Eau de Toilette Spray, available on Amazon. The vegan, clean Amazon's Choice item has 4.1 out of five stars at the time of writing.