Can You Carry A Raffia Bag In The Fall? How To Style The Trend For Autumn 2023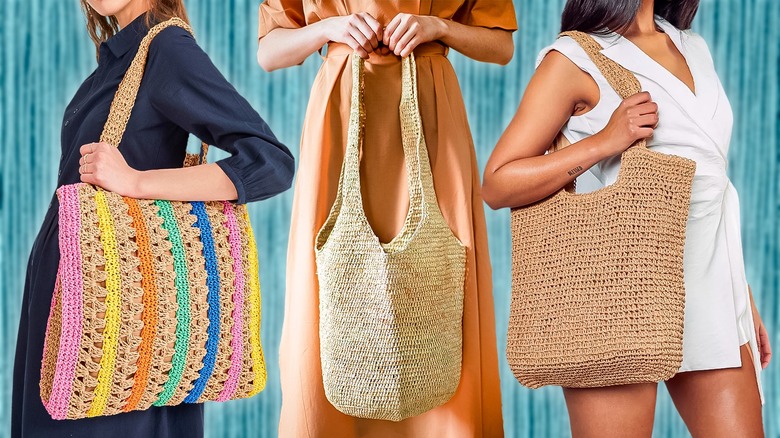 Static Media / Shutterstock
Handbags are a crucial piece in any great outfit. Unlike clothing, this accessory is seasonless. While many bags are often put into boxes of when they can and cannot be worn, true fashion enthusiasts know that (when styled correctly) any bag can be worn during any season. In particular, the assumed summer raffia handbag is often stored away during the cooler months — but not anymore. Raffia bags come in many shapes, colors, and sizes, making it easy to find the perfect version to go with any of your favorite outfits, no matter the season.
A traditional autumn outfit paired with the texture of a raffia handbag is a great way to add eye-catching contrast to your look. Many celebrities are fans of the trend. In fact, It-girl Hailey Bieber has been photographed by paparazzi rocking a raffia tote bag daily with a traditional fall outfit featuring a blazer and sweats. With great styling, the raffia bag trend will fit right into your favorite autumn looks.
Black raffia bags provide a dark twist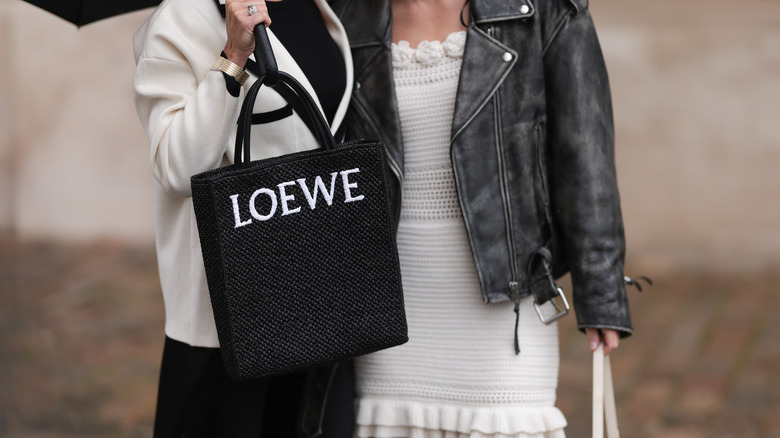 Jeremy Moeller/Getty Images
If you are in the market for a versatile raffia handbag, perhaps try a black one. A black raffia bag provides a twist to the traditional beige look. These bags are great for someone who wants to hop on the raffia bag trend for autumn but isn't ready to fully commit, as the raffia is often less noticeable when dyed dark.
All neutral outfit
Neutrals for fall are far from groundbreaking, but adding a raffia bag to your neutral look can make it more unique. The neutral look for fall compliments nature during this season, especially when the leaves start to change. As nature is our inspiration for the season, it is only fair that we use a natural fiber such as raffia to accessorize our looks.
Oversized blazers with raffia bags
Call it the Hailey Bieber effect, but oversized blazers are the model-off-duty style that isn't going anywhere. The look is super versatile, and one of our favorite things about it is the accessories that pair with it seamlessly. Instagram fashion influencer Barbara U. shares her version of the ensemble with an oversized beige blazer and a small black raffia tote from Loewe.
Untraditional shapes for a put-together feel
While a raffia tote is functional, it can look casual. During the chilly winter months, oversized clothing and layers can also look laid back. To provide contrast to this, try a unique and structured raffia bag. After all, some of our favorite untraditional shapes for a raffia bag include a basket bag and circular shapes.
Contrast textures with fuzzy pieces
Furry and fuzzy sweaters are the tell-tale sign that fall has arrived. While a great leather handbag always pairs well with these pieces, why not try something unique? Contrast textures when you pair a stiff raffia bag with your comfy fuzzy pieces. Instagram fashion influencer Peggy Chung exhibits this perfectly when she pairs a beige Loewe tote with a wooly white sweater.