How To Use Pink Concealer To Hide Unwanted Dark Circles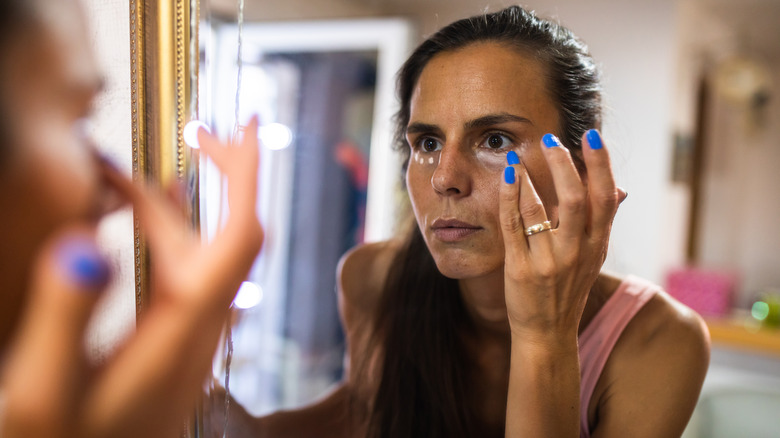 Aleksandar Jankovic/Getty Images
You may be one of those few people who can rock a no-makeup makeup look like a pro. You may also own no more than two or three makeup products in your collection, but we bet that one of those products is concealer. As a cosmetic that pulls much heavier than its weight, concealer performs many different roles. It is used to conceal dark circles, hide blemishes, and brighten the appearance of skin.
If this is one of the only makeup products you invest in, it is imperative that you pick the right kind. For hiding unwanted dark circles that creep up after a difficult night or when you feel extra stressed, your best bet is to use a pink concealer. You can conceal your dark circles by dotting a tiny bit of it on the innermost and outermost corners of the undereye.
Because pink cancels out blue or purple undertones in the skin, it can create the appearance of bright and even-toned skin in its place. "Pink concealer makes the skin appear more radiant. Using pink concealer is one of my favorite beauty hacks," makeup artist Alexandria Gilleo tells The Zoe Report.
The benefits of using pink concealer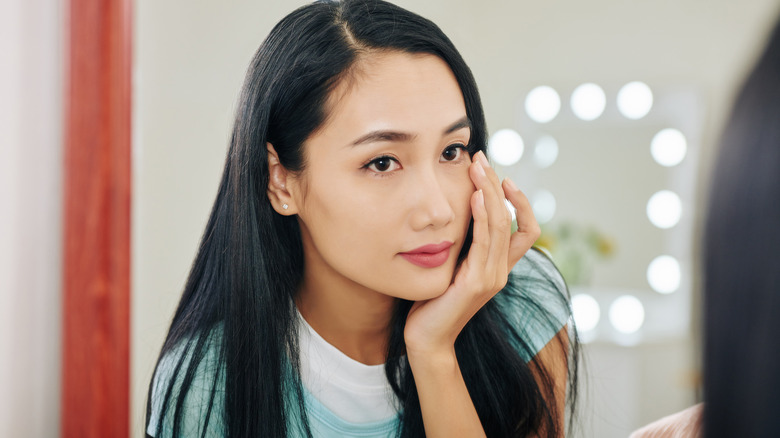 Dragon Images/Shutterstock
The basic premise of concealing works on the principles of the color wheel. Colors that are placed opposite each other on this wheel have the potential to cancel each other out. Professional makeup artists rely on the color wheel to get the most flawless application for their clients, and you can do it, too.
On the color wheel, pink sits across from green. This type of concealer is best for erasing dark circles on people who have a lighter skin tone. Those with darker skin tones can still turn to this hue, but may have to try different tints until they find a pink/peach/orange undertone that suits them.
Celebrity makeup artist Emily Gray told The Zoe Report that the best place to use pink concealer is under the eyes. "Pink under the eyes looks great because it blends into blush for a more natural and cohesive look," Gray told the publication. Additionally, pink concealers can be used to brighten the skin. If your skin looks dull, a dab of pink concealer will lift its appearance. "I tap that [pink] color in the fold under the eye and then I use the correct concealer color on top of that to blend with the client's skin tone," Jenna Kristina, a Los Angeles–based celebrity makeup artist, told Byrdie.
Tips for applying pink concealer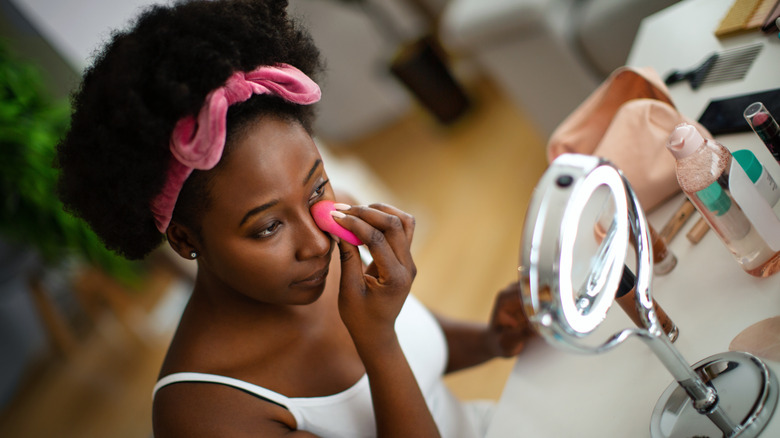 Aja Koska/Getty Images
The effectiveness of a pink concealer will largely depend on if you have chosen the correct shade for the intended purpose. If your skin has a darker hue, opt for deeper pinks that lean orange. Those who have lighter skin tones will find that pale pinks do the trick. Be sure to apply the product in thin layers — as the undereye area is a sensitive, soft area of the face, it's best to apply a little bit of product and build on it if needed.
The best way to apply pink concealer to the undereye area is by dotting it on the right spots and then blending it with a makeup sponge or beauty blender. This will ensure the product is applied smoothly and doesn't look streaky. A pink concealer largely serves the purpose of color correction and it's not heavy-duty concealing, so the less you apply, the better it is for your appearance. Use it sparingly to ensure it looks natural on your face.