Emily Browning's Viral Wedding Look Is The Anti-Sofia Richie But Equally Stunning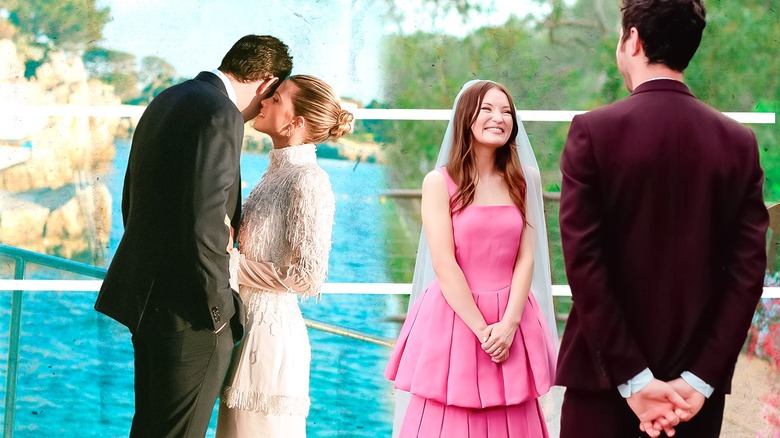 Static Media
We may receive a commission on purchases made from links.
Like many other fashion enthusiasts, we're still obsessed with Sofia Richie's glamorous wedding look. Richie's three white Chanel wedding dresses gave timeless elegance, and we admire the celebrity's commitment to exuding grace and luxurious energy. However, Richie isn't the only celebrity who got married in an unforgettable look in 2023. The "Sucker Punch" star Emily Browning also got married in a gorgeous wedding dress in 2023 — but her wedding dress couldn't be any more different from Richie's, as Browning arguably had more of an unconventional wedding dress.
Browning rocked one sleeveless pink gown for her wedding day, according to TikTok. The movie star's dress was monochromatic in that playful pink shade and did not feature sparkly embellishments. The long gown featured a pronounced layered pleated-ruffle effect instead of sequins or embroidery. And she wore a super long pastel blue veil, providing a lovely contrast. While Browning's pink wedding dress was opposite Richie's, it was equally beautiful.
Which famous beauty should you take inspiration from?
If you're a bride-to-be looking forward to wedding dress shopping but can't decide whether to take inspiration from Sofia Richie or Emily Browning on your wedding day because you admire both, think about which look suits your personality and style. First, we must make one point clear: one dress isn't better than the other. Richie and Browning both looked amazing on their wedding days, and we have no desire to pit their looks against each other. However, the two highly talked-about celebrity wedding looks were as different as possible, exuding opposite vibes. So, consider whether you want more of a classic or non-traditional vibe to figure out which celebrity wedding look to be inspired by.
Anyone who wants more of a classic, luxurious look with a white dress — or dresses — and some delicate sparkle will likely connect more with Richie's wedding look. "I always had this vision of the big princess dress and going big, but as I got older, I realized that I wanted something a bit more simple. I really wanted to bring a sparkly elegant perspective with this dress," Richie told Vogue. However, bold future brides who prefer lively colors over traditional white and don't want additional embellishments should take inspiration from Browning's solid pink gown and blue veil.
Other dresses that give Emily Browning vibes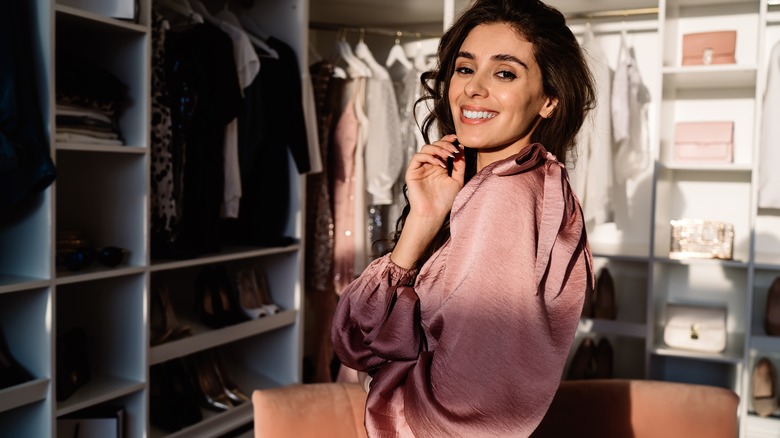 GaudiLab/Shutterstock
If you decide you want more of an Emily Browning-inspired look for your wedding ensemble, you need a long pink dress. The best part is that you won't have to go to an expensive bridal boutique — unless you want to — since many fashionable stores and sites already sell pink dresses, helping you save money. For instance, the ANRABESS Womens Summer Sleeveless Cutout Maxi Dress in rose pink currently sells for only about $45 on Amazon. Like Browning's wedding dress, this pink maxi dress is sleeveless and has ruffle-like details. The long dress also features sexy cutouts and has 4.2 out of five stars.
Moreover, while the candy pink Anaya Bridesmaid Tie Back Maxi Dress, which is available for around $150 at ASOS, is labeled as a "bridesmaid" dress, anyone who wants to look like Emily Browning on their wedding day should consider wearing it as their bridal gown. Although this dress has longer sleeves and a V-neckline, the overall look provides a similar vibe to Browning's. Furthermore, the Mac Duggal One-Shoulder High-Low Satin Gown sells for nearly $400 at Saks Fifth Avenue. Made of polyester, the gown is super similar to Browning's dress in regards to the hot pink shade. However, this garment is excellent for anyone looking for a sexier option, thanks to the high-low bottom and one-shoulder design.