Unconventional Celebrity Wedding Dresses That Left A Mark On Us (Both The Good & The Bad)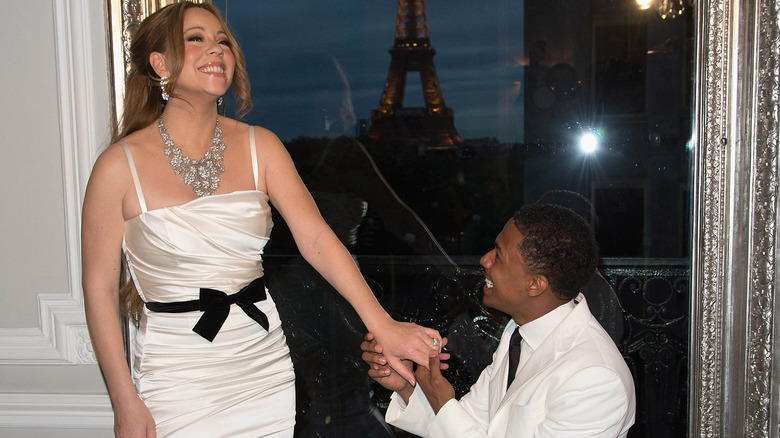 Pascal Le Segretain/Getty Images
Celebrity weddings are typically taken to extraordinary fashion heights, with designers clamoring to create show-stopping gowns for the rich and famous. However, not all wedding dress choices turn out to be a match made in heaven. Join us on a captivating journey as we explore unconventional choices and unexpected twists, as these fearless celebrities dared to deviate from the traditional path, opting for looks that left fashion critics divided. From avant-garde designs to clashes of color and questionable veil choices, these wedding outfits continue to stand out thanks to their audacity and uniqueness.
What's more, bridal fashion has evolved over the decades, and today's modern wedding dress trends often find inspiration in these celebs' unforgettable fashion moments, some of which have become classic vintage wedding looks now. So, prepare to be entertained (and a bit shocked) as we go through some memorable moments in wedding fashion history that certainly serve as reminders that, when it comes to the big day, sometimes the most interesting — both the good and the bad — moments arise from stepping outside traditional fashion boundaries.
Gwen Stefani's ombré rockstar gown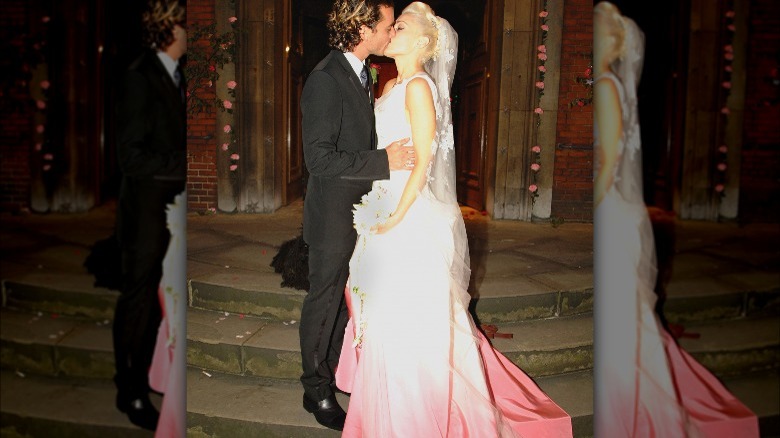 Thomas Rabsch/Getty Images
Musician Gwen Stefani walked down the aisle in 2002, wearing a white and pink ombré dress to tie the knot with fellow artist Gavin Rossdale. This avant-garde choice was a testament to Stefani's unique and brave fashion style, and while most people would shy away from such a daring look, there's no doubt that she pulled it off.
Queen Camilla: when the hat overshadows the dress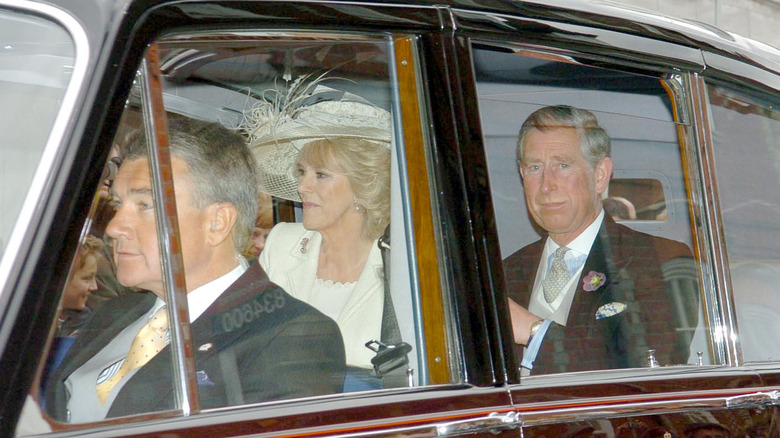 David Lodge/Getty Images
Queen Camilla definitely made a statement at her 2005 town hall wedding to King Charles. Opting for an understated cream dress and matching coat, Camilla was hoping for an elegant and sophisticated look. However, the funky white hat perched atop her head became the unexpected focal point, stealing the show and overpowering her overall look.
Céline Dion's crystal-studded extravaganza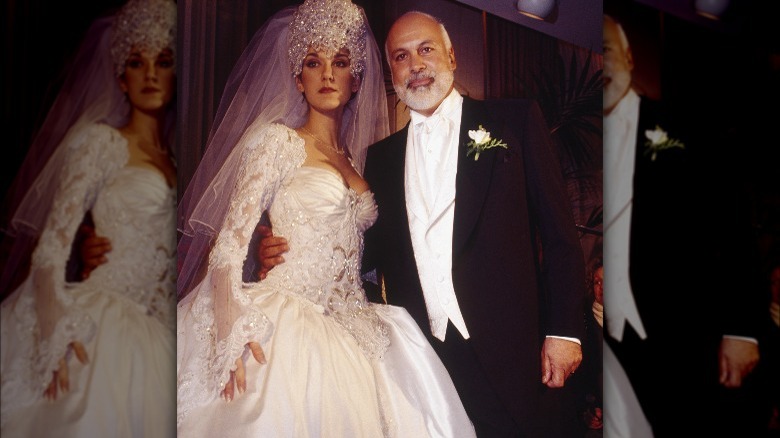 Laurence Labat/Getty Images
When it comes to Céline Dion's wedding to talent manager René Angélil in 1994, "simple" was not in her vocabulary. The singer picked an intricate gown adorned with lavish lace, shimmering crystals, and exquisite detailing. The dress itself was a masterpiece, but it was the matching dramatic veil/headpiece that truly took center stage, as it was impossible to miss.
Emma Thompson's rebellious '80s ensemble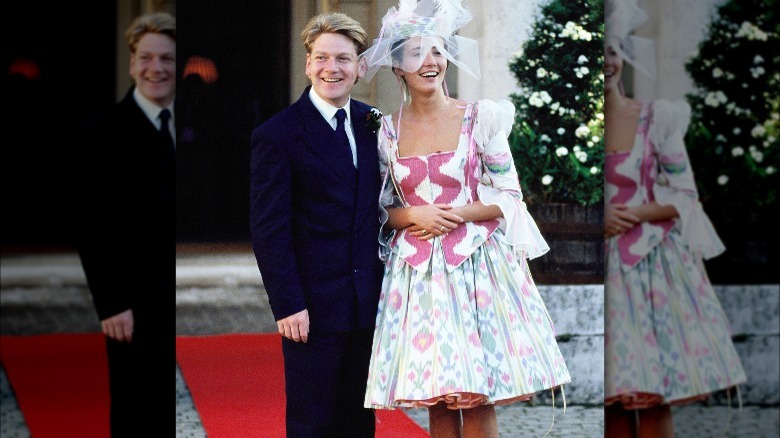 Georges De Keerle/Getty Images
Emma Thompson is also no stranger to them. Anyone familiar with the esteemed actor's work knows that she fearlessly embraces the unconventional, and her wedding to fellow actor Kenneth Branagh in 1989 was no exception. Thompson opted for a dress that defied traditional bridal norms and epitomized the vibrant spirit of the '80s. Her funky and colorful ensemble, though unconventional, exuded a unique charm that only she could pull off.
Nicky Hilton's over-the-top fairy tale gown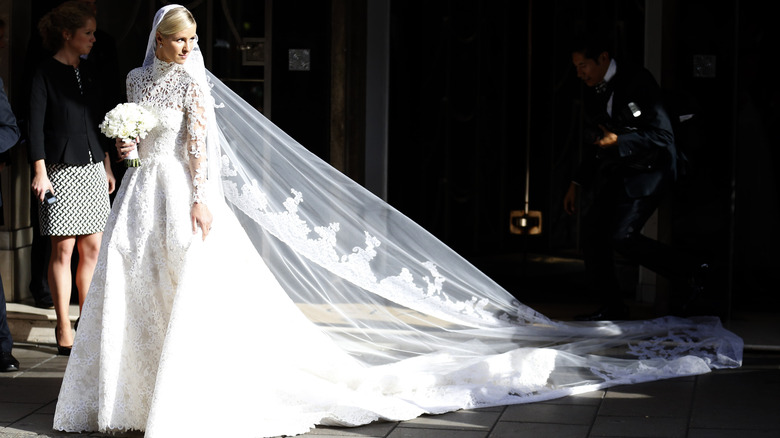 Neil Mockford/alex Huckle/Getty Images
When it comes to making a grand entrance, socialite Nicky Hilton knows how to steal the show. At her 2015 wedding to James Rothschild, Hilton opted for a gown that combined all the classic elements of a fairy tale wedding gown — a princess-worthy silhouette, intricate lace detailing, and an ultra-long veil. While some may argue that it's a case of "too much is too much," Nicky Hilton certainly seemed happy with her choice.
Jennifer Lopez: when princess glamour goes slightly overboard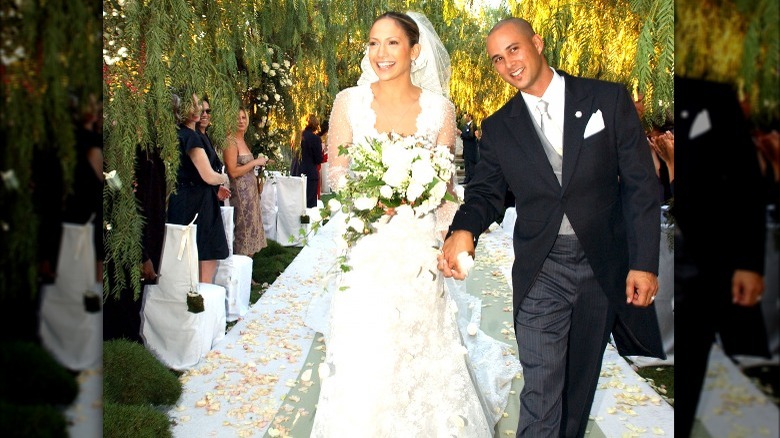 Joe Buissink/Getty Images
Hollywood star Jennifer Lopez, known for her show-stopping style, took a trip down the aisle in 2001 with dancer Cris Judd. Opting for a classic princess gown, J.Lo embraced a gown that boasted intricate lace, delicate mesh, and dazzling gems, creating an ensemble in which each element was slightly overwhelmed by one another.
Solange Knowles' off-white bridal jumpsuit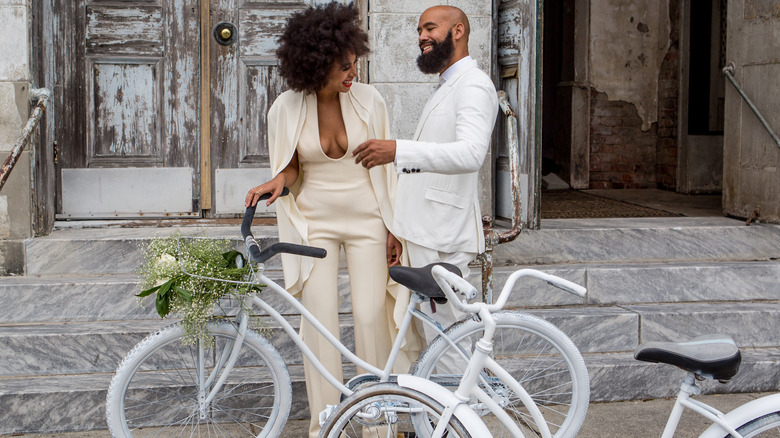 Josh Brasted/Getty Images
Beyoncé's younger sister, Solange Knowles, is known to always make a powerful statement with her fashion choices, and her wedding day in 2014 was no different. Ditching the traditional gown, Solange opted for an off-white trouser one-piece that perfectly captured her confidence and strength. While the unconventional ensemble suited her bold personality, the off-white hue of her outfit clashed with the crisp white suit worn by music video director Alan Ferguson, making us wonder whether the two even discussed color coordination before the big day.
Kate Moss' sheer slip dress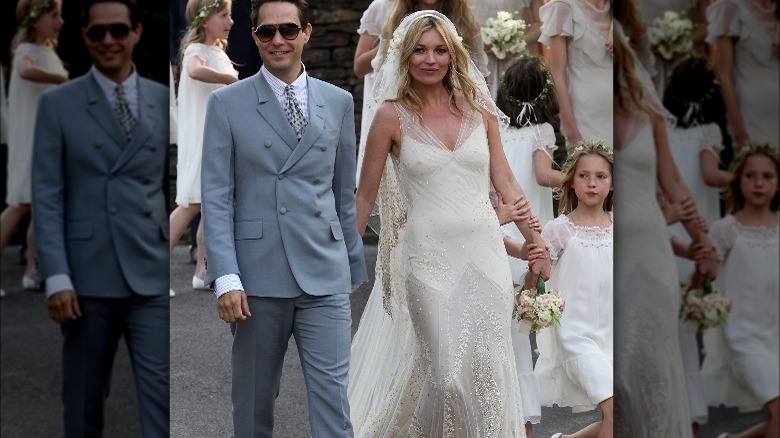 Neil Mockford/Getty Images
Supermodel Kate Moss, renowned for her impeccable fashion choices, tied the knot with Jamie Hince in 2011. Known for her bohemian style, Kate opted for a wedding look that aimed to capture a vintage aesthetic. However, the outcome fell short of expectations. Her choice of a sheer slip dress with delicate gold embellishments was a disappointment due to its lack of drama and boldness.
Tana Mongeau: sparkles, thigh-highs, and unconventional I do's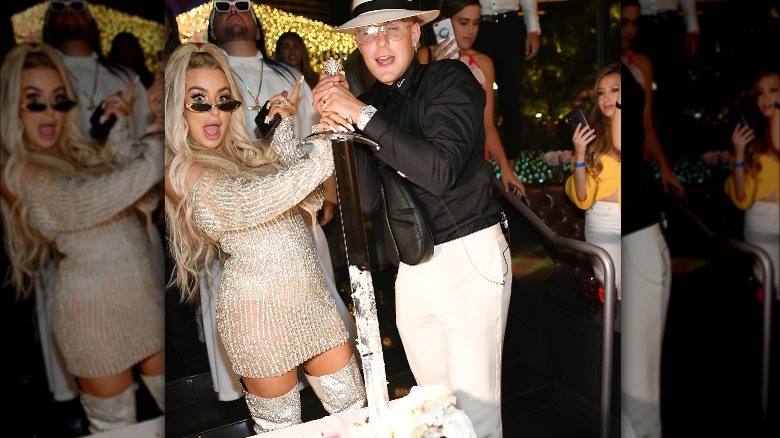 Denise Truscello/Getty Images
When it comes to unconventional nuptials, no one does it better than internet personality Tana Mongeau. In 2019, amid the bustling halls of a Las Vegas mall, Mongeau and fellow internet star Jake Paul exchanged vows in an unofficial ceremony that certainly defied traditional wedding norms. Naturally, Tana's ensemble perfectly matched the high-energy affair, with the personality opting for a sparkly mini dress paired with thigh-high glitter boots. While some may question the choice, the wedding outfit embodied her vibrant personality and desire to stand out.
Katie Holmes' undone wedding hair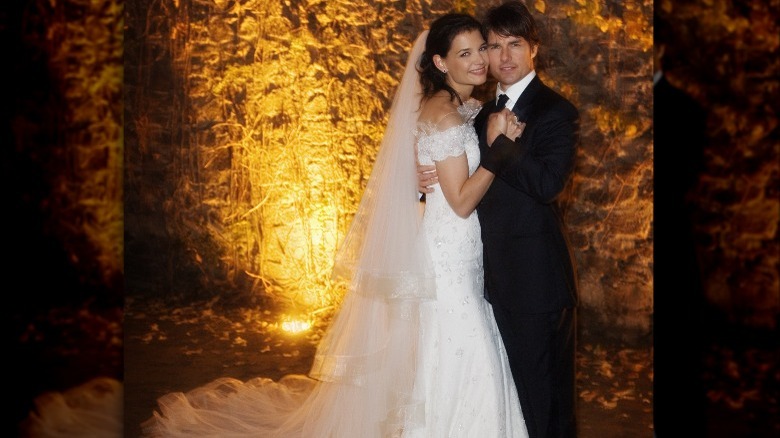 Handout/Getty Images
Actor Katie Holmes took her vows with Hollywood star Tom Cruise in 2006 while rocking a classic off-the-shoulder wedding gown that gave us timeless elegance. However, there was a noticeable flaw that left a tinge of disappointment: the state of her hair. It was as if her hair didn't quite get the memo to match the chicness of her ensemble, leaving an underwhelming impression.
Mariah Carey's cheap-looking mermaid gown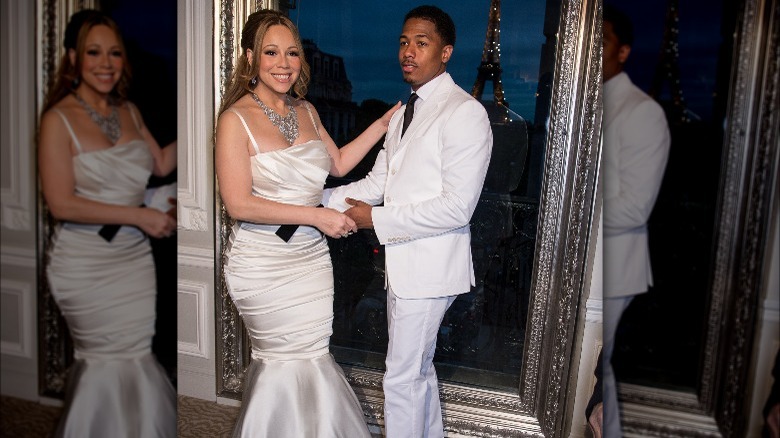 Dominique Charriau/Getty Images
In 2012, singer Mariah Carey and rapper Nick Cannon renewed their vows in the romantic city of Paris. Mariah, known for her extravagant style, donned a silk mermaid gown embellished with a black bow belt. However, the overall look failed to deliver the elegance we're accustomed to from the iconic star, with the fabric choices cheapening her appearance.
Liza Minnelli's Victorian clash of whites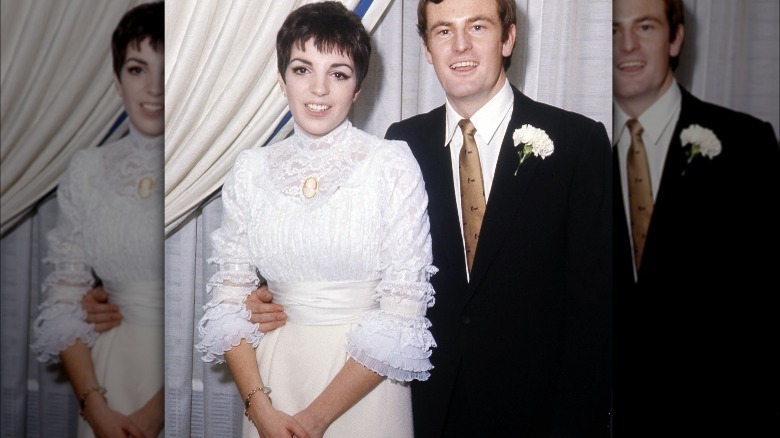 Silver Screen Collection/Getty Images
In 1967, the ever-talented Liza Minnelli exchanged vows with musician Peter Allen, and she opted for a Victorian-inspired ensemble for the occasion. Minnelli donned a blouse reminiscent of the era paired with a simple skirt. However, despite the nostalgic charm, the look appeared to have a last-minute quality to it. The crisp white of the blouse starkly contrasted with the off-white hue of the skirt, creating an unintentional clash that disrupted the look's overall harmony.
Julianne Moore: daring in lilac satin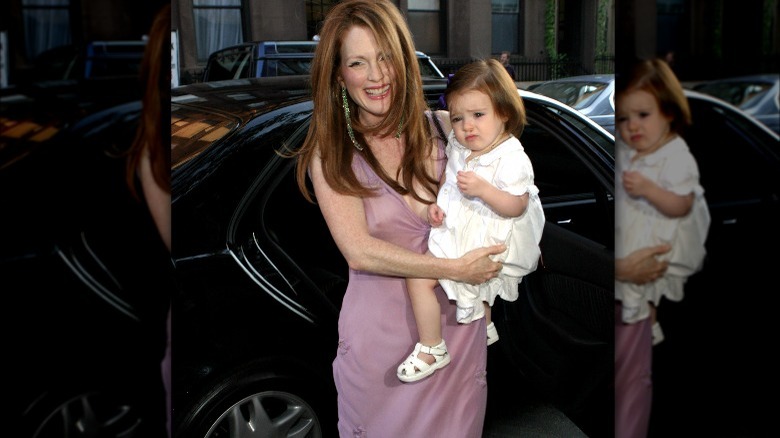 James Devaney/Getty Images
When Hollywood star Julianne Moore tied the knot with director Bart Freundlich in 2003, she broke away from tradition by embracing her own style. Instead of the classic white gown, Julianne made a statement in a satin lilac slip dress that showcased her fearless approach to fashion. Even though the dress looked more like a red carpet 'fit, there's no denying it looked stunning.
Amal Clooney's daytime wedding look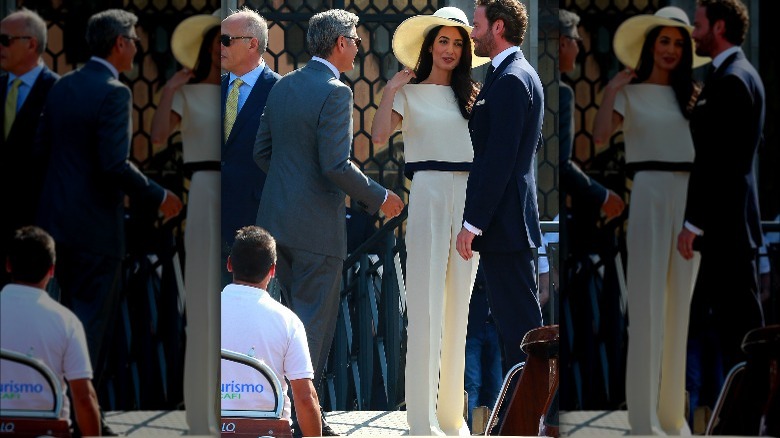 Robino Salvatore/Getty Images
Barrister Amal Clooney exchanged vows with Hollywood heartthrob George Clooney in 2014, and her wedding fashion choices were nothing short of captivating. While her actual ceremony gown gave a classic, timeless beauty, her daytime ensemble was a rather unusual choice. Amal was spotted wearing an off-white blouse paired with stylish pants, perfectly complemented by a matching hat. With a look like this, she reminded us that true beauty isn't limited to a traditional white wedding gown.
Yoko Ono's mod wedding fashion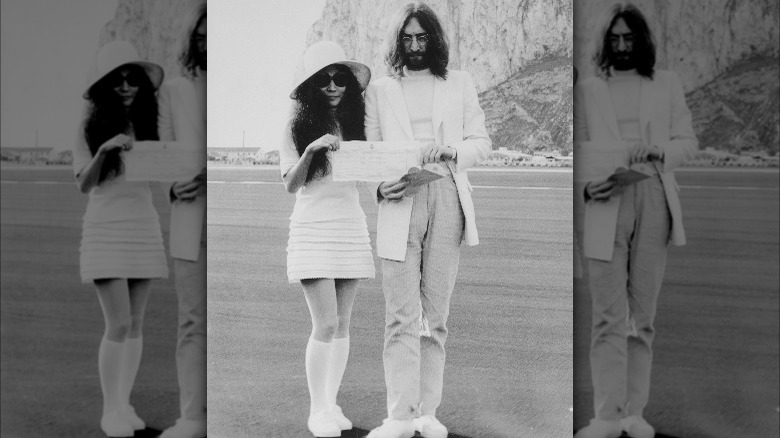 Bettmann/Getty Images
In 1969, the world watched as Beatles legend John Lennon took a leap into matrimony with avant-garde artist Yoko Ono in Gibraltar. Yoko's wedding look captured the essence of the swinging '60s, showcasing mod fashion at its finest with a classic white ensemble. Ono opted for an A-line miniskirt paired with a simple top, knee-high socks, and sneakers, all in pristine white. Her choice of attire definitely showcased her youthful and rebellious charm.