Ready For Spooky Season? Here Are Some Fall-Inspired Outfits You Can Wear In The Summer Heat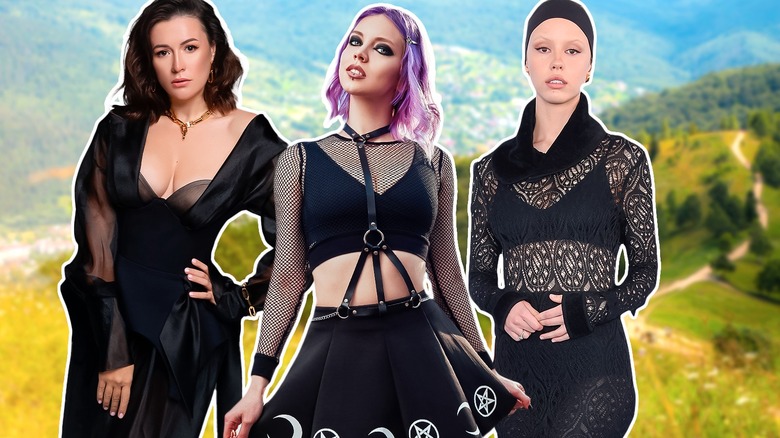 Static Media / Shutterstock / Getty
When summer starts winding down, some people cling to those last sun-baked days. But for others of us, spooky season can't start fast enough. By the time August rolls around, we're ready to put away our warm-weather clothes and leap straight into chunky cardigans, sturdy boots, and our witchiest outfits. Alas, these ensembles don't always play well with the late summer heat.
But that doesn't mean you have to keep counting down the days to cooler temperatures. Autumnal fashion is as much about styling as it is about weight, meaning that you can shift from summer silhouettes to a fall aesthetic without succumbing to stifling layers. Iconic goth clothing brand Killstar even has an entire collection of "Summer Goth" pieces, from elegantly ominous chiffon shirt dresses to morbidly designed bikinis.
So if you're impatient for autumn, end the wait. Incorporate eerie fashion pieces and smart styling shortcuts that can comfortably bring spooky season into your wardrobe ASAP — even if it's still in the 80s outside.
Black and orange exude year-round Halloween energy
Are you a dyed-in-the-wool Halloween lover? It may feel too early to start putting out jack-o-lanterns, but you can still exude the spirit of All Hallow's Eve by wearing its signature palette of black and orange. By donning these creepy colors via summer-appropriate garments like lightweight blazers, skin-baring crop tops, or airy dresses, you can enjoy a nod to the holiday without overheating in bulky autumn layers. Even better, this trick works for any aesthetic, whether you want to keep it glam or get fully in touch with your dark side.
A collared black dress serves Wednesday vibes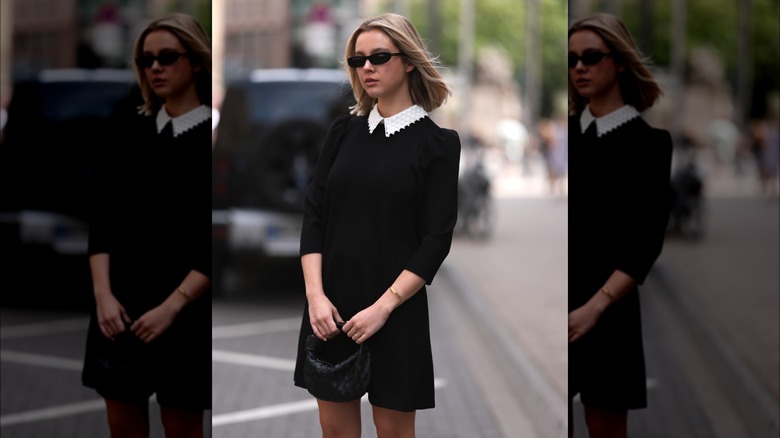 Jeremy Moeller/Getty Images
For goth-adjacent summer looks, any dress that can be worn without tights is a step in the right direction. And what could be more perfectly spooky than an outfit that evokes Wednesday Addams, the deadpan queen of all things ghoulish? All it takes to achieve this look is the juxtaposition of a black minidress with a crisp white collar. And while Wednesday's iconic dress may be long-sleeved, you can opt for a short or three-quarter sleeve cut to help beat the summer heat.
Wear autumn colors to embody fall foliage early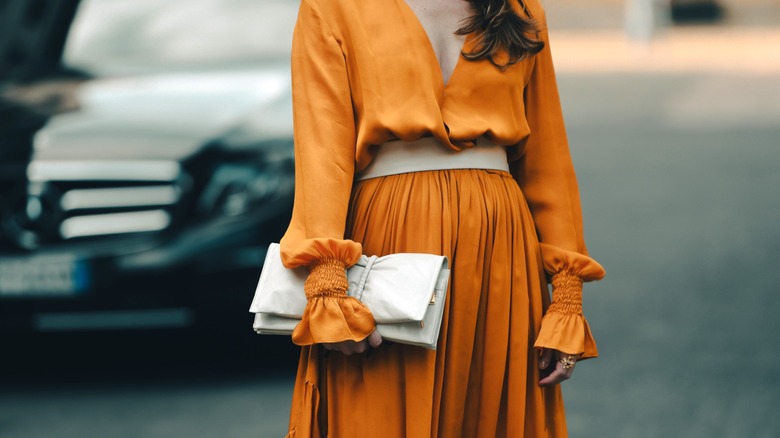 Creative Lab/Shutterstock
If you're looking for a color scheme that's a little less gimmicky than Halloween's combo of inky black and bright orange, you can also play with other autumn hues to start edging into spooky season early. Mix and match pieces that are summer-weight but in shades of fall foliage, such as rust, mustard, and burnt sienna. To add an extra spook factor, put the finishing touches on your look with statement accessories. Studded belts and booties will give your outfit a hard, macabre edge, while stacked rings or raw crystal necklaces will add an ethereal, otherworldly sensibility.
A black felt hat adds a chilling touch to summer ensembles
To bring your summer fashion over to the dark side, topping any ensemble with a black felt hat creates instant drama. Subtly witchy without defaulting to the costumey stereotype of a peaked witch hat, a wide-brimmed black chapeau is wonderfully eerie in any season. Opt for a cute black fedora for everyday wear, or make a powerful impression with a super wide-brimmed flat-top hat. You can even find some decorated with incredible spooky season designs, like the Candy Corn Felt Hat from Witchwood Bags. To keep it cute, explore tips for styling a wide-brimmed felt hat without looking like Freddy Krueger — unless that's what you're going for, of course.
Corsets make every outfit spookier
Want an easy hack to turn any sunny summer dress into a spooky season staple? Simply top it with a moody black corset for an injection of gothic romance. Of course, a black corset on an equally black dress will deliver dark fairy vibes, but this style will also work with many other color combinations. Layer your goth corset over rich florals, summery ginghams, or even fresh pastels to create contrast and transition your wardrobe from beach days to pumpkin days.
A touch of flannel mimics cozy autumn vibes
It may not be sweater weather yet, but you can start shifting your look toward spooky season by introducing a hint of flannel into your late-summer rotation. In fact, many flannel button-ups are ideal for this time of year, as they're light enough for warmer weather but heavy enough to handle any cool evenings or stray breezes. Plus, you can easily roll up the sleeves or sling a flannel shirt around your waist. To get the look, simply add a flannel over your favorite summer combo, such as a T-shirt and denim shorts.
Black-and-white stripes create a Beetlejuice aesthetic
Stripes are already popular in the summer thanks to their beachy, nautical sensibility. But if you're ready to skip ahead to autumn, you can take that summer trend in a ghastlier direction by choosing dramatic black-and-white-striped garments. Paired with dark makeup or edgy accessories, black-and-white stripes have an undeniably creep-worthy feel — probably thanks to Michael Keaton's iconic suit in "Beetlejuice." So if you feel as "strange and unusual" as Winona Ryder's "Beetlejuice" character Lydia Deetz, let your freak flag fly with this spooky yet summer-friendly print.
Dark academia offers a vintage nod to spooky season
Love the dark academia fashion aesthetic for fall? Get a headstart by embracing summer-weight pieces from this popular fashion trend. Pair pleated and plaid-patterned mini-skirts with airy button-ups and neckties, suspenders, or ribbons for a classic spooky season ensemble that's still appropriate in the heat. All the better if you can choose a short-sleeve or even sleeveless blouse. And when autumn finally does arrive, it only takes the addition of a cardigan to transition this look for cool weather.