We Tried Kate Middleton's Wedding Day Manicure & It's Princess Perfect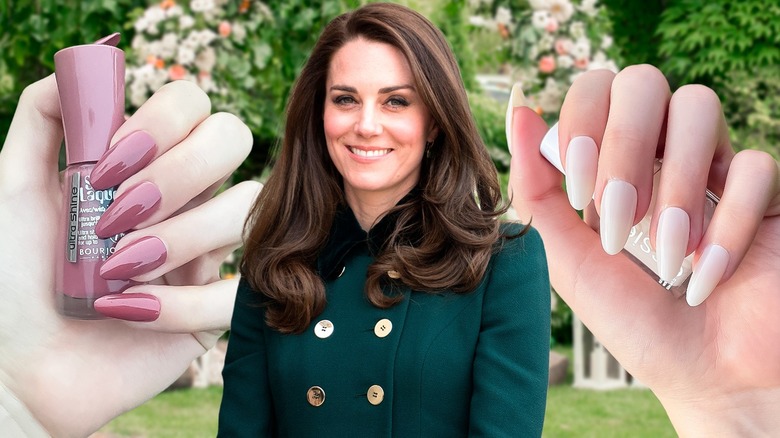 Robyn Song/Static Media/Shutterstock/Getty
You don't have to spend like a royal to look the part. Case in point? Kate Middleton. The Princess of Wales' style has been coveted ever since the Berkshire beauty was first linked to Prince William, and fans have been pleasantly surprised to learn how affordable some of her everyday products are. Impressively, her down-to-earth approach to all things glam even extends to major events like royal weddings.
In spring 2011, millions tuned in to witness Kate's wedding day ensemble, which featured a bespoke gown by Sarah Burton for Alexander McQueen. Much was said about Kate Middleton's makeup, a combination of Bobbi Brown cosmetics that she's said to have applied herself, but one small detail that caught the attention of watchful eyes the world over was her nails. We may not all have the means to sport custom McQueen, but luckily for us, the Princess of Wales wore two budget-friendly polishes for her big day.
Her manicure was reportedly a blend of two ready-to-wear shades: Essie's Allure and Bourjois Rose Lounge. "She wanted something off-white and bridal, so these were absolutely perfect. She was very pleased with the result and told me that it looked beautiful and elegant," her manicurist, Marina Sandoval, told the Daily Mail at the time. Ready to learn how to get the look yourself? We tried our hand at recreating Middleton's royal wedding nails to help guide you through the process.
First impression of Essie Allure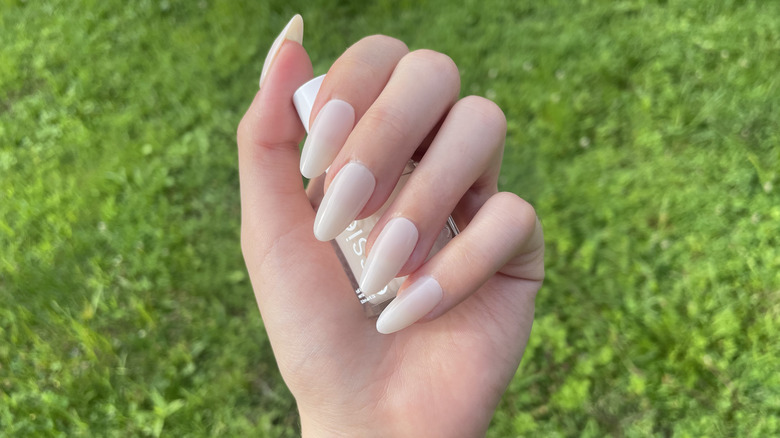 Robyn Song/Static Media
We love Essie, the American nail polish brand founded by Essie Weingarten in 1981. Its iconic square bottles and luxurious formulas have won over fans from all walks of life, including members of the royal family. The company's connection to British royalty goes back decades, with the late Queen Elizabeth II noted as a dedicated wearer of Essie's pink Ballet Slippers polish. More recently, both Meghan Markle and Kate Middleton have been rumored to pop on Essie's Marshmallow, a sweet shade of white.
Allure, the shade used to fashion Middleton's wedding day mani, is a milky white glaze with barely-there warm undertones. Right away, we loved its ultra-fluid consistency, which slid onto our nails with ease. One coat is enough to provide a moonlit tint, but we opted for three to better assess its appearance. Even after painting on the third coat of polish, we noticed that this shade remained fairly translucent. If using a topcoat, try mixing equal parts of matte and gloss products for a semigloss finish to preserve its pearly glow. In terms of drying, Allure takes a while to fully set, so be careful when applying multiple layers of lacquer. Overall, we thought that Allure was a gorgeous color, especially when viewed in natural light, but we do wish that it set more quickly.
First impression of Bourjois Beige Glamour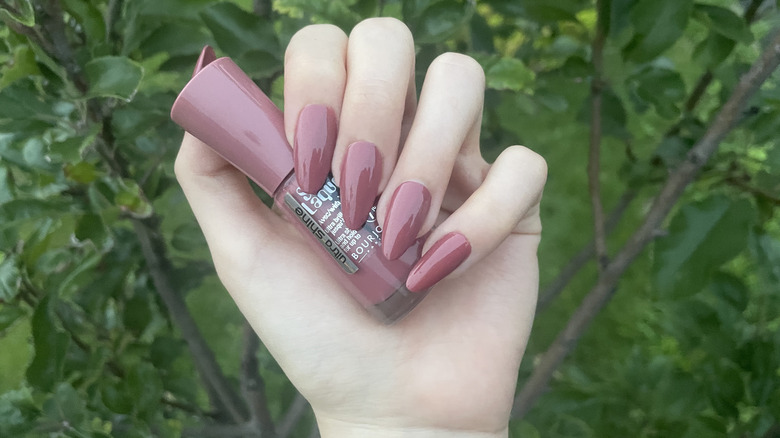 Robyn Song/Static Media
The rosy glow behind Middleton's wedding day manicure comes from Bourjois, a French cosmetics company founded in 1863. Buying Bourjois products in the United States can get a little complicated — doubly so if you're hunting for a shade worn by royalty. At the time of writing, Bourjois nail polishes vary greatly in price and are typically only available through third-party sellers online if you're purchasing them stateside.  Thus, we sourced Bourjois Beige Glamour in lieu of Rose Lounge for our interpretation, a mauvish beige that promises seven-day-long wear — and just so happened to be easier to find. This particular polish is part of Bourjois' So Laque collection, a lineup crafted with vinyl to ensure optimum shine. 
Our first observation of Bourjois Beige Glamour was that the polish itself was very creamy and pigmented. That's not to say it's difficult to apply, though. Surprisingly, this full-bodied lacquer coated each nail evenly and cleanly. Furthermore, it dries remarkably quickly, which is good news for those who can't stand the sight of chips, dings, or fingerprint smudges on a freshly-painted mani. We liked the look of one coat, which gave us a charming jelly nail polish effect. But by the second or third coat, our Beige Glamour application was completely opaque. What's most impressive about this polish is its vinyl-infused finish. It's so glossy you can get away without wearing any topcoat at all.
Creating Kate Middleton's wedding day manicure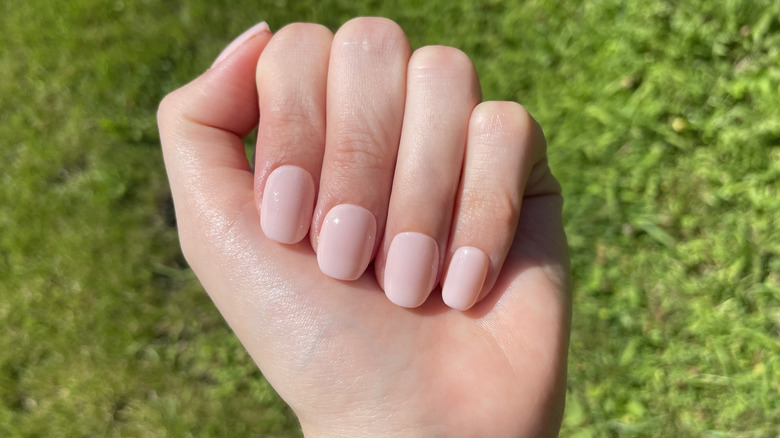 Robyn Song/Static Media
The custom color mixed for Kate Middleton's big day resulted in the ultimate bridal hue — a creamy, lit-from-within shade somewhere between off-white and blush. From what we could see, her nails were kept relatively short in length and filed into a squarish shape. We used artificial nails to get the look, but you can easily file your natural nails to achieve a similar result.
Most importantly, you'll want to make sure your mixing technique is on point. Essie's Allure is a very pale, translucent color, so you'll only need a drop of Bourjois Beige Glamour for every eight to 10 drops of Allure. When blended, the two lacquers produce a satiny, sheer color similar to a dusty rose. While we loved the final outcome, it's worth noting that the mixture is a tad temperamental. To keep the polish from getting overly tacky as you paint, carefully add a drop or two of rubbing alcohol to your mixing palette, and use your brush to blend everything together.
There's something to be said for wearing your own personalized nail color, and once we tried the princess', we didn't want to take it off. If you have trouble sourcing either polish, look for a semi-translucent white in place of Essie's Allure and a high-shine, quick-drying beige for Bourjois Beige Glamour. Who knows? Custom nail color could be the next great manicure trend, so try experimenting with products in your collection to develop a shade that's all your own.