How To Choose A Bronzer That Complements Your Skin's Undertone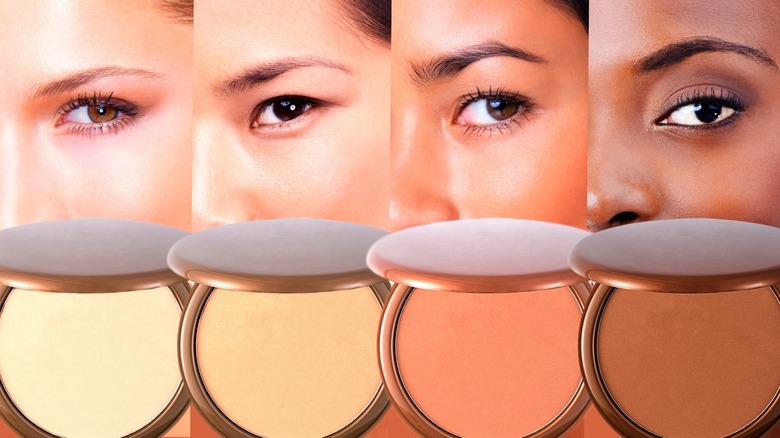 Static Media/Shutterstock
For many people, a full face of makeup isn't complete without the warming glow of bronzer. Not to be confused with contour, bronzer isn't intended to sculpt your features but is a makeup product meant to give the skin a sun-kissed look. Typically, it's placed where the sun would naturally fall on your face, so the cheeks, nose, temples, and chin.
Because this cosmetic is supposed to mimic a naturally occurring look, picking the right shade is vital to creating a believably sun-kissed appearance. Much like foundation matching or choosing a perfect nude nail design, there are lots of factors to take into account when searching for the right bronzer for you.
Skin tone is a pretty important detail to consider, but many makeup artists also recommend thinking about your skin's undertones when it comes to selecting complementary cosmetics. For bronzer, we have just the tips you need to make sure your skin is getting that radiant, summery look.
Understand undertones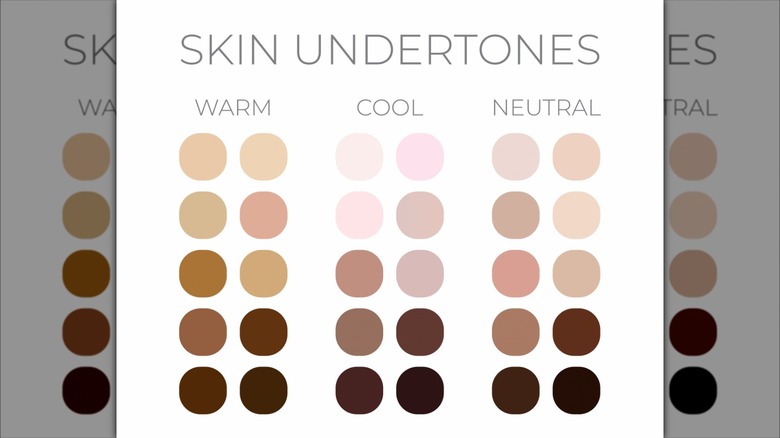 Angela Cini/Getty
The first step to picking a bronzer that works for you is understanding what exactly undertones are and how they can affect your cosmetic choices. Undertones are not to be confused with your skin tone, as Tiffany Torrence, makeup artist and founder of the Skin and Body Klinic, tells ESSENCE Magazine, "Skin tone can change over time for a variety of reasons, but undertones remain constant (yes, even when you tan)."
Essentially, while skin tone is a product of the skin's melanin production and can range anywhere from pale ivory to dark chocolate, undertones are the coloring just beneath the surface of the skin. Typically, a person can be categorized as having warm, neutral, or cool undertones, a characteristic independent of their skin color.
When it comes to makeup, you have the freedom to make whatever color choices you desire. Still, knowing your undertones is helpful if you're going for a more subtle look or are trying to decide on shades that will complement your natural coloring. In this way, knowing this detail about yourself will make picking a natural-looking bronzer much easier.
Identify your undertone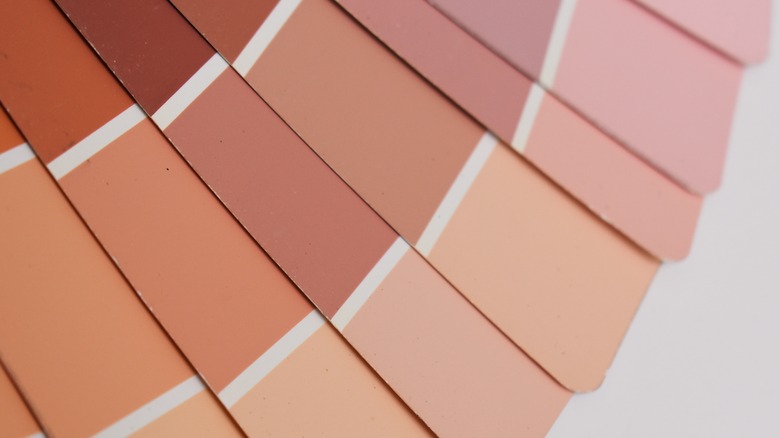 AleSalM/Shutterstock
Now that you know what undertones are, you can move on to identifying your personal coloring. To do so, makeup artists and experts have several tips and tricks they recommend trying out. First, take a look at the veins in your wrist in natural sunlight. If you detect a more greenish hue, then it's likely you have warm undertones, whereas a blue or purple coloring indicates a cool undertone. If you see a mixture of both, then you're likely neutral.
The white paper test is another method for determining your skin's undertone. For this, take a plain white sheet of paper, or a pure white clothing item, and hold it up next to your face in the mirror. If you see more yellow and gold tones in your skin, then you have warm undertones. Pink or red coloring translates to a cool undertone while a combination of both makes you neutral.
Lastly, when determining undertones to help you select a bronzer, experts also recommend considering how you tan. Katie Levy, Pro Makeup Artist at Trinny London, explains, "When you look at a bronzer, you should think about how you tan naturally ... Do you go a golden color? Or maybe a reddish bronze?" Those with a more golden tan likely have warm undertones, while a reddish bronze indicates a cool-tone coloring.
Look to celebs for makeup inspiration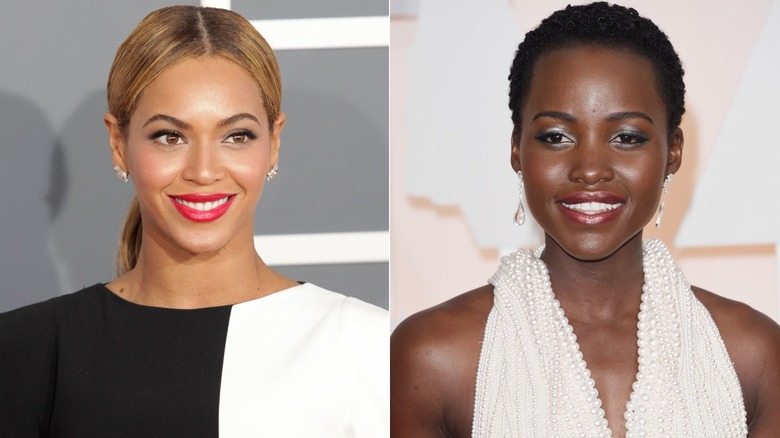 Jason Merritt/Getty & DFree/Shutterstock
Finding celebrities that have a similar skin color and undertone to you is also really helpful. For those wanting confirmation about what category you fall into, a visual comparison can be just what you need. If you've already identified your undertone, then looking at celebrities that share your coloring is a great way to get an idea of what makeup might suit you.
If you have warm undertones, you fall into the same category as celebs like Beyoncé, Jennifer Lopez, Viola Davis, and Jessica Alba. For those with neutral coloring, Selena Gomez, Kerry Washington, Lana Condor, and Drew Barrymore share this undertone. Lastly, Lupita Nyong'o, Lucy Liu, Anne Hathaway, and Mindy Kaling are all examples of celebrities that have cool-toned coloring.
As you can tell, these celebs have a range of different skin tones independent of their undertone, both of which are important in picking out a bronzer. For makeup guidance, find a celebrity that shares a similar skin tone and undertone to you for the best inspiration.
Choose a bronzer that shares undertones with your skin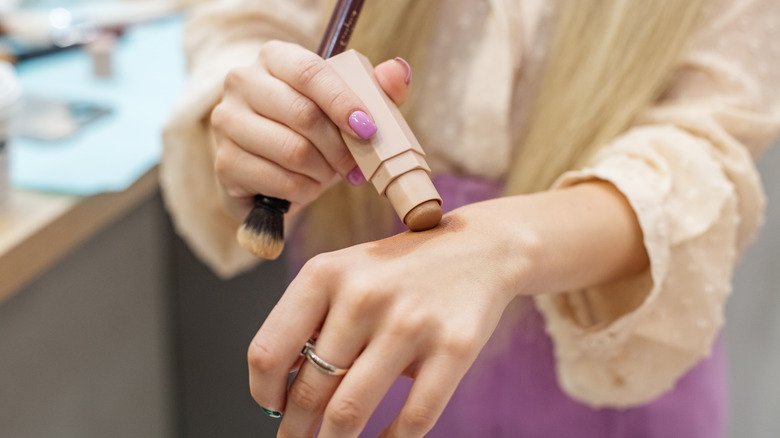 Olha Romaniuk/Getty Images
Once you've identified your undertones, you can begin making an informed choice about the bronzer that would work best for you. The first step is to make sure the shade of the bronzer works with your skin color, as going too dark can give your makeup a muddy look. As Priscilla Ono, Fenty Beauty Global Makeup Artist, shares with Marie Claire, "Generally speaking, your bronzer color should be one to two shades darker than your surface tone (or skin tone)."
Next, you can look at the undertones of the bronzer, going for one that has the same coloring as your skin. For those that lean warmer, this means  yellow-toned or gold hues would work well for you. If you have cooler undertones, opt for a bronzer with pink or soft-brown finishes. Those with neutral undertones typically have a combination of cool and warm tones in their skin, which means they can pull off bronzers from either end of the spectrum, but true-browns are always a good bet.
Make the wrong shade of bronzer work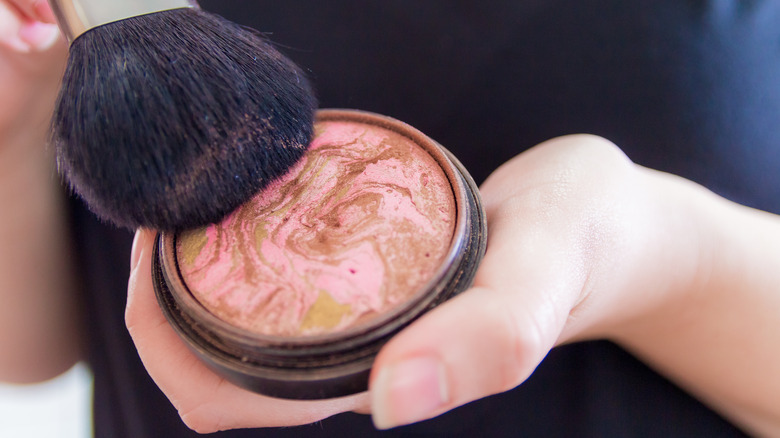 Wavemovies/Getty Images
These are great tips for your next makeup shopping trip, but they're not very helpful if you've already bought the wrong shade of bronzer. Luckily, there are some ways to modify a bronzer that isn't the exact right color for your undertones.
For example, if your bronzer is too orange, then the TikTok from @roseandben demonstrates the perfect hack for you. You can modify the coloring of a bronzer that is too orange by blending it out with a true red blush, combating the warm tones that appear orange on your skin with the cool tones of the blush. For a bronzer that is a little too dark for your skin tone, NYC makeup artist Mary Irwin recommends altering your application technique, telling Makeup by L'Oréal, "If you use a big fluffy brush, it will pick up less pigment than a smaller, denser brush... try applying it more gently for a lighter finish."
Other than that, you can always repurpose a bronzer that doesn't work for you, using it as an eyeshadow or even a contour if the color and finish are suitable.