Whatever Happened To Kardashian Brand Khroma Beauty?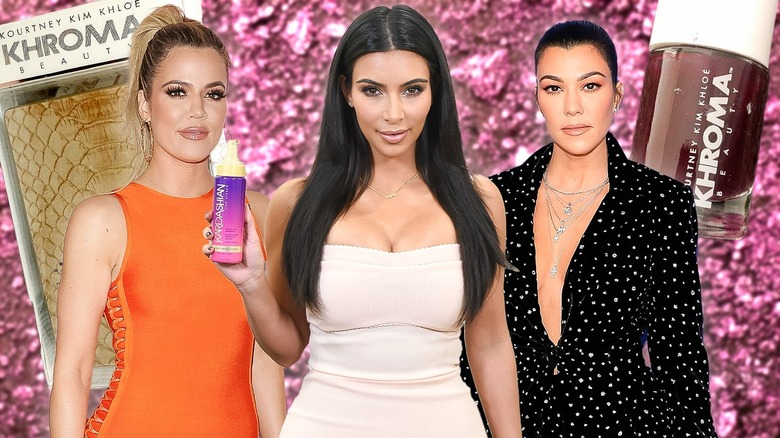 Static Media/Shutterstock/Getty
There's no denying that the Kardashian-Jenners have done a remarkable job leveraging their reality show stardom into a major business empire, but before legendary brands like SKIMS, Good American, or Kylie Cosmetics entered the scene, the Kardashians had more than one failed attempt at entrepreneurial success. If you want to track the rise of the Kardashians, there's an often-forgotten brand flop that must be considered: Khroma Beauty.
Launched in 2012, Khroma Beauty was one of the Kardashians' earliest forays into the beauty industry. Don't be surprised if the name doesn't ring any bells – it took less than 12 months for the venture to be rebranded as Kardashian Beauty, and the company closed down altogether just a few years later. While Khroma Beauty is now merely an artifact of a radically different pop culture era, looking back at the brand's trajectory gives insight into how the Kardashian-Jenners run their businesses today.
Khroma Beauty: launch and name change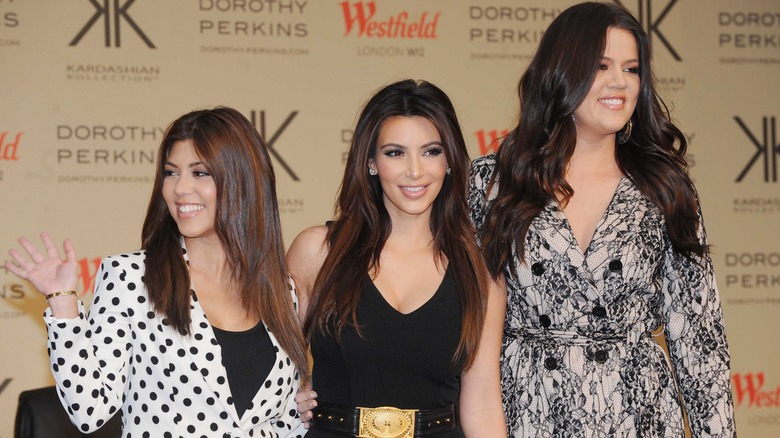 Stuart C. Wilson/Getty
Back in the early 2010s, the Kardashian sisters were well-known as reality stars, but they had yet to gain a solid reputation for their business savvy. To the Kardashians' credit, they recognized early on that Kim, Kourtney, and Khloé had the potential to use their roles as style influencers to market their own products, and thus Khroma Beauty was born.
According to a press release for the initial 2012 holiday launch, via the brand's licensing company Boldface Group, "The focus of Khroma Beauty [was] giving customers the tools to attain flawless looks at home with high quality formulas at affordable prices." Several of the Kardashian/Jenner brands today skew toward a higher price point (SKKN by Kim sells an $85 face cream) but in the days of Khroma Beauty, the target demographic consisted of folks who shopped at places such as Ulta, K-Mart, and CVS. Initially, Khroma Beauty was primed to become a reputable drugstore brand.
Unfortunately for the Kardashians, Khroma Beauty hit a major roadblock almost immediately: trademark infringement. Another cosmetics company, Kroma Beauty, filed a lawsuit against Boldface Group to block the Kardashians from using the name. The courts ultimately sided with Kroma Beauty, resulting in the Kardashians' brand being renamed Kardashian Beauty. The beauty line would carry on for a few years as Kardashian Beauty, but the brand's troubles weren't over yet.
The end of Kardashian Beauty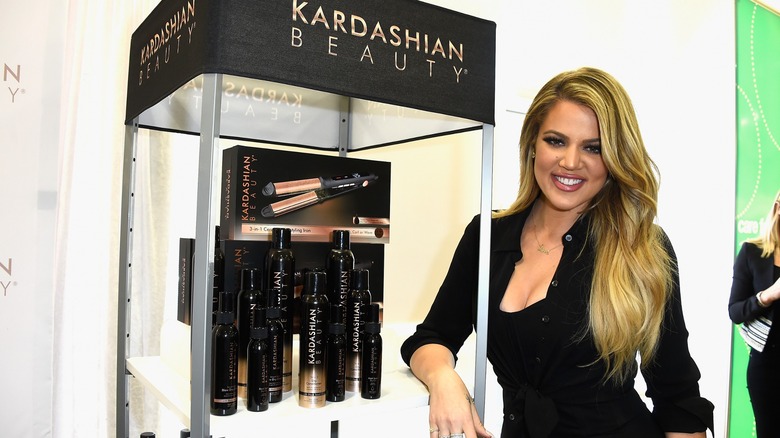 Frazer Harrison/Getty
Kardashian Beauty performed decently and produced some well-reviewed drugstore products, including nail polish, false lashes, and a hair care line. However, Kardashian Beauty was unable to survive a combination of legal problems and a rapidly evolving beauty industry. In 2016, the Kardashians entered yet another legal conflict, this time with their new partner who had replaced Boldface, Hillair Capital Management. Put simply, the Kardashians claimed that Hillair Capital owed them money, while Hillair Capital alleged that the Kardashians failed to properly promote the brand. It was only in 2021 that the court's decision was finally affirmed and the Kardashians were awarded over $11 million. By that point, the Kardashian sisters had moved on from Kardashian Beauty to other business ventures.
Aside from the legal entanglements, Kardashian Beauty was no longer a necessary brand vehicle for the Kardashian sisters. They were pursuing their own businesses, and, as Kylie Jenner demonstrated with the massive success of her lip kits in 2015, harnessing one's fan following through social media made going solo not only feasible but incredibly profitable. Although the celebrity family has firmly closed the doors on Khroma Beauty, Kardashian Beauty, and any of their other ill-fated drugstore brands, we can still look fondly back at that special time in pop culture history, when the Kardashian brand was synonymous with affordable and all you needed were some fake eyelashes from CVS to look like Kim.