Tips To Keep Shapewear From Rolling Down Your Tummy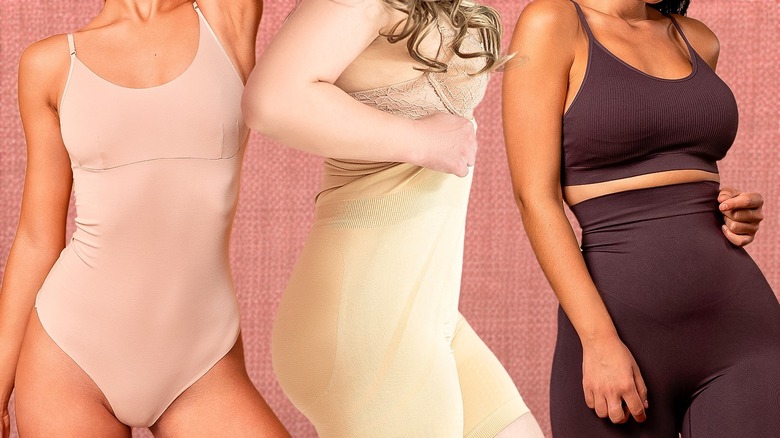 Static Media/Shutterstock
Shapewear is underwear designed to shape and contour your body, using stretchy and compressive materials to tuck in and firm up different areas like your stomach, waist, hips, thighs, and buttocks. It's meant to fit snugly and firmly against your skin, creating a smooth, streamlined appearance that enhances your natural curves.
If you're like us, you probably love shapewear because it smooths out your silhouette and helps you feel confident and put together. But let's be real: there's nothing more frustrating than putting on your favorite shapewear only to have it start rolling down your tummy at the worst possible moment. One of the untold truths about self-confidence is that something as little as badly fitting clothes can make you uncomfortable and uptight — even if no one else can see it. 
Shapewear that rolls down can be distracting and create visible bumps and creases that ruin the sleek, streamlined look you're going for. So, what's a girl to do? If we'd pry your shapewear from your cold, dead hands, you'd be pleased to know that you don't have to give them up. Instead, you can arm yourself with tips to keep shapewear from rolling down your tummy.
Wear your shapewear correctly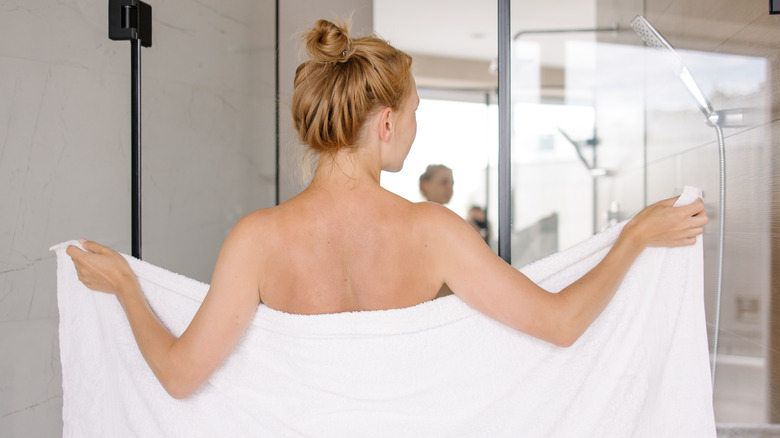 Da Antipina/Shutterstock
The first thing to remember is to dry your skin thoroughly after your bath or shower before slipping into your shapewear. Wetness is the enemy and can cause your shapewear to gradually slip from the moment you wear it. If you're prone to sweating in certain areas, dust some powder over those spots to absorb the moisture. But what if the problem isn't sweat-related? It could be that your shapewear chokes up your skin. That's where breathable shapewear comes in — it'll give you the compression you need while allowing your skin to breathe. Plus, less sweating means less chance of rolling down.
Next, pay attention to how you put on your shapewear. If it has no zipper, step into it instead of trying to wrestle it over your head. When it's in place, check yourself in the mirror before leaving the house. If you see any bulges, they're a sign that your shapewear might roll down. And trust us; you don't want to be caught pulling up your shapewear all day.
Another important tip is to ensure you're wearing the right shapewear for your outfit; In other words what style to wear and when. For example, if you're rocking a bodycon dress, strapless shapewear with built-in bra cups might not provide enough support and could roll down. Instead, go for full-body shapewear that'll give you full coverage and keep you confident all day.
Choose the right size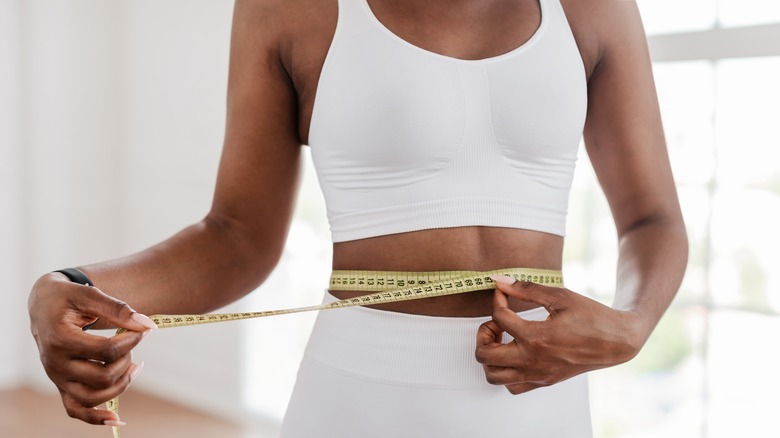 Prostock-studio/Shutterstock
Listen up, ladies! If you want your shapewear to stay put and do its job, choose the right size. We know it's tempting to go a size down to look even trimmer but trust us, it's not worth it. Picking a smaller size will only lead to shapewear that rolls down and ruins your day.
So, how do you get that trimmer look without sacrificing comfort? The answer is extra-firm compression shapewear. This type of shapewear is made from durable materials and has a high percentage of spandex or elastane. As a result, it'll keep its shape and provide maximum compression without rolling down. Major win!
If you're unsure what size to get, grab a tape measure and get to work. First, measure your bust while wearing a firm bra (foam-free, please). Then, find your waist by bending slightly and looking for where your skin folds. If you're shopping for shapewear for dresses, try matching your current dress size. But if your dress sizes vary, focus on your waist size instead of your bust. 
Go for high-waisted shapewear with silicon grips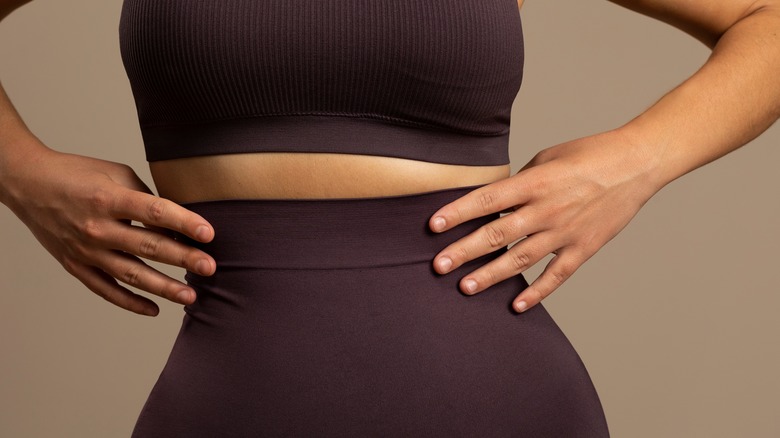 Akitha Linda/Shutterstock
High-waisted shapewear with silicone grips are a major game-changer for shapewear. The problem with some shapewear is that the material can be too slick and lose grip, especially when sweating begins. But high-waisted shapewear with silicone grips has your back, tummy, waist, and thighs!
The silicone strips or dots on the shapewear will stick to your skin like glue, keeping everything in place even when you're on the move. The best part? You can find silicone grips on different parts of shapewear, like the waistband, hemline, or even the straps or cups.
Just make sure you're not falling for silicone grip shapewear dupes. The high-quality versions have evenly distributed skin-safe silicone throughout the garment. Poorly placed silicone grips or low-quality silicone can cause discomfort or irritation to your skin. So stick to the good stuff, and you'll feel confident and comfortable all day.
Consider shapewear with straps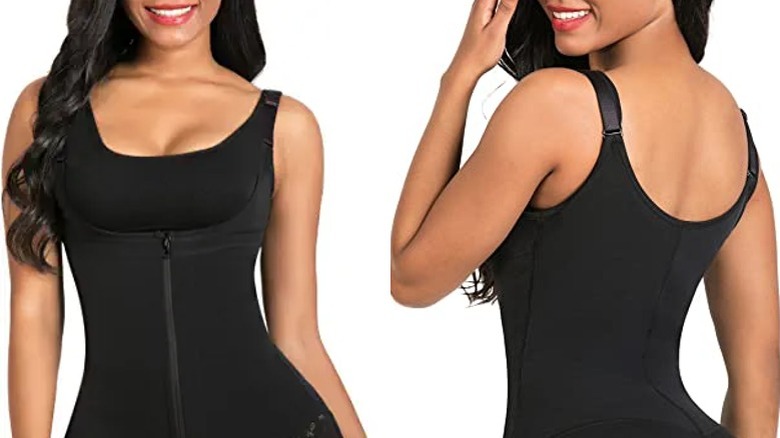 SHAPERX
Straps are the superheroes of shapewear. They keep everything in place, preventing the dreaded roll-down from happening. Plus, they provide extra support, distributing the compression evenly across the body. If your shapewear won't stay up no matter what, this is a foolproof plan. Depending on the type of outfit you're wearing, there are different strap options to consider.
For example, racerback straps work best with gowns that show off your shoulders and back, while halter necks complement backless or low-cut dresses. Another perk of straps? They lift your bust and improve your posture, making you feel like a million bucks. When choosing shapewear with straps, opt for adjustable ones that you can customize.
The width of the straps is also essential, especially if your dress has delicate straps. Don't forget to look for non-slip material to ensure the straps stay in place. Finally, if you want to show off a bit of cleavage, go for shapewear with an open-bust design. And for ease of use, choose shapewear with zippers or hook and eye closures. Ready to upgrade your shapewear game? Check out SHAPERX Shapewear for Women, where you can find strapped shapewear in inclusive sizing options.
Have a few tricks up your sleeve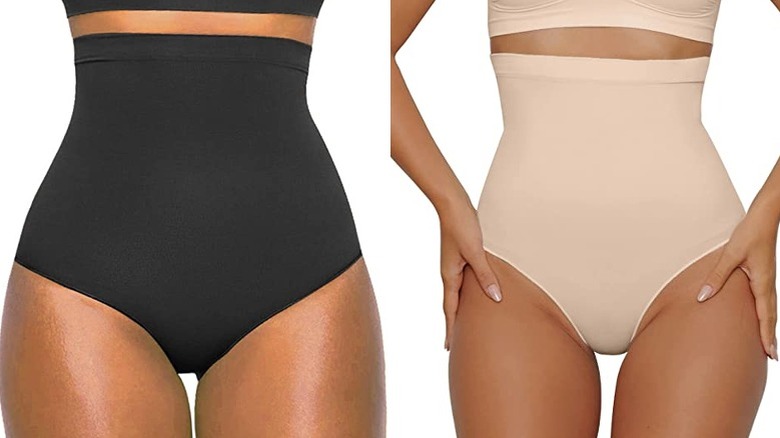 SHAPERX
Sadly, many people find that the only way to get shapewear to stay up permanently is to go for straps. However, if you don't have a strapped version handy, you can use a few tricks to keep shapewear that rolls down in place. For high-waisted shapewear, you can pull it up super high and tuck it under your bra. It might feel weird, but at least you won't have to worry about embarrassing slip-ups.
Another trick is to use boob tape to reinforce the shapewear around your skin. Finally, choose shapewear that lets you easily use the bathroom without removing everything. You don't want to spend all day making adjustments!
A parting word of advice is not to overdo it with shapewear. Your body needs to breathe! Wearing it too often can cause skin, digestive, and genital issues. So, keep these tips in mind and check out other clothing hacks that flatter every body shape without sacrificing your health.