Clothing Hacks That Look Amazing On Every Body Shape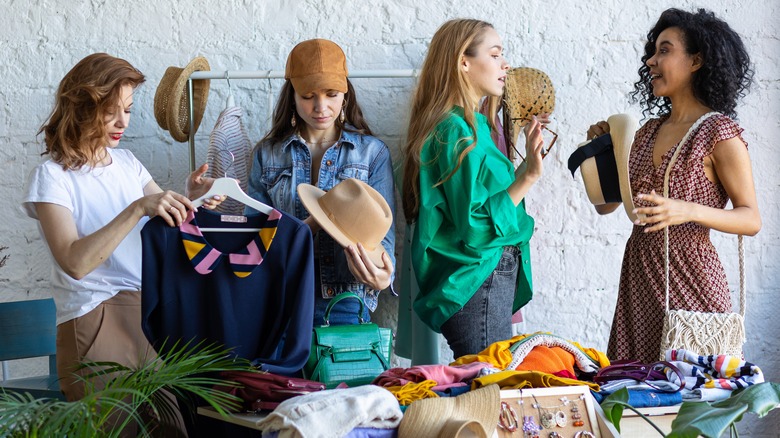 Vera Prokhorova/Shutterstock
Clothing has the functional purpose of keeping us protected from the elements, but it is so much more than that. It is a way to show your individuality and express yourself, and a great outfit can make you feel incredibly confident and empowered. But getting it right every time is not always easy, so familiarizing yourself with a few clothing hacks is a great way to ensure you pick cute garments while also reflecting who you are.
Advertisement
Do you blow half your salary on the latest must-haves or invest wisely in style staples? Instead of getting caught up in trends or spending a fortune on items you will never wear, consider these few simple tips on making better choices. Forget what the size on the label says, and stock up on great undergarments, high-quality fabrics, and timeless designs. Thanks to these hacks, you can embrace your body and find new ways to love it.
Don't get hung up on size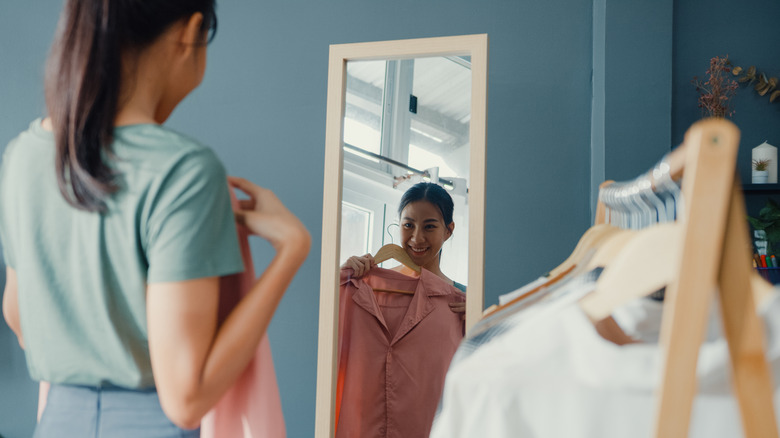 Tirachard Kumtanom/Shutterstock
When choosing clothing, so many people get hung up on size. Next time you go shopping, use your normal size as a guideline but don't feel disheartened if a garment doesn't fit you like it should because there are size variations depending on the cut and the brand.
Advertisement
Designer clothing, especially, is often believed to be smaller than retail brands. This means you can be one size in one item and a completely different size in another. If you must go up one or even two sizes for a comfortable fit, don't stress about this; let the fit, not the number on the tag, guide you.
Clothing that is too small is often undesirable because you have to squeeze into it. It can highlight areas on the body that you would rather disguise and make you feel self-conscious. So, if the size feels completely off, forget it, and choose pieces that make you feel beautiful.
Comfort is essential to looking good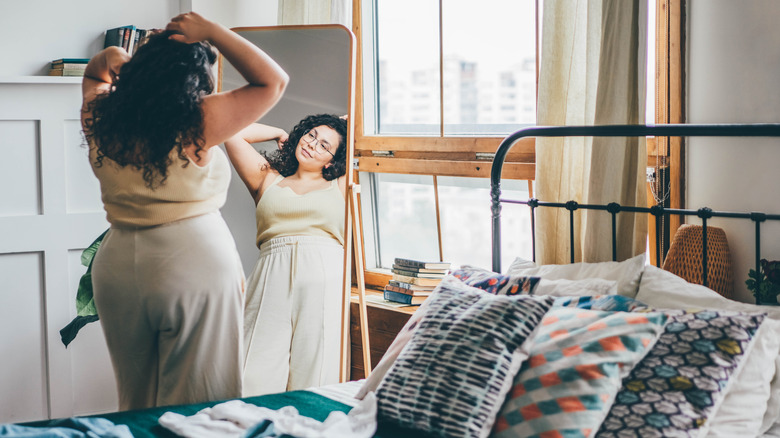 Maria Korneeva/Getty Images
Comfort goes hand-in-hand with fit, and knowing how important it is will be a clothing hack that will improve your wardrobe and boost your confidence. Unsurprisingly, not every garment you own will feel as comfy as your loungewear, but finding the right fit and fabric for your clothing can make all the difference.
Advertisement
You want to find pieces you feel comfortable in that you don't have to be constantly readjusted throughout the day — seriously, how annoying is it to have to keep pulling up your pants or pulling down a top that keeps creeping upward?
"Just because you can get it on and button it doesn't mean that it actually fits! Your clothes should be comfortable to wear," stylist Susan Padron told The List. "Fashion doesn't always need to equal pain." So, definitely ditch the uncomfortable items for pieces you know you'll physically love. When you feel good, you look good! 
Forget dressing for your body shape (this can be overly restrictive)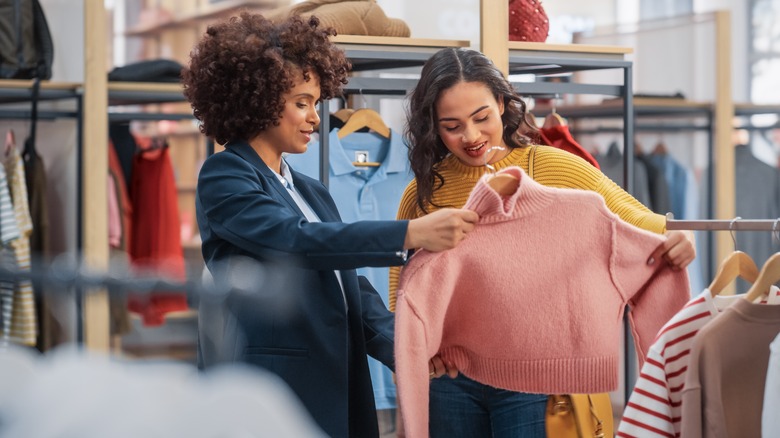 Gorodenkoff/Shutterstock
We have all heard it before: Dress for your body shape. To do this, you need to identify your body shape, described using various shapes and fruits. For example, rectangle, hourglass, inverted triangle, apple, and pear (which are the most commonly described ones, but there are many more). But what if the things that are supposed to look good on you simply don't?
Advertisement
The problem with only shopping for your body shape is it is overly restrictive because some shapes are told to avoid certain cuts while others embrace them. This does not allow you to try other garments that could look incredible.
But why do people still focus on dressing for their body shape? "We think, 'If I limit my choices, it'll actually make it easier to find things.' But it actually makes it harder because what if you don't like any of those choices? Then you're forever unsatisfied," personal and sustainable stylist Lakyn Carlton told Byrdie.
Highlight the areas on your body that you want to show off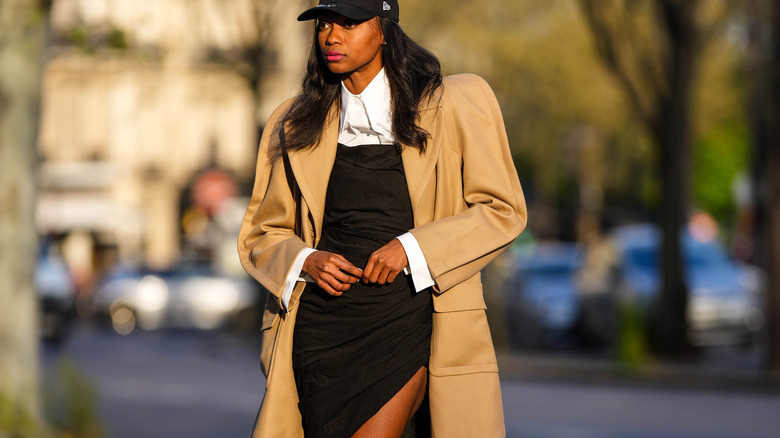 Edward Berthelot/Getty Images
It's easy to tell you to love the skin you're in, but in reality, there are often aspects of our bodies that we feel unhappy with or insecure about; this is completely natural! Instead of focusing on the areas that you deem problematic or simply don't have the confidence to embrace just yet, finding items that show off the parts of your body that you love is much better.
Advertisement
If you think you have great legs, highlight them with your chosen outfits. Or, perhaps you love your collarbones and feel that showing them off is feminine and attractive. In that case, find tops that allow you to put them on show! This is another reason not to get caught up in trends and instead focus on style staples that make you feel good.
"A lot of the women I dress have a certain area of their body that they don't feel as confident of," celebrity fashion stylist Andrew Gelwicks told Town & Country. "If you're going to be more conservative with one part of your body, then you need to compensate by highlighting another area. Have a leg moment if you don't want to draw attention to your shoulders."
Advertisement
Choose items that reflect who you are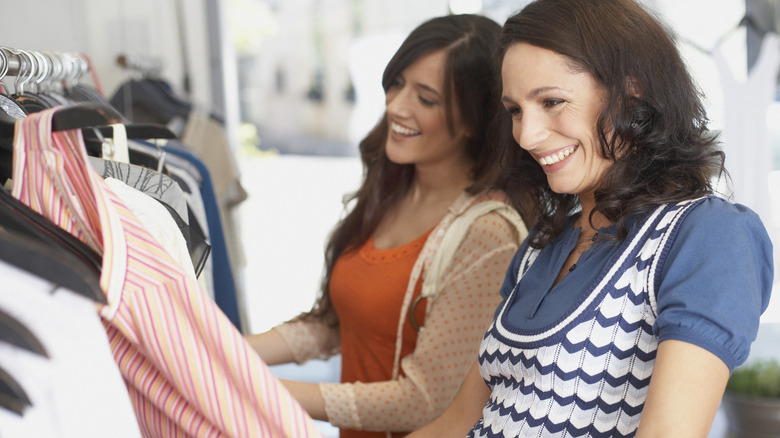 Paul Bradbury/Getty Images
Fashion trends can be exciting because they bring something fresh and allow you to experiment with patterns, prints, styles, and combinations you may not have thought to try. While there is a definite appeal to trying out a trend, it should not be your main focus when it comes to finding clothing. Instead of buying into current trends that don't reflect who you are as a person, ditch fast fashion for slow fashion and find something you'll love for days to come. Your confidence will show, and you can bring attention to the areas on your body you like.
Advertisement
"For everything you want to hide or shrink, you need to give me something that you want to highlight," Lakyn Carlton told Byrdie. You can do this with a simple wardrobe with staples that look great on you, which is a guaranteed way to make you feel good. That doesn't mean you cannot try out trends or experiment with bold color choices. But focusing your clothing around this will give you a much better result because it reflects who you are.
Owning a capsule wardrobe is a style tip every woman should know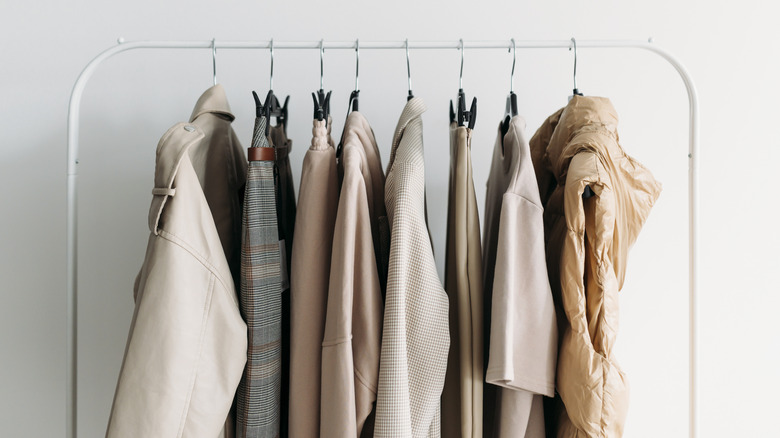 Elizaveta Shishlyannikova/Getty Images
Having fewer pieces that fit well and look good is much better than having a much larger closet filled with random items you bought out of impulse. "With the explosion of e-commerce in recent years, feeling overwhelmed by choice can often lead us to making a rushed purchase decision. We then receive it, it sits in our closet, and it often doesn't get worn," stylist Gab Waller told Elle Australia.
Advertisement
The capsule wardrobe mindset can be a challenge if you like to shop — but the point of a capsule wardrobe is to keep it simple. But how do you do this? Instead of buying into every trend, or shopping for beautiful items that will sit in your closet unworn, find garments that you can re-wear often. You would not be the first to buy and never use something. 
If you want to invest in better quality pieces and luxurious fabrics, being able to wear them more than once will offset the cost.
Find a balance between neutrals and colors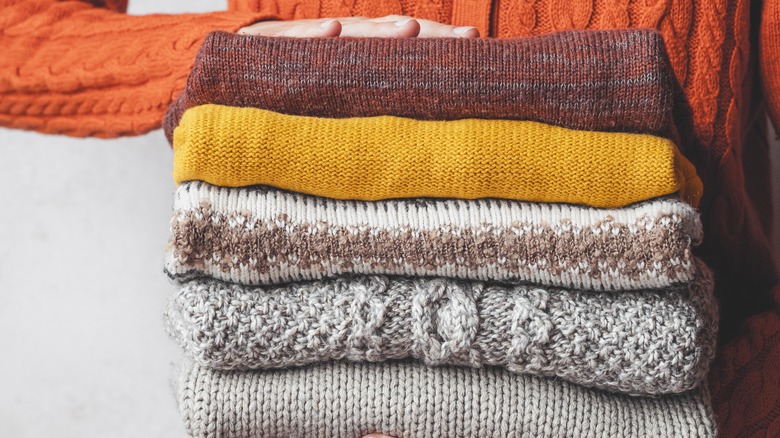 HalynaRom/Shutterstock
Filling your wardrobe with neutral shades is never a bad idea because they are easy to mix and match and will look great for all occasions. Some women also feel more confident in muted tones because they draw less attention to their bodies, and darker hues make everyone look sensational.
Advertisement
But would it be such a bad thing to occasionally change your wardrobe by investing in a bright color? Owning a few colorful pieces will make your clothing feel fresh and exciting, and it could be just what you need. If you're unsure whether to try out the latest prints or experiment with color, ask yourself a few questions and consider your skin tone.
"If your closet is filled with neutrals and you are thinking of buying a bright pink sweater, think about the way that that sweater will look hanging in your closet," TikTok fashion guru Allison Bornstein told Elle Australia. "Maybe it will stick out with what you have and feel out of place and therefore be harder to style! Or maybe you think, wow, a bright sweater is exactly what I am missing."
Advertisement
The right underwear is a total game-changer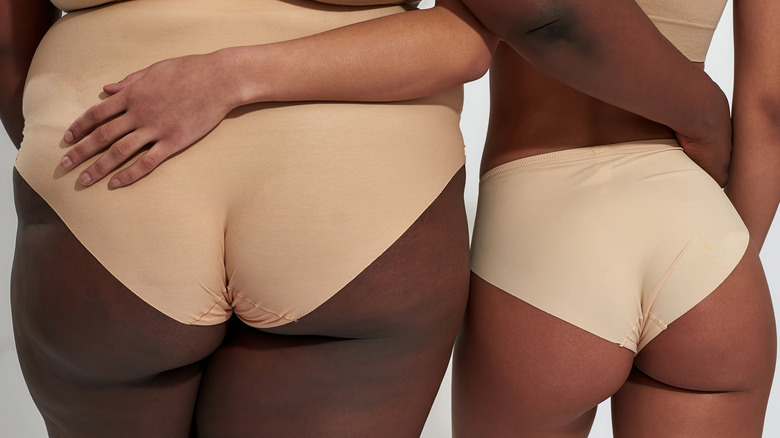 BAZA Production/Shutterstock
Some people will argue that undergarments are the most important part of your outfit and that the right fit and cut will make your clothing look better. This is true! And a wide range of options are available, including shapewear.
Advertisement
"What's great about shapewear is that you could choose the part of your body that you want to alter the shape of, from your thighs to butt to stomach," celebrity Stylist Ali Levine told The List. But the right underwear can also give you the confidence to try on items that you may typically shy away from or make you feel sexy and empowered.
"Lingerie and sexy underwear have been historically viewed as being for the partner's benefit only," psychologist Danielle Forshee told HuffPost. "But we're in a time when women are empowering themselves, saying, 'This is good enough just for me to wear.' And we can wear it whenever we want for how we want to feel in that day and moment." Important words to remember! 
Advertisement
Your posture is everything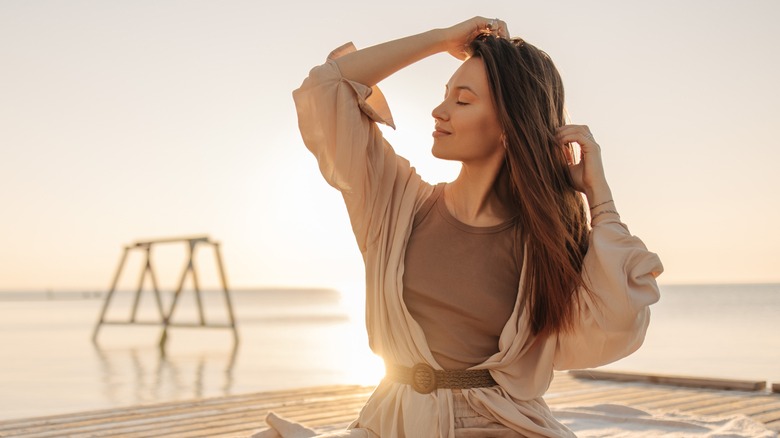 Look Studio/Shutterstock
Ladies, it is time to stand up tall! Standing up straight with your shoulders back instantly makes your clothing look better. In contrast, slouching can alter the fit of your garment, and this is why good posture is one of the simplest but most effective clothing hacks to know.
Advertisement
A good posture is also better for the body, resulting in fewer muscle aches and pains. Not only this, but a woman who sits and walks with confidence and awareness of her body is someone who demands attention.
"Clothes do look much better on people with good posture, but anything looks good on someone who smiles and exudes positive energy," confidence coach Jo Emerson told FashionBeans. "Confidence is an inside job." So, the next time you try on a gorgeous outfit, remember that your posture says a lot about you and can alter your appearance.
It's all about layering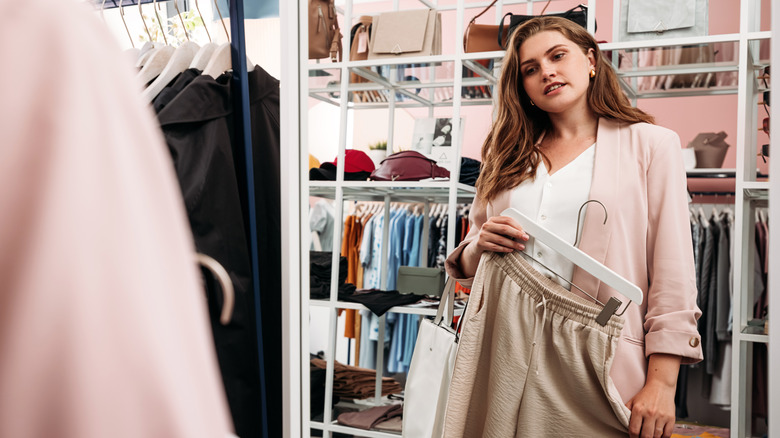 Youngoldman/Getty Images
Layering is about more than practicality when the weather is cold; it is also an incredible way to add variation to your outfits. It is not as simple as you may think, and there is more involved than just wearing multiple pieces at once.
Advertisement
To layer for unlimited outfit building and ensure the best results, you want to choose clothing in similar color schemes. You'll also want to start with thin fabrics and items and bulk if necessary. They should highlight your body, not disguise it. You also want to wear garments that you feel good in, so if you have to remove items throughout the day for whatever reason, your outfit will still look stylish.
"It is also a great way to make your closet feel versatile without needing to own a ton of unique pieces," professional stylist Audree Kate López told Byrdie. "This will help you maximize your outfits so you don't feel like you're wearing the same concept every day."
Keeping it simple is a good place to start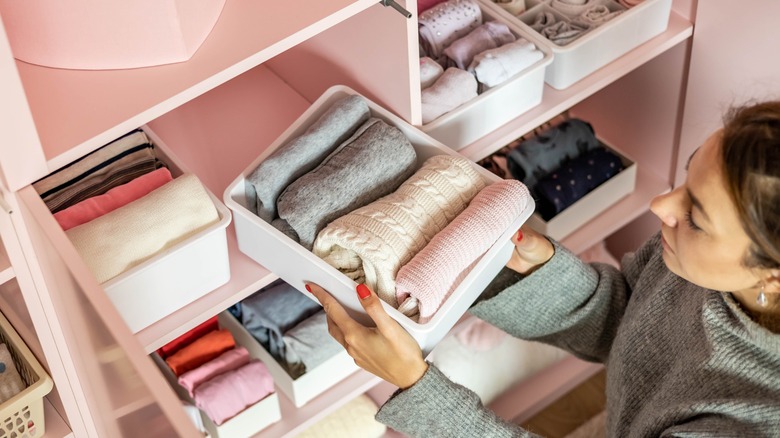 Kostikova Natalia/Shutterstock
There is a time and place for bold colors and loud prints, but often the best way to dress to ensure a cute finish is to focus on the basics.
"When clothing is very minimal in design, the choice of color is incredibly important. I recommend a neutral palette of black, white, gray, navy, tan, and an occasional statement pop of color, like a beautiful shade of red or green," designer Rosetta Getty told InStyle.
Advertisement
Find items that can be worn more than once, have a timeless silhouette, and look good on your body. And then embrace them as your new uniform. A uniform doesn't mean something a child would wear to school; rather, it refers to an outfit you will wear multiple times. This will also let you save money and time when deciding on what to wear because your focus is on a few pieces rather than having to go shopping regularly. Also, consider comfort and fit so that you're ticking all the right boxes.
Prioritize outerwear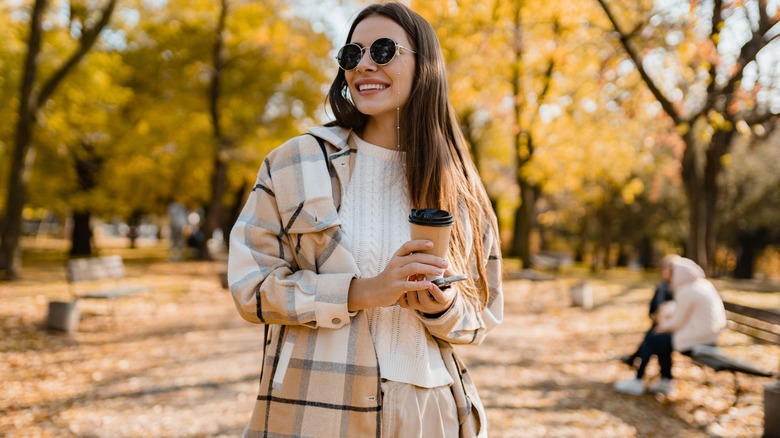 Maria Markevich/Shutterstock
We cannot stress the importance of owning a great coat or jacket enough. This point applies to colder climates and winter seasons, where the first thing someone sees is your outerwear. To leave a lasting impression, ensure the fit is fabulous and the style is timeless. An excellent outerwear trend that we are obsessed with is a trench coat, which is great for transitional wear and will create a classic aesthetic (this also means it will last for longer than one season, letting you wear it again and again).
Advertisement
"Outerwear should never be an afterthought," Yang co-designer Jeanne Yang told InStyle. "So many people only see you in your coat — if you're not wearing something great underneath your trench, they'll never even know!"
Choose neutral colors for more versatility, letting you easily mix and match with other items you own. However, a vibrant color, like red, or a print, like plaid, is also an excellent way to experiment with your look.
Statement pieces are great, but delicate jewelry is better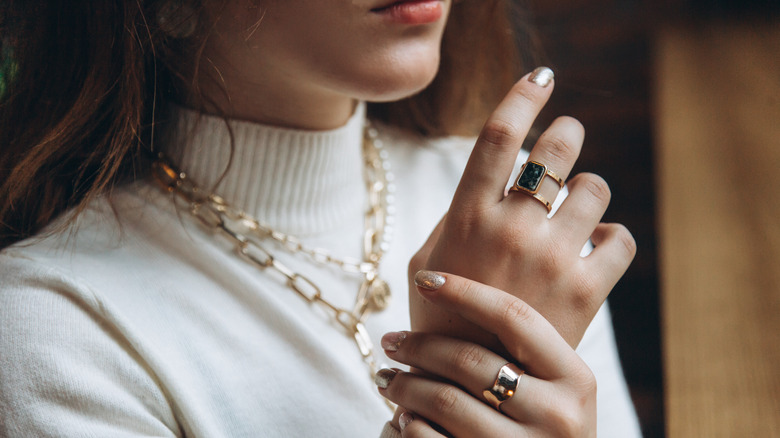 Kristina Holovach/Shutterstock
Jewelry can pull an outfit together and be the finishing touch you need. But are you choosing the right pieces, and do they really suit you? For those who are daring, a statement item may be just what you need to add a pop of color to your outfit or draw attention to your neck and chest. But a simpler piece could often look better and create a more timeless aesthetic.
Advertisement
"A lot of women tend to wear big statement necklaces, and I think that more often than not, it looks unsophisticated and cheap," Andrew Gelwicks told Town & Country. It can make an outfit pop in the wrong way. It's chicer to err on the side of minimalism."
Another clothing hack you could try is layering simple pieces with different chain sizes, materials, and lengths. This could create a very interesting finish, allowing you to experiment and get creative with your accessories.
Don't go overboard when showing skin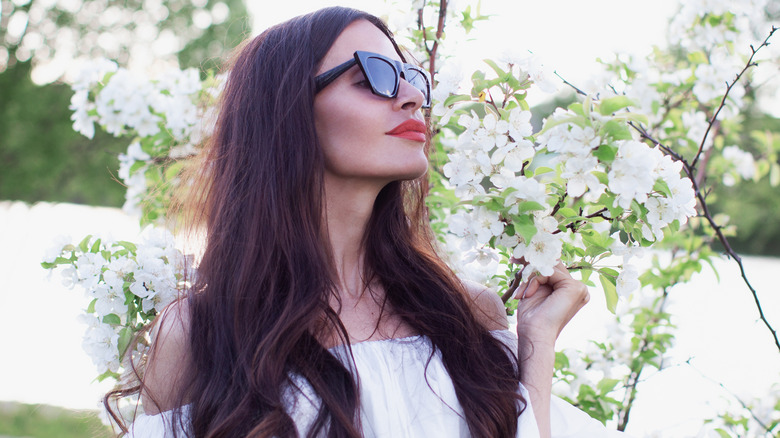 Annazhuk/Getty Images
When it comes to clothing, finding balance is everything. This is especially true about showing skin and determining how much is "too much." For an elegant finish, less is often more. A great rule of thumb is if you are showing off your chest, try to cover your legs. Or, if you want to show off your legs, opt for a more conservative top.
Advertisement
This should not mean that you cannot dress in a way that makes you feel confident and sexy and should be taken more as a guideline than a hard and fast rule. The most important thing is understanding your body and what looks good on it, but also being aware of dress codes.
For example, if you're not going to wear something to work, it would not be the same outfit you'd choose for a night out. For more formal settings, always err on the side of caution when showing skin.
Attention to detail and the right fabric placement are essential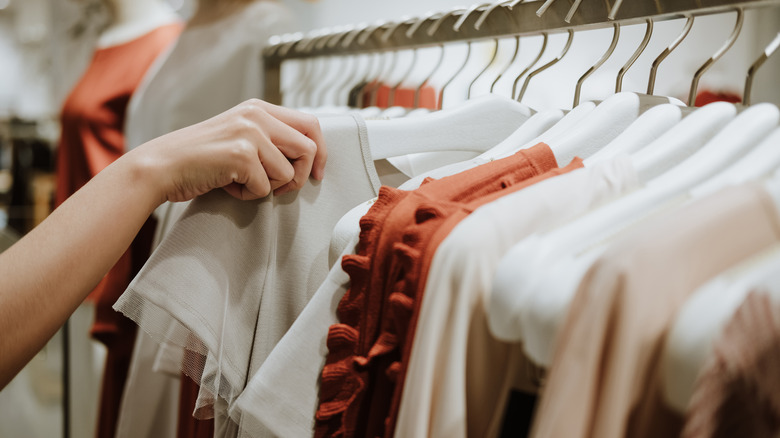 Natee Meepian/Getty Images
Choosing the right fabric and strategically placing it on your body can make all the difference, and it is one of our top clothing hacks to complement your figure. If there is an area you want to disguise or detract from, then details on your outfit could help you achieve this.
Advertisement
Stylist Ashley Pruitt told Town & Country, "Stomach and arms are typically the two spots women are most worried about. If you're wearing a dress with draping or ruching, it can help the stomach area."
You can use fabric to your advantage in many ways. "Utilizing fabric materials and colors is one of the best ways to portray the illusion of a slimmer frame. It makes you look lighter while also allowing you to flaunt what you've got and stay comfortable," Ali Levine told The List. It is also important to understand which fabrics are bulky or too firm, which could affect your appearance.
Static Media owns and operates Glam and The List.