What Happens To Your Back When You Wear A Bra That Doesn't Fit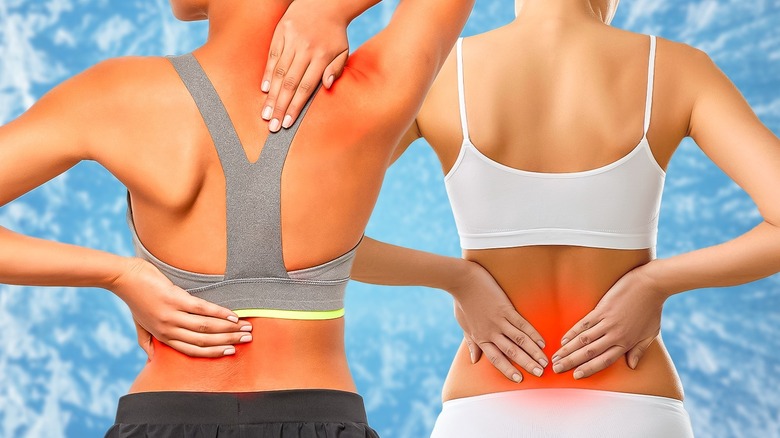 Static Media/Shutterstock
Anyone who has ever worn a bra knows that finding a good one can be a feat all its own. Even finding the proper size can be a challenge as is evident when you consider how many of us wear the wrong-sized bra. Several surveys from The New York Times to London lingerie company Boux Avenue have found that over 80% of bra wearers are sporting an incorrect size.
A person's body is ever-changing. From monthly periods and pregnancy to age and weight fluctuations, bra size can change and keep changing throughout a lifetime. It also doesn't help that manufacturers vary sizes from brand to brand.
With so many of us walking around in the wrong-sized bras, there are a few common perils we fall into and signs when our bra doesn't fit, such as cups that are too small, straps that keep falling down, and bras that don't have sufficient support. (Don't even get us started on sister sizes for bras.) Subsequently, wearing a bra that doesn't fit right can affect other parts of your body. One of these is your back.
When your bra doesn't fit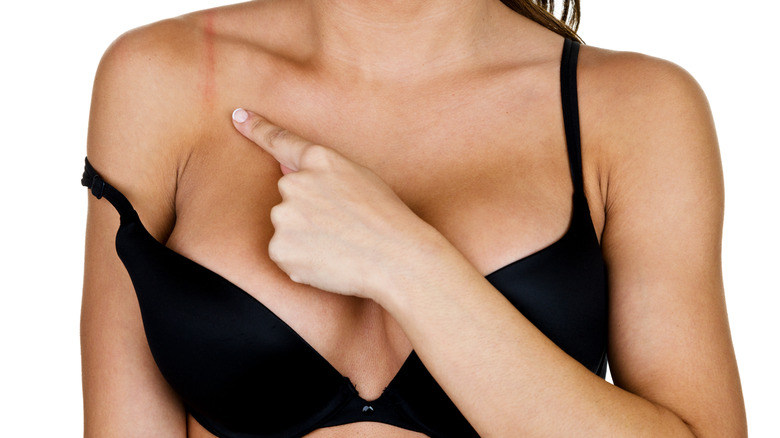 John Sommer/Getty Images
Perhaps the biggest problem with bras that don't fit is that they don't offer the proper support. This is especially true for those who have larger breasts. It's not that the bra is faulty; it's just not the right size for its job.
Medical professionals disagree with whether an improperly fitted bra causes back pain. "In my clinical experience, wearing a bra does not prevent back pain or improve a woman's posture," says Dr. Deborah Venesy, a medical spine specialist at Cleveland Clinic. "The benefits of wearing a bra are largely cosmetic."
On the other hand, Dr. Richard Gliddon of SpineCentral writes, "Ill-fitting and poorly designed breast supports can lead to restriction of the movement of your ribcage and pull your shoulders forward, leading to pain in shoulders, burning sensation in between the shoulder blades and even poor posture." The more you wear the wrong size bra, the worse it will get. "Even moderate restrictions and pressures that alter normal movement and alignment patterns can, over time, create problems," Gliddon writes.
Bras that are painful need to go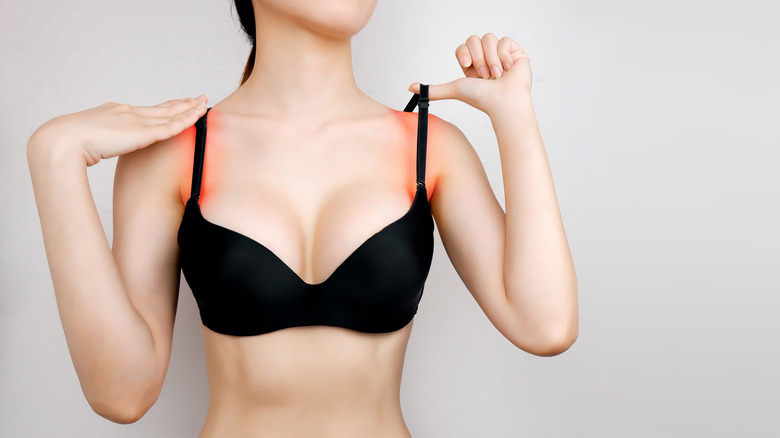 Mananya Kaewthawee/Getty Images
Bras can be incredibly uncomfortable, although they shouldn't be. Too many people experience that nip and tug on their shoulders and indentations left by tight straps, a telltale sign your bra doesn't fit. The constriction is painful and can leave your back and neck pressed tightly. Ultimately, that constriction can affect nerves and cause a tingling sensation or even numbness in the arms and hands.
When a bra fits properly, the band provides the support, so if you are relying on the straps to give you the shape you desire, you more than likely have the wrong size. The band should help lift and separate and also shouldn't dig into your skin. The same goes for underwires. Underwires should never poke or stick your breasts or underarms. Your breasts should fill the cups just enough, with no spillage or gaps.
If your bra is causing you discomfort, you should get a new one. Of course, this becomes an expensive cycle as you keep buying new bras. Your best bet is to go for a professional fitting at a store that specializes in bras and will give you the right fit and a personalized recommendation on styles. Make sure you use an online calculator to check your bra size first before going into a store, as retailers might not be prepared with bras in your size. This way, you can avoid one of the most common bra mistakes people make.