Pumpkin Nail Designs Perfect For Fall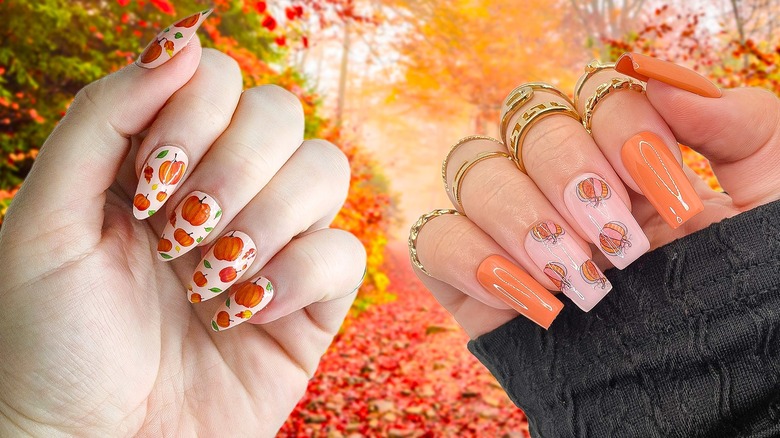 Static Media / Shutterstock
Label us "basic" for saying this if you must, but one of our favorite aspects of fall is anything related to pumpkins. From having fun with pumpkin painting to ordering pumpkin spice lattes (a.k.a., PSLs) more often than we'd like to admit, we love all things pumpkin in the fall. We even researched a hair color that will have you twinning with your PSL! Not only do we love letting pumpkins influence our hair in the fall, but we also enjoy rocking pumpkin-orange clothes and lipstick or eyeshadow colors. And pumpkin-inspired manicures are arguably even more fun!
We can't think of a nail theme better suited for the fall season than pumpkins, so why not explore pumpkin-inspired manicures? Whether you want to keep it relatively simple with just a solid orange nail polish or make elaborate nail art, your pumpkin-inspired nails will be adorable accessories. Thus, every pumpkin lover should rock pumpkin-influenced nails at least once in the fall.
Take inspiration from Jack-o'-lanterns
After we go pumpkin picking, we usually paint, draw, or carve faces on our new pumpkins. So, our first idea for pumpkin-inspired nail designs is to draw influence from the Jack-o'-lantern by not only adding pumpkin designs but also pumpkins with faces. Whether those faces are funny or scary is up to you, but they'll draw a lot of attention to your fall manicure.
Rock various pumpkin-orange shades
Anyone who isn't an advanced nail artist can still take inspiration from pumpkins by painting the nails different shades of orange that call to mind pumpkin colors. For instance, consider painting your nails light orange and adding a more shimmery pumpkin-inspired hue as an accent on the ring finger, or go for an ombré effect, starting with a darker orange and going lighter on each nail while staying within the pumpkin color range.
Try a pumpkin-inspired French manicure
We can't think of anything cuter for fall than a pumpkin-influenced spin on French manicures. If you want this playful look, add pumpkin nail art at the tips so that it looks like there's a little pumpkin on the end of the nails. Pumpkin-inspired French manicures are perfect for fall photoshoots and will likely get you plenty of compliments.
Consider making the manicure spooky
If you want to rock a pumpkin nail design specifically for spooky season, add some Halloween-inspired touches to your nail art. Instead of going for wholesome all-orange looks, add black details for more intense vibes, and consider designs such as bats, witches, spiders, and ghosts.
Let your pumpkin manicure shine
Would you prefer for your pumpkin nail design to look more glamorous than realistic? If so, then go for a sparkly look. Add a shimmer top coat to your pumpkin-themed manicure to add a dazzling touch, or paint the pumpkin nail art in orange glitter for even bolder glam.
Opt for a pumpkin accent nail
If you don't want to incorporate pumpkin art on every nail, choose one nail, such as the ring finger, as your standout pumpkin accent nail, which can draw attention while remaining in the fall spirit. By painting just one pumpkin, the overall manicure won't become overwhelmed or muddled. This may be a good idea for the workplace or other scenarios when you might need to appear more professional.
Consider pumpkins with patterns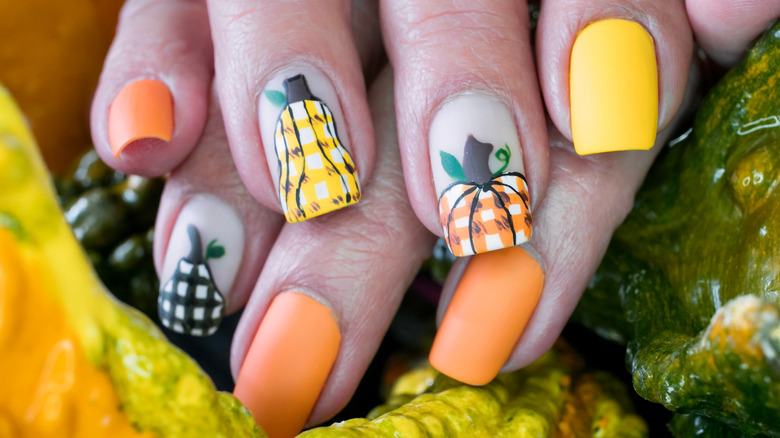 CHRISTINA RADCLIFFE/Shutterstock
Do you want to ensure your pumpkin manicure will stand out among other fall-inspired looks? Add patterns to your pumpkin nails for an ultra-unique manicure that's sure to make an unforgettable impression. For instance, consider creating pumpkins with plaid or polka-dot designs to turn heads while staying within the theme.