Christian Siriano On The Merits Of Barbiecore Ahead Of His Milestone NYFW Show - Exclusive Interview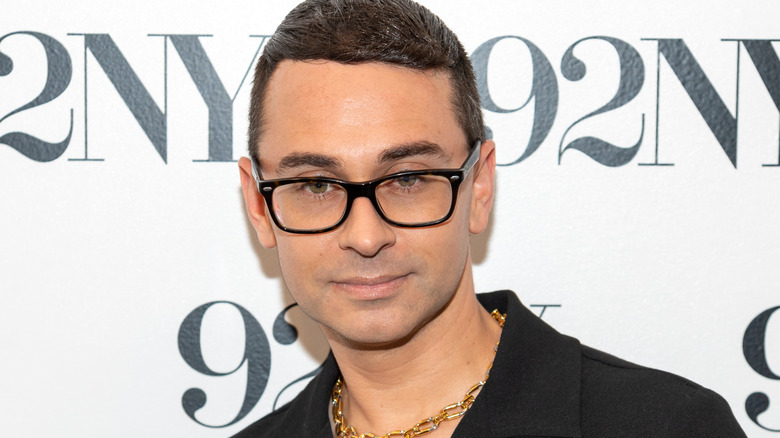 Mark Sagliocco/Getty Images
Christian Siriano became a household name after winning Season 4 of "Project Runway," and the designer hasn't lost any steam since his 2007 debut. From dressing celebrities for the year's biggest events to debuting collections at Fashion Weeks around the world, Siriano stays booked and busy. But when he isn't taking the world by storm, he's living his best life at home, sketching new designs alongside his three dogs.
In his exclusive interview with Glam, Siriano shared how he keeps things chic as an entrepreneur, designer, and pet parent, as well as what fans can look forward to at New York Fashion Week's Spring 2024 shows. Of course, the mogul also had strong opinions on the biggest fashion trends of the year, like the Barbiecore craze launched by Margot Robbie and the rest of the dreamy "Barbie" cast. Siriano teased his exciting design collaboration with Greenies and a can't-miss Fashion Week show that holds a special significance in 2023, as he celebrates 15 years since launching his brand. Here's everything you need to know about Christian Siriano's next big moves.
He's on board with Barbiecore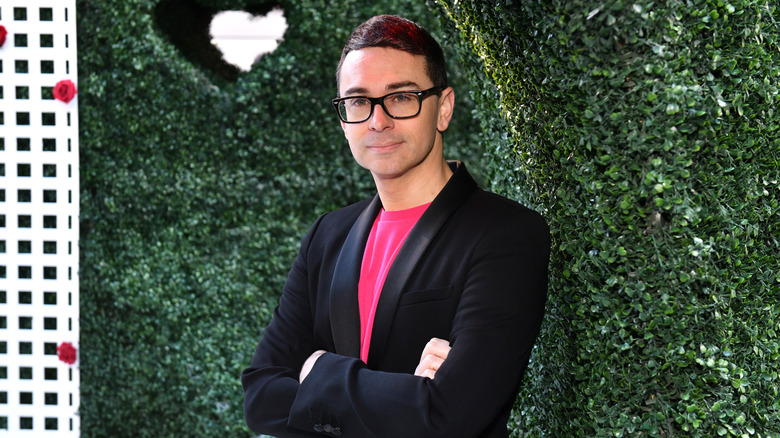 Craig Barritt/Getty Images
What is the most unexpected fashion trend you've seen pop up in 2023? And do you think it has the power to stick around?
I don't know. Well, the most unexpected trend has to be the crazy Barbiecore insanity that has taken over our lives — not just on women, [but also] men, dogs, cats, your neighbor, everyone. I don't know if that will continue, but it might.
Well, she's been around since '59.
I know.
So I guess she'll be here. I see some pink behind you, some fuchsia.
It would be cool if more people had pink in their wardrobe as a staple, I will say.
I agree. That's a go-to. Fans might not know that you've expanded your brand into interiors, bedding, and custom furniture lines. What made you want to go beyond your clothing ventures into those areas?
I've always loved interiors. It's [been] such a huge passion of mine ever since growing up, and we wanted to develop that a little bit more. Launching a furniture collection was exciting for me because it's design, but in a totally different way. I always say it's nice. I want to have a dress in the closet, a chair in the living room — an all-Siriano takeover in your home, like a full lifestyle moment — maybe the sheets on your bed. That was very important for me for people to have something in that world.
His collaboration with Greenies is a showstopper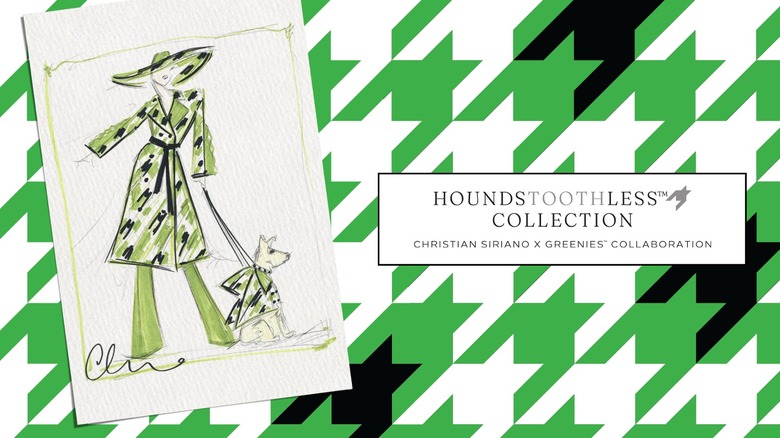 Greenies
I loved your recent home tour video, and we got to meet your super sweet dog. Poppy is her name, right?
Mm-hmm.
You said she had Kate Moss energy, which I'd love you to elaborate on. You're partnering with Greenies for a new clothing line. How do you feel like pets and pet parents can keep things chic?
Well, one, I do love clothes for dogs. It's so fun, so playful, such a way to express personality in dogs. My dogs don't personally love to wear clothes, which is sad. They don't love it. You've got to get them early on when they're babies. But I do love that. It's great to have personality and have moments.
Why I'm excited to partner with what I did with Greenies ... We did this more as this idea of awareness for the dental crisis that's going on. 80% of dogs have dental care that is needed [by age 3]. This was a way to design something, and hopefully, people will learn a little bit more about it. My dogs love Greenies. They're obsessed with them, so that's a good thing because they're healthy. That's why we did this.
We designed a cool trench. It's for you or anyone, and then also for your dog to wear. It's houndstooth, but it's called Houndstoothless because it has a missing houndstooth in it in the print. It's really cool, really cute. We're giving these away — people enter our sweepstakes. We hope people will go online, check it out, and get one because they're so cool.
That's very chic, a little trench to help your dog stay out of the rain.
I wanted something that was very universal of the idea of protection, but you could be any gender, any age, any size, any type of dog. You can wear a cool trench and look fabulous.
I love that. It's not going by the gender binary vibes of girl or boy dogs.
Also, there's so many dogs that are like ... You don't know what your dog is. It's funny sometimes when people pat a dog on the street like, "Oh, she's so pretty." I'm like, "Well, you don't really know."
People get mad if you call the dog "it," but that's not going to assume this dog's gender, right?
Yes — we don't know. Exactly.
His pups are inspiring
You explained why you partnered with Greenies. Do you have products that you and Poppy love? What was the deeper meaning behind the partnership, her health?
I also have two chihuahua dachshunds, and I've had them for a long time, and they've always had teeth problems. A lot of dachshunds and chihuahuas do. They're smaller dogs. They started eating Greenies — it's their favorite treat anyway, but it does make a big difference. That was really important for me and why I wanted to do this.
It's one of those things ... Your animals are your babies, and healthcare is hard for animals. You don't know what they're thinking or feeling, and it's such a difficult thing. It's important for people to know what's going on, and making sure your dogs are actually getting checkups just like we do is important.
You have such a busy lifestyle. How do you make sure that you and your dogs are staying healthy and happy while you're on the go?
It's hard. I have help, and I make my boyfriend help me. But it's hard. It's one of those things that you have to make an effort, and we do. 
It must be nice that they're all smaller dogs, so if you have to scoop up one of the chihuahuas, you can.
The big dogs are definitely hard. In New York City, anybody that has a big dog — power to you. It's tough, very tough.
Did you guys design any little dog purse situations? Because you can bring a dog on the subway if you can fit it in a tote.
Oh, I know. That will be next, so I'll let you know.
This is an extra special NYFW for the designer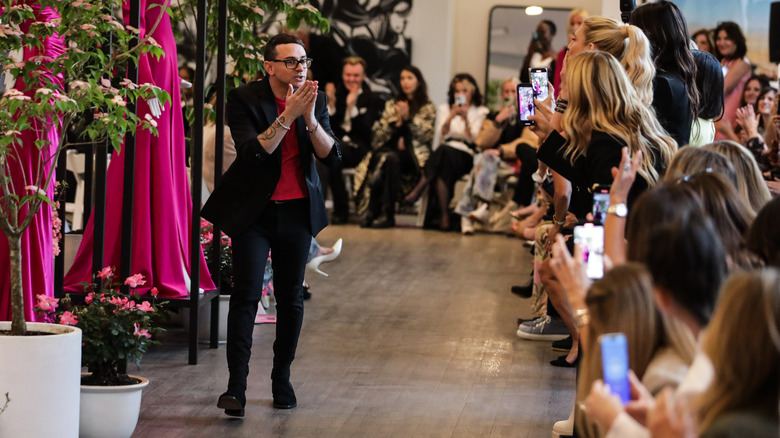 Thomas Concordia/Getty Images
I wanted to ask if you have any exciting projects or shows coming up in 2024 that you can give us a little sneak peek into.
What else? Not too much. This Fashion Week — which is in literally a month — is our 15th anniversary, so it's our big 15th-anniversary show, which is exciting. It's going to be good. We have some cool people coming. We've got a live performance. It's going to be fabulous, so we're excited about that the most.
That's exciting. And you still do some custom couture fittings and bridal stuff in New York. 
We do everything.
Does that still inspire your larger-scale collections in any way?
Yeah, it does. Whenever we're working with people or meeting someone new ... We literally do that every single day, and you never know [who's] going to walk through the door and what someone will want or where they're going, and so we do. That's super inspiring and still why I love doing it. I still love making clothes for people, and hopefully, they feel great in them. That's the goal in the end.
You can enter Christian Siriano x Greenies Houndstoothless Collection Sweepstakes on Greenies' website.
This interview has been edited for clarity.