All Of Margot Robbie's Most Barbiecore Outfits Leading Up To The Barbie Movie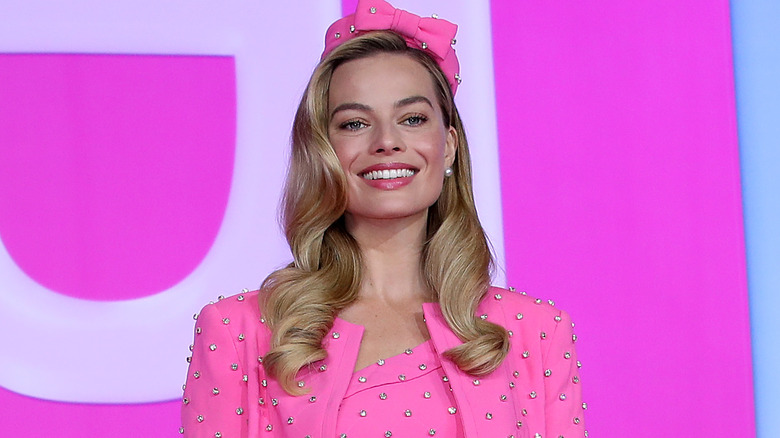 Han Myung-gu/Getty Images
In case you missed it, the release of Greta Gerwig's new "Barbie" movie has many Barbie fans — young and old — all in a tizzy. We can't wait to see what Gerwig has in store for us in this sure-to-be feminist, ultra-cute, nostalgic movie. We're especially excited to see Margot Robbie decked out in countless Barbie ensembles, and judging from the rise of the Barbiecore fashion trend, so is the rest of the beauty and fashion world.
Barbiecore fashion is all about (mostly) pink, cute, chic pieces that may even offer a little throwback moment. While the preferred color associated with Barbiecore is, of course, pink, there are a few other colors that complement that Barbiecore aesthetic as well, like soft blue and vibrant yellow.
While we can't wait to see Robbie's Barbiecore looks in the upcoming movie, we've been loving the little sneak peeks she's been giving us on and off the red carpet. The actor has recently been seen sporting pink outfits galore, and a look back at her fashion archives tells us that she's no newbie to all things Barbiecore — and it's safe to say these outfits gave us a lot to look forward to leading up to the July 2023 release of the new "Barbie" movie.
Margot's metallic pink minidress embodies Barbie glam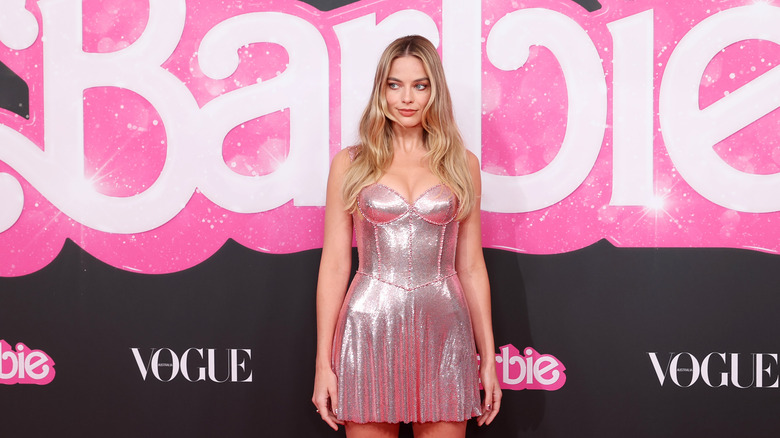 Don Arnold/Getty Images
Hey, Barbie fans — if you've already been sporting pink Barbiecore metallic nails, Margot Robbie has been spotted in a dress to match. This look from the June 2023 "Barbie" celebration party at the Museum of Contemporary Art has us all agog. The structured top screams glitz and glam, while the metallic sheen makes it Barbiecore to a T. Plus, the mini-length? We're simply swooning. 
Barbie meets Legally Blonde in Margot Robbie's sweater and skirt combo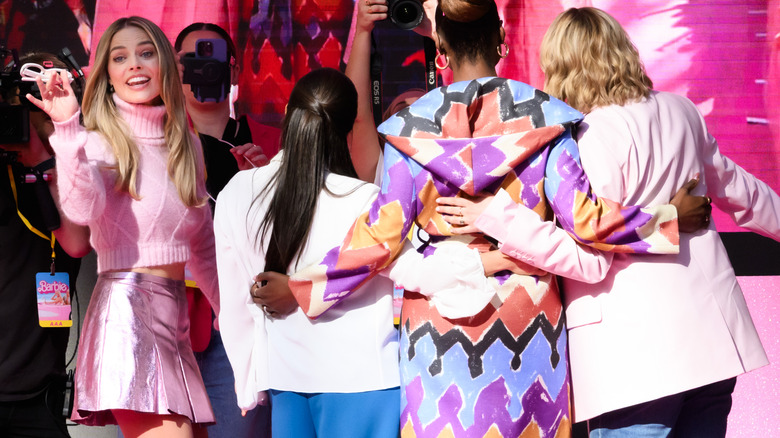 James Gourley/Getty Images
If Elle Woods and Barbie had a child together, we're convinced they'd grow up decked out in something like Margot Robbie's above ensemble. The cropped pink sweater is a warm contrast to the metallic pink skirt in the best of ways — it's a daring look that we wouldn't have thought to try pre-Robbie. We're begging to see her in the glasses she's holding to maximize the Elle Woods vibes, too. 
Margot Robbie stunned in this cutout pink polka dot dress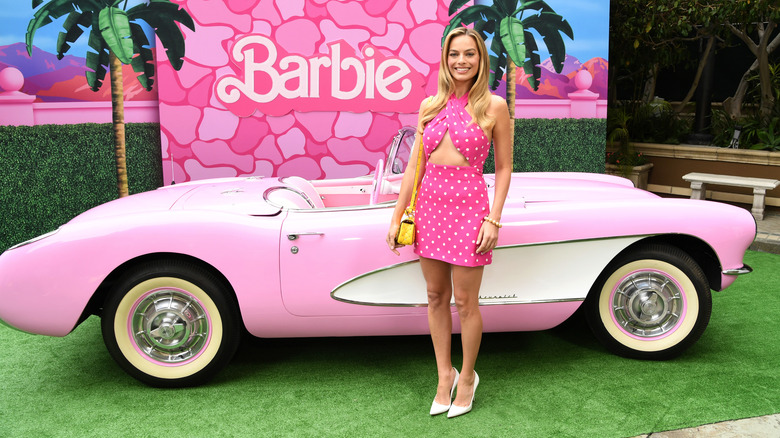 Jon Kopaloff/Getty Images
Cute, chic, and effortlessly classy, Margot Robbie's pink polka dot cutout dress above screams Barbie like nothing else. If you want a Barbiecore look you can easily take from brunch to shopping, from happy hour to a fancy dinner, go for a dress like the one above. Pair it with bright pink heels to round the look out, or don a pair of white heels to tone it down a bit. 
Margot's checkered pink set is giving summer picnic Barbie vibes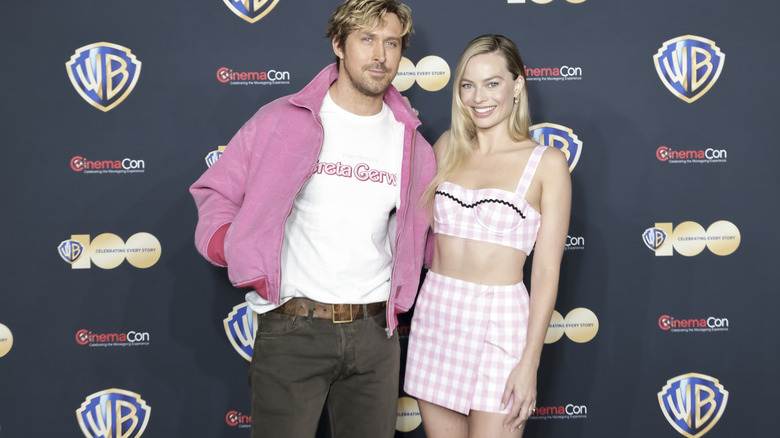 Greg Doherty/Getty Images
As we all know, Barbie has seen many professions over her long life, and yes, even "Picnic Barbie" has graced the shelves of your local toy store. If you're spending all summer outside eating berries on a picnic blanket, we think you should do it in something like Margot Robbie's checkered pink ensemble above. The wrap skirt keeps the look effortlessly casual, while the black detail on the structured top elevates it slightly for a perfectly-balanced summer outfit. 
The same look paired with a jacket was instantly business chic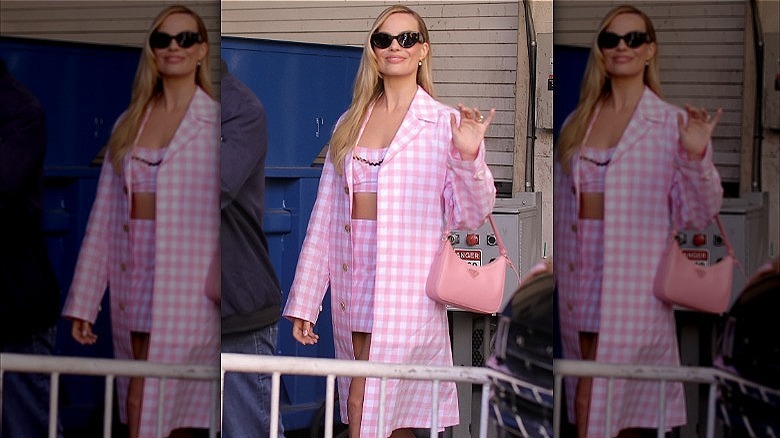 Mega/Getty Images
Need to class up your Barbiecore outfit a bit? There's a piece for that: a pink overcoat or blazer. We all know that a blazer can effortlessly take any look up a notch when it comes to sophistication, and Barbiecore is no exception. Take Margot Robbie's look above — the coat adds a touch of class to what is otherwise a fun, flirty summer outfit. 
Margot Robbie gave classy Barbie vibes at the 2023 Golden Globes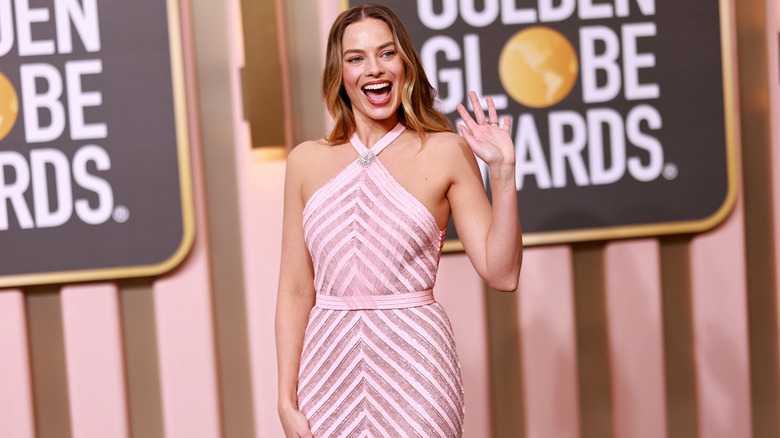 Matt Winkelmeyer/Getty Images
Yes, Barbie has been a working girl over the years, but that doesn't make her immune to glam. In fact, glamorous Barbiecore looks are some of our favorites since pink has the ability to soften any look to make the wearer instantly more approachable. The pink gown Margot Robbie wore to the 2023 Golden Globes captures this essence perfectly — the sparkly chevron pattern makes it instantly red carpet ready, and the Barbiecore pink keeps her looking friendly as ever. 
Margot proves Barbiecore doesn't have to be pink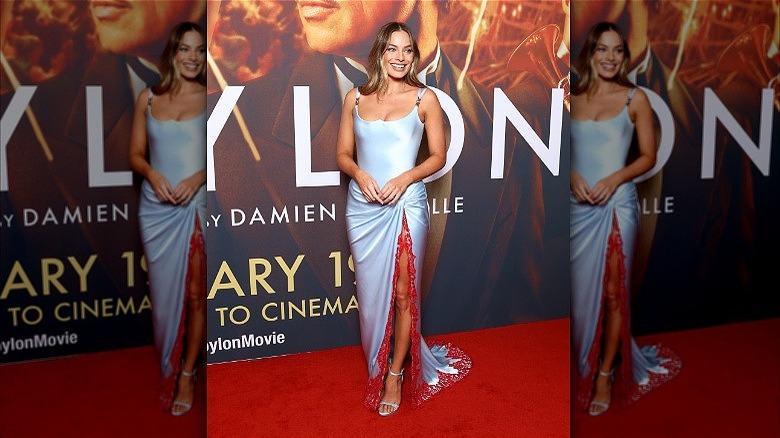 Brendon Thorne/Getty Images
Contrary to popular belief, Barbiecore fashion doesn't have to exude only pink — so yes, you (and Margot Robbie) can still embody Barbiecore even if pink is on your do-not-wear list. Just look for shiny, silky fabrics in fun fashion colors, and make use of a gown if you want to be ultra glam. Robbie's icy blue satin gown she wore to the "Babylon" Australian movie premiere in January 2023 is soft enough to give some Barbie sweetness, and the side slit even adds some sexy to the mix. 
Margot channels her inner Hollywood Barbie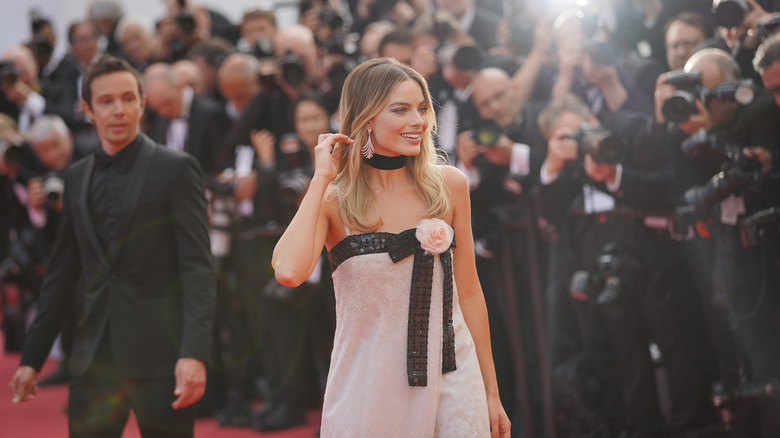 Denis Makarenko/Shutterstock
The 2019 Cannes Film Festival even saw Margot Robbie sporting a pre-"Barbie" Barbiecore dress. What makes this look so Barbiecore? We think the accents are what give this dress a ton of Barbie glam. The sequined black bow topped with a soft pink rose makes this dress something we wouldn't be surprised to see on an actual Barbie doll. 
If Barbie wore gloves, they'd definitely be this pair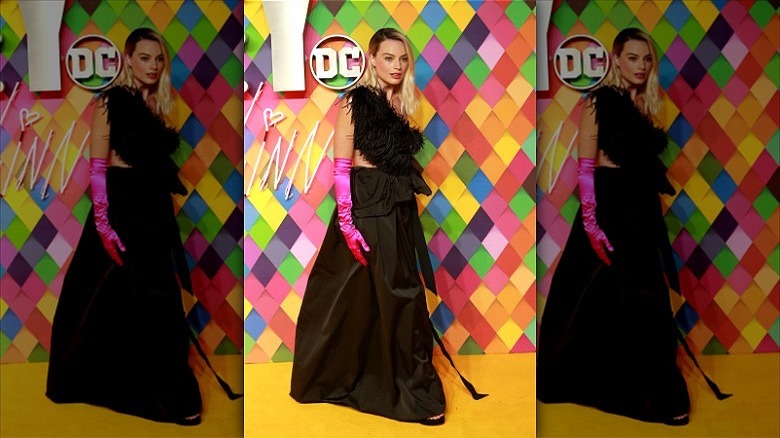 Fred Duval/Shutterstock
Listen, if Barbiecore gloves ever have their own moment in the fashion world, we're begging them to be based on the hot pink gloves Margot Robbie wore above to the January 2020 "Birds of Prey" premiere in London. An absolute statement piece that only Barbie (or Robbie) herself can pull off flawlessly, metallic hot pink gloves are a daring fashion choice that we're living for. Fashion maximalists, this piece is one you should grab ASAP.
We can definitely see Entrepreneur Barbie in this yellow ensemble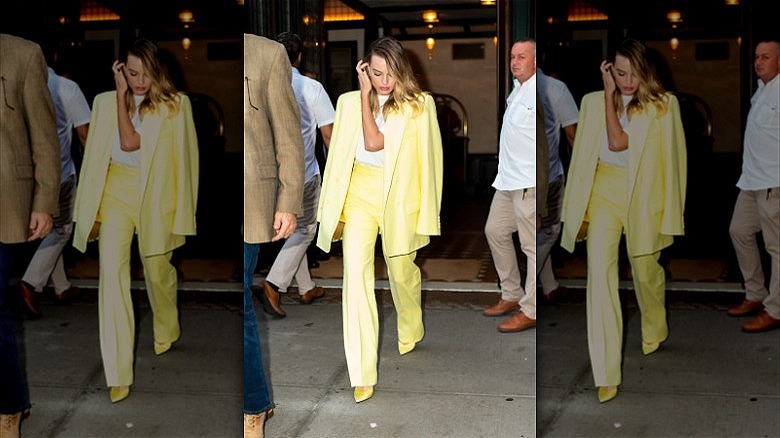 Gotham/Getty Images
Surprised to see a yellow outfit among Margot Robbie's Barbiecore ensembles? Don't be — after all, one of Barbie's most iconic pieces in the upcoming movie is her bright yellow rollerblades. The lemon yellow suit above is a fun summer color that softens an otherwise super-structured outfit, and since it's bright enough to scream for attention, we can't help but picture Entrepreneur Barbie wearing it to work.
This throwback look brought Barbie to mind over a decade ago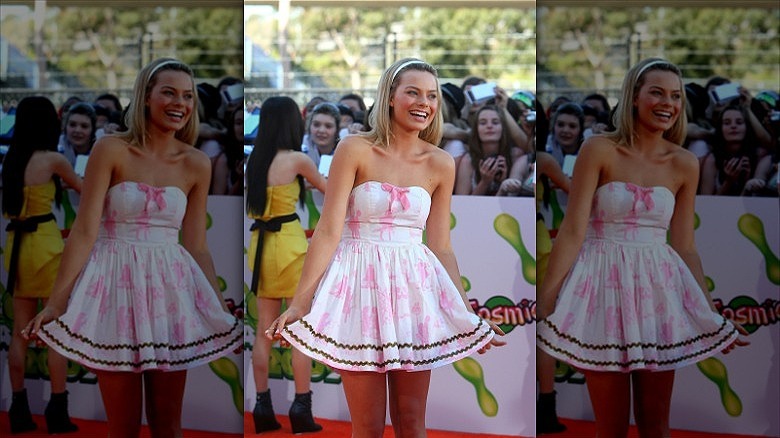 Cameron Spencer/Getty Images
Last but not least, Margot Robbie embodied Barbie all the way back in 2009 at the Australian Nickelodeon Kids' Choice Awards. From the ultra cute white and pink dress (with an accent bow that we can't get enough of) to her Barbie doll-blond hair, we're feeling all sorts of nostalgic about this red carpet look.