We're Way Too Excited That You Can Now Buy The Iconic Bright Yellow Barbie Rollerblades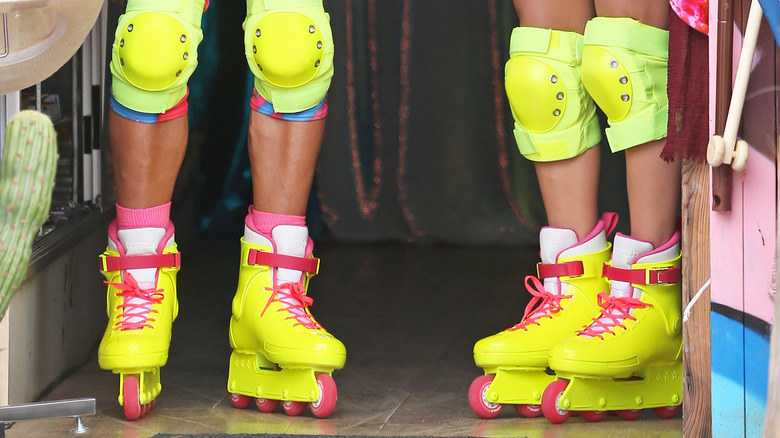 Mega/Getty Images
From the moment photos first leaked from the upcoming Barbie movie's set, fans couldn't get enough. Months ahead of its anticipated July 2023 release, prospective viewers got a look at stars Ryan Gosling and Margot Robbie rollerskating in doll-like designs. Though the photos quickly became viral — and, must we say, iconic — Robbie confided to Jimmy Fallon that she and her co-star were absolutely "mortified" in the moment. As they scooted around Los Angeles in their neon gear, Robbie recalls thinking, "This is the most humiliating moment of my life."
As the saying goes, "One person's mortification is another person's mood board." Although Robbie and Gosling were embarrassed in the moment, their get-ups became aspirational for many fans of the franchise and retro fashion. The looks paid homage to the 1990s' iconic "Hot Skatin' Barbie," who also rocked neon yellow skates. Needless to say, when Impala announced a Barbie collab that would bring the skates to life, fans could not contain their excitement.
The Barbie x Impala collab will shake up the summer
On May 17, Impala Skate took to Instagram to announce an internet-breaking Barbie collaboration. The brand invited followers to "get the look of Barbie and Ken," and many fans seem determined to do just that. "Those Barbie Impala inline skates are my childhood dream wow," said one Twitter user. Another was quick to put together a QR code to solicit donations and secure herself a pair. 
TikTok user Clawdeena, who secured an early pair, only added to the excitement. With their video garnering over 100 thousand views, it's clear that many will be swarming the Impala store when the rollerblades become available on June 1. Meanwhile, it appears that they'll be available for pre-order as early as May 20 on Impala's website. 
Keep in mind that you'll pay a little extra for the novelty of the item. Listed at $189.95, the Impala Lightspeed Inline Skate comes with a higher price tag than Impala skates of a similar nature. Still, they're cheaper than a Barbie Dreamhouse, and, arriving just in time for summer, they're perfectly practical! You can lean into a nostalgic '90s trend and get your steps in at the same time.
The Barbie movie has reinvigorated throwback fashion
If the skates are out of budget — or if you already have a pair and just need to accessorize — the Impala collab has plenty of other flashback fashions to consider. The full collection also includes protective gear for both youths and adults, as well as some sassy high-rise socks for a little extra ankle protection.  
Besides being well-timed with the movie, the Impala collab embraces the '90s fashion revival that we've been seeing in recent years. From slip dresses to scrunchie hairstyles, it's probable that your own closet has some '90s numbers right now. And if that revival leads to more iconic collaborations like this Barbie x Impala duet, we're here for it. 
Of course, Impala wasn't able to fully capture the "Hot Skatin' Barbie" style. The original product boasts that Barbie's shoes double as inline skates and ice skates. When a brand is able to pull off that Mattel magic, then we'll really be talking.