Barbiecore + Metallics = Match Made In Manicure Heaven This Spring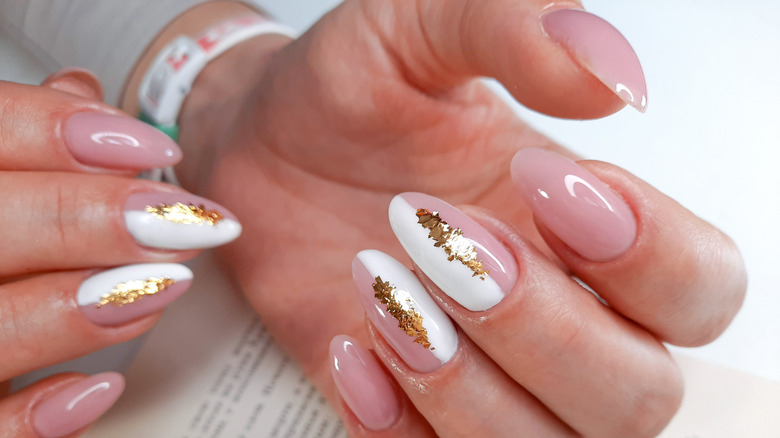 Olejohny/Getty Images
Barbiecore is in full swing with nostalgia from the '90s coming back into fashion and the upcoming "Barbie" movie set to be released this summer. In anticipation of a pink summer, spring trends are blending the hues of Barbiecore with metallics in a combination that feels like being invited to a pool party at Barbie's dream house. There are endless ways to create the perfect metallic pink manicure for some shimmery Barbiecore influence to get us in the mood to have fun! 
Beyond Polish describes Barbiecore manicures as having more of an impact than you may have guessed, especially when you think pink. Proudly wearing pink polish is a way to break down gendered social norms and create inclusivity when it comes to the color pink since, you know, colors don't have genders. 
Just like Barbie and Ken, metallics and pinks are meant to be together. Here are a few ways you can combine Barbiecore with metallics for a dreamy spring manicure.
Dip of color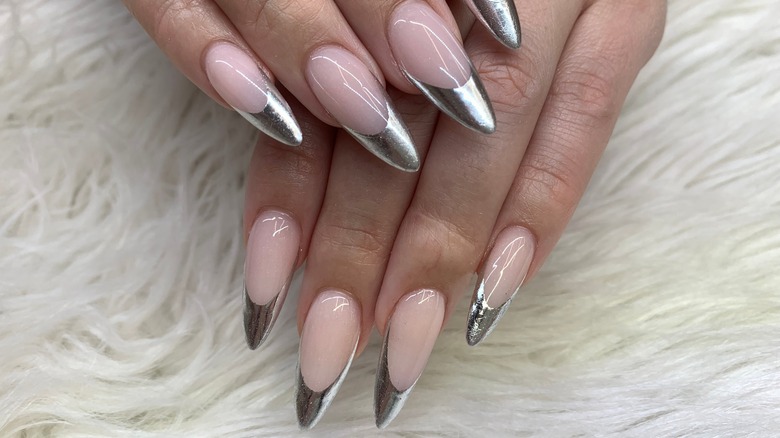 Huan N. Phan/Shutterstock
For a fun play on French tip nails, go for a dip. A dual colored manicure can be acquired in a salon, but it can also be easily achieved at home. Remember that Barbiecore's namesake is Barbie herself, who has always emphasized self-care and having fun. Using your supplies at home, be creative by painting your nails a shade of pink and then pouring a small amount of polish onto a dish so that you can dip your nails for a colorful duality of pinks, metallics, and anything else you want to try!
Ombré your nails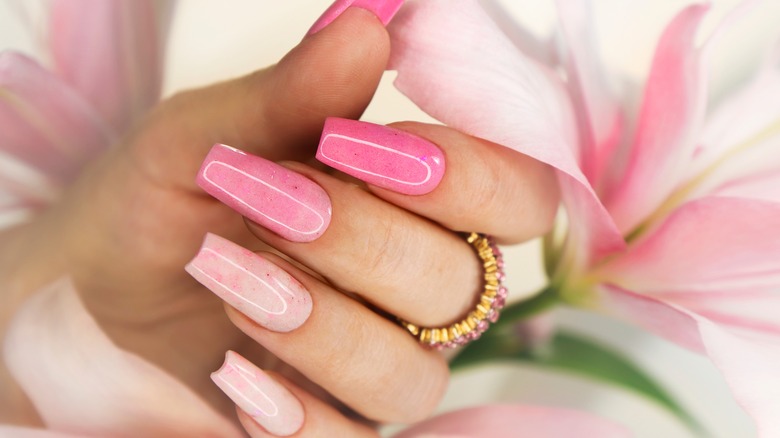 marigo20/Shutterstock
Spread the shimmery combination of metallics and Barbiecore across your nails with an ombré manicure of pinks and metallic hues. As you move from lighter shades of pink to darker ones, continuously add in more metallic shine. You can simultaneously ombré the core base of Barbie's signature color with the fun, bold metallic shine. Throw in some glitter for an even more layered look of metallic and pink fusion. If you prefer a delicate look, try a sheer French ombré mix of pink and glistening metallics. 
Surprise on the underside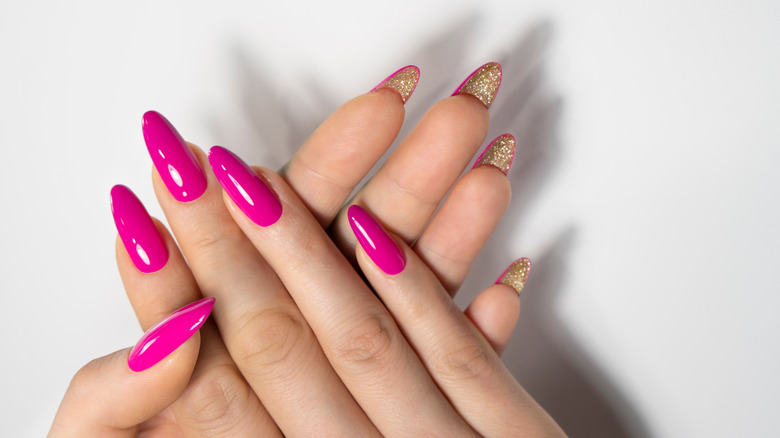 Elena Grama/Shutterstock
An artistic way to blend metallics and Barbiecore is to utilize an underside manicure, meaning that you paint your nails on both sides, top and bottom. Along the lines of a traditional manicure, you can paint your nails the Barbiecore pink of your choosing, or add in extra pink metallic polish, then on the underside of your nail paint the metallic for a surprise burst of glimmering shine!
Give metallics the spotlight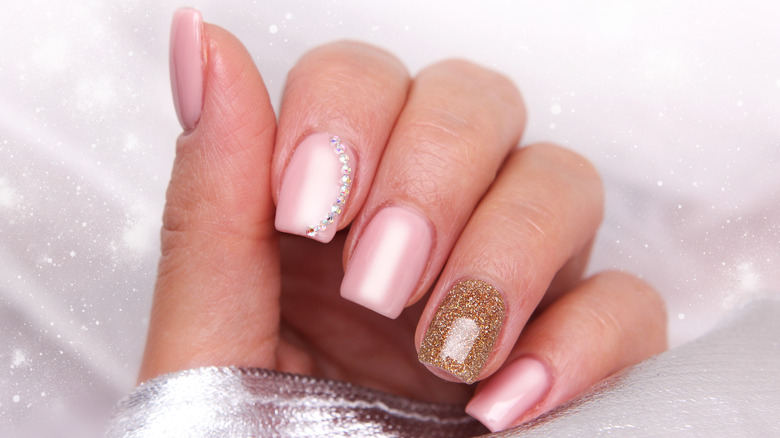 Nys444/Getty Images
In this look, you can choose to paint your pinkies, middle fingers, pointer fingers, and thumbs the shade of pink, or even metallic pink, of your choosing. For your ring finger, let the metallic take center stage by painting it with the color of your choice, be it gold, silver, bronze, or an extra pink hue of rose gold. Throw on some rhinestones to really lean into Barbiecore's shimmery side. 
Light and translucent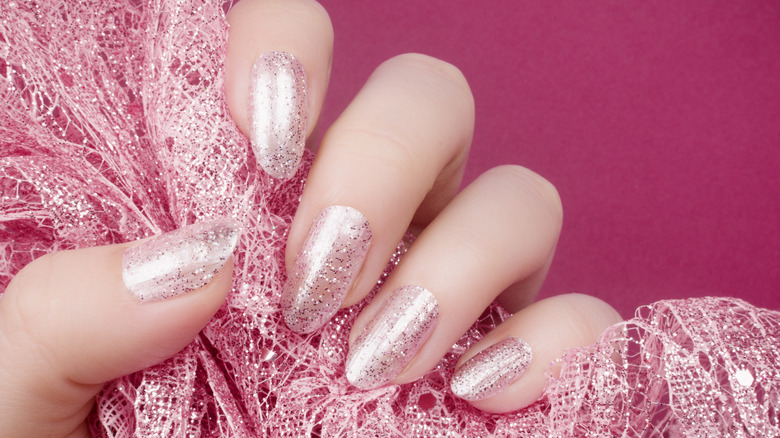 Baiajaku/Getty Images
Translucent manicures are definitely in vogue right now and it seems like they're here to stay for a while, which is awesome since Barbiecore and metallics go extremely well together when curated for an innovative translucent look. To obtain the best translucent manicure, start with a base of very sheer pink or even clear nail polish, then add in metallic glitter, sparkles, polish, or designs that show both the opaque metallics and the diaphanous base or undercoat. 
Go for glitter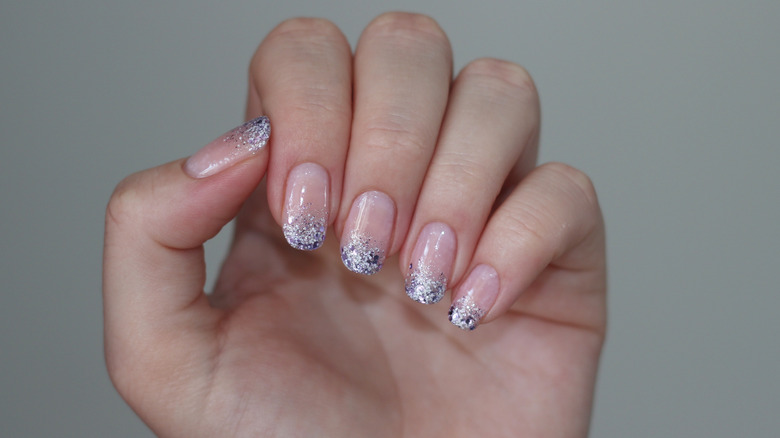 Kseniia Barlit/Getty Images
Similar to a dipped manicure, another fusion of Barbiecore and metallics that you can seek out at a salon or do yourself at home is the addition of metallic glitter to a pink polish manicure. After you've painted on your pink polish, add glitter on top or dip the tips of your nails into a small dish of glitter before the pink sets. Allowing the pink polish and the glitter to fuse together is the perfect way to embrace Barbiecore's pink obsession with added sparkles and a healthy dose of glitter. 
Create a swirling fusion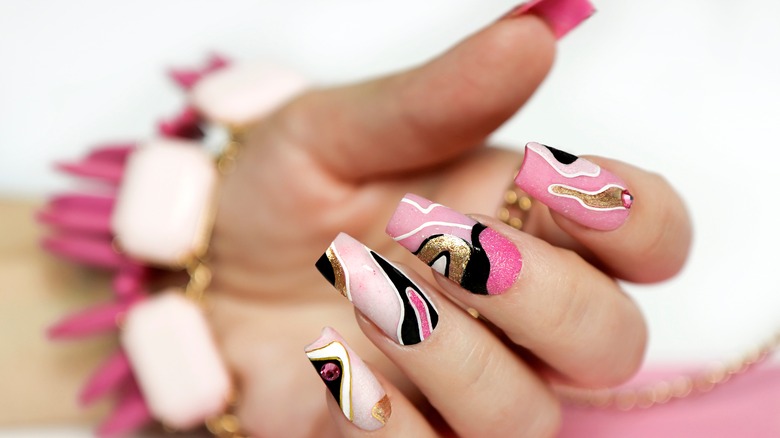 marigo20/Shutterstock
One of the most creative ways to blend metallics with Barbiecore, as well as other colors of your choosing, is to go for a swirled manicure look. Using nail polish pens at home, you can be artistic with drawing designs and fusions of color on your nails, or you can go to a salon for professional nail artistry. 
Metallic sparkle meets Barbiecore magic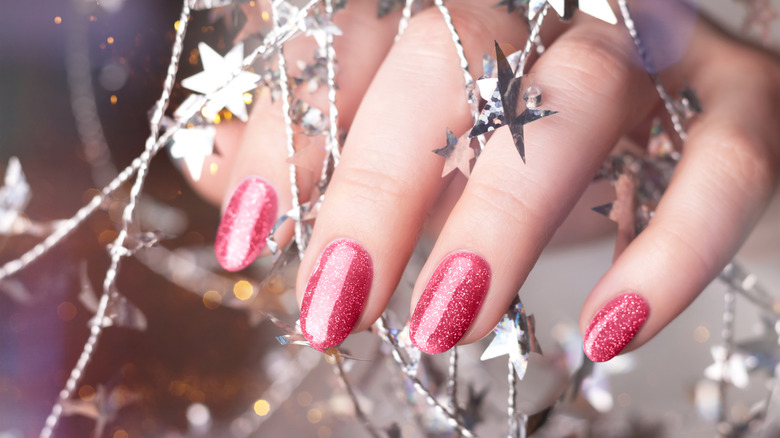 Mariia Demchenko/Getty Images
Finally, if you want to fully embrace the representation of Barbiecore fused with metallics, go with a metallic pink polish when choosing the look of your next manicure. Nothing screams Barbiecore than pink, glittery, shimmering metallic nail polish that can be worn with your brightest pink Barbiecore outfit. The only thing you'll be missing is a bright pink convertible, but the perfect metallic Barbiecore manicure will more than compensate!