Tips For Integrating Expensive-Looking Olive Green Into Your Wardrobe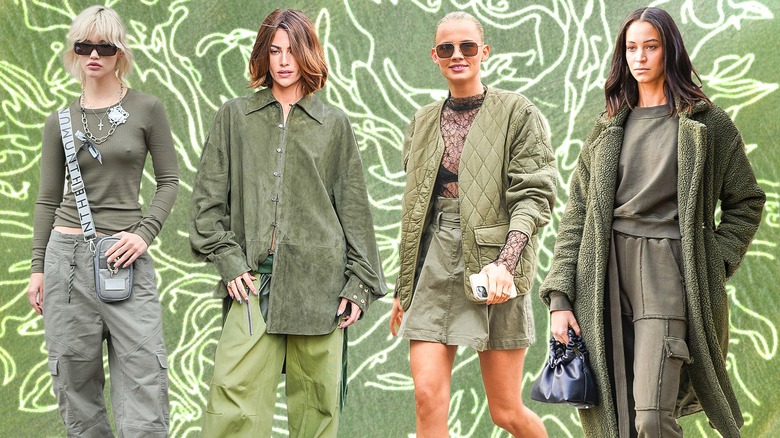 Static Media / Shutterstock / Getty
Green is the "it" color of 2023, and it's a stylish hue to wear. "From utility-driven olive shades to the new teal tones and even shots of acid lime, there is something for everyone across the green spectrum ... Cargo pants are a must-have and look great in a utility-driven olive tone," Regina Popp, senior director of Fashion & Trend at DSW, told InStyle. While we enjoy bright green looks for playful ensembles, they can sometimes appear overly youthful — or even a little bit immature — so we don't recommend wearing neon green garments to sophisticated settings and events. However, olive green will instantly make you look more expensive.
If you appreciate stealth wealth and quiet luxury aesthetics but don't want to be limited to black and white, olive green is an excellent hue for expensive-looking outfits. The subtle yet rich olive color will draw attention to your features while helping your ensemble appear mature in any environment.
Rock cargo pants
As previously mentioned, everyone should have at least one pair of cargo pants in their closet. These pants look great in light olive green, and while they tend to appear more casual than other olive green garments, cargo pants look stylish and give off an expensive streetwear vibe. Plus, they can serve as the outfit's focal point, so all you'll need is a simple neutral top for a low-effort but ultra-stylish ensemble.
Olive green dresses look luxurious
On the other hand, olive green dresses always look luxurious, especially in dark shades of olive. That rich hue makes all dresses look sophisticated, adding a touch of quiet luxury to your appearance. Olive green gowns and maxi dresses will appear ultra-fancy for dressy events, and even mini dresses look noticeably elegant in olive green.
Olive green jumpsuits and rompers are just as chic
Not the dress type? That's no problem, as jumpsuits and rompers are excellent alternatives and will still look polished in olive green. If you want a dressier look, opt for a full-length olive green jumpsuit, but if you want a more playful and low-key look, rompers are so much fun.
Wear olive green tops for supermodel vibes
If you want to dress like a model, an olive green top will give you that effortlessly stylish look. Olive green blouses look elegant and expensive, T-shirts in that hue look chic without trying, and olive green tanks and crop tops look super sexy. Any olive green top will increase your chances of looking like a model.
Skirts look lovely in olive green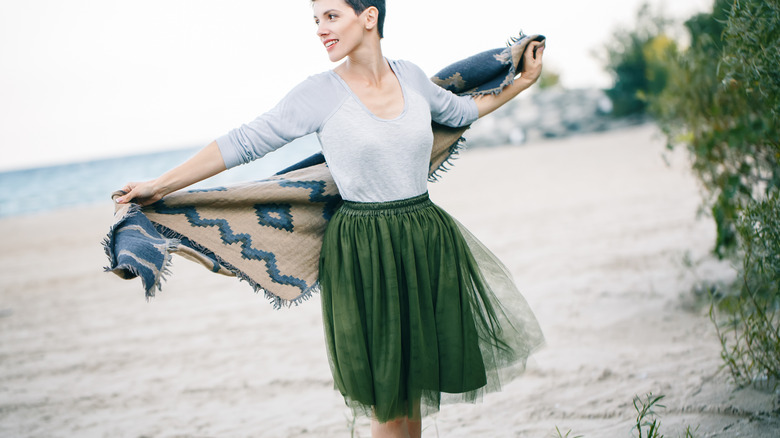 Anna Kraynova/Shutterstock
Besides olive green dresses and jumpsuits, we can't think of anything more luxurious-looking than olive-green skirts. In a deep olive green hue, skirts look elegant and expensive, even if you didn't pay a high price at all. Therefore, we recommend exploring olive green skirt options with various silhouettes and lengths to add more quiet luxury looks to your fashion roster.
Don't forget about olive green footwear
Last but not least, we can't forget to discuss the power of olive green shoes. Olive green is super convenient regarding footwear, as the hue looks stunning on dressy heels, stylish boots, sleek sneakers, dainty flats, and cute sandals, providing a touch of green to the ensemble without looking too over-the-top.