Strawberry Blond Hair Is Coming Back For Fall 2023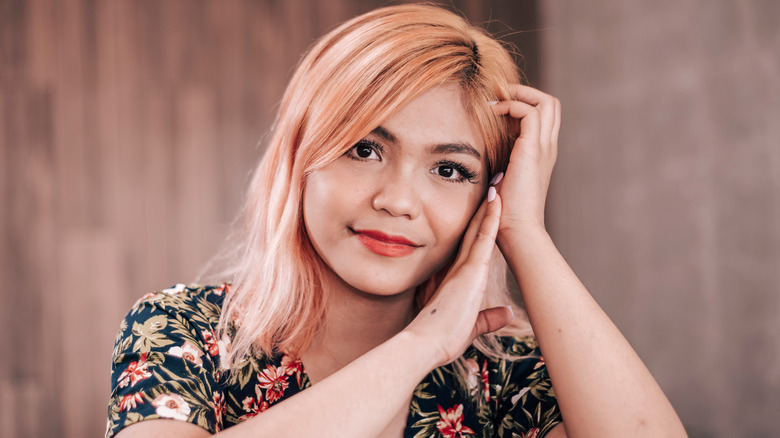 MDV Edwards/Shutterstock
Strawberry blond is a beautiful hair color. This reddish-blond hue features "tones that mimic the warm hues of the sun, the flames of a fire, or the oranges and yellows of a sunset ... It has a glow and a softness," Lilybeth Vargas, the founder of Dúo Hair, told Allure.
If you plan to switch from blond to red hair, the soft strawberry look is an excellent option. This change won't be as drastic as going from blond to dark auburn or more vivid red. Moreover, strawberry makeup is replacing latte looks for late summer and fall 2023, and strawberry blond hair is expected to follow in the makeup trend's footsteps. Strawberry blond tresses provide a lovely warmth, especially when it's the right mixture of gold and rose, making it the perfect hair color for fall. Best of all, it can help brighten some of your features, such as your eyes.
Straight hair looks more romantic in a strawberry blond hue
Every hair type is unique and beautiful, including straight hair. However, straight locks are often depicted as sleek and no-nonsense, particularly in dark and ultra-light hues, while wavier and curly tresses are seen as more delicate and romantic. Nonetheless, the strawberry blond color can soften even the straightest hair, giving it a gentler, more romantic appearance.
Edgy looks pair well with strawberry blond hair
On the other hand, strawberry blond hair can help people who want to exude edgier vibes make a statement. Dark eyeliner, short haircuts, and bold hairstyles can look even more mysterious with the strawberry blond hair color. The hair hue exudes fall and Halloween-ish energy, making it the perfect complement to Spooky Season makeup and ensembles.
Embrace the sunny tones for a glowy look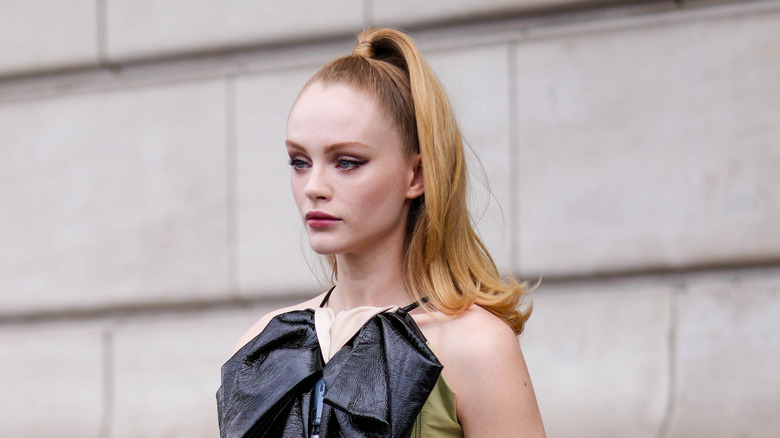 Edward Berthelot/Getty Images
If you want your strawberry blond hair color to appear more blond than strawberry, with only a subtle hint of red, ask your hairstylist to use more gold or blond tones and less red. Adding more blond or gold and reducing the amount of red can make the hue appear more versatile all year round and give you glowing goddess energy.
Or lean into the strawberry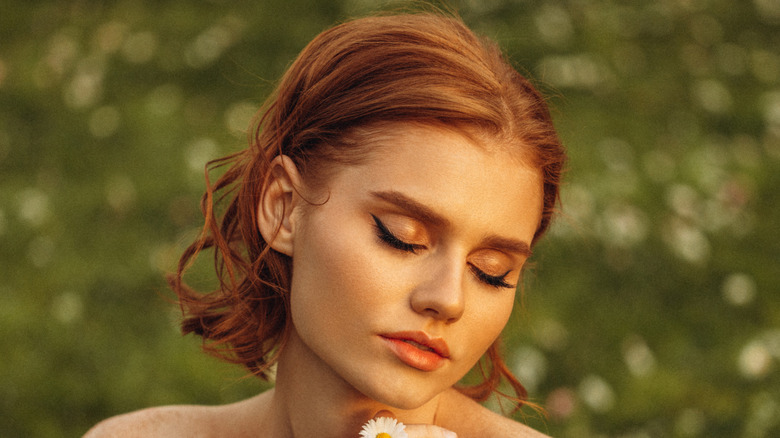 Coffeeandmilk/Getty Images
Opting for more red than blond in your strawberry blond look is a valid and beautiful option. If you don't want to commit to 100% red hair but still want the red in your hair color to be noticeable, make sure to communicate this to your stylist. Think of it like asking for extra strawberries in a smoothie.
Strawberry blond bangs are more fun
What's a look that's even more playful than classic blond bangs? Strawberry blond bangs! Strawberry blond is a famously adorable hair color, while bangs are beloved for their youthful and free-spirited appearance. Opting for a fringe and the strawberry blond hair color will give you the best of both worlds.