Soft Vs. Hard Wax: Which Is Right For You?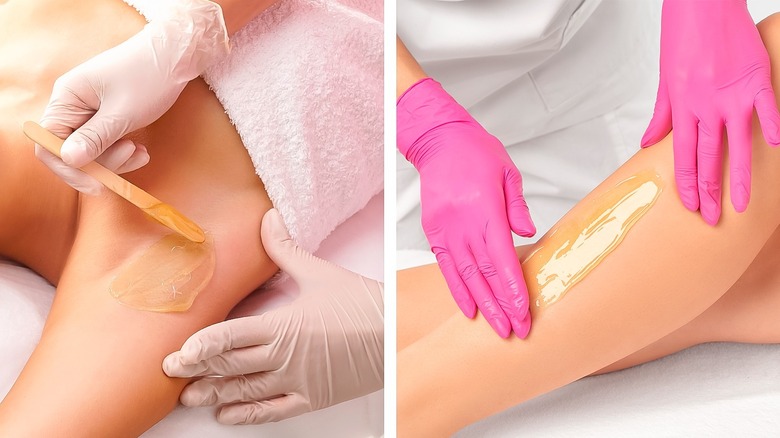 Static Media/Shutterstock
We may receive a commission on purchases made from links.
So, you want to start waxing at home. This is an affordable, quick way to remove hair, and the results tend to last longer than shaving. Luckily, anyone can wax themselves, but it's essential to choose the proper products to safely get the results you want. Though meltable wax pellets look the same, there are specific types suited for certain areas of the body, including hard wax and soft wax. Using the wrong type of wax is one of the many common at-home waxing mistakes people make, and this often causes unnecessary pain and irritation.
One thing these waxes do have in common is that they need to be heated up and melted before applying to the skin. That said, you'll need a wax melting pot, which can be found at most beauty stores or online, like this GiGi Hair Removal Wax Warmer. In order to remove the hair effectively, the wax should be applied in the direction of hair growth and removed in the opposite direction. Once you choose the right wax for you, you'll be ready for your at-home wax session and get the smooth results you're looking for. 
Use soft wax for large areas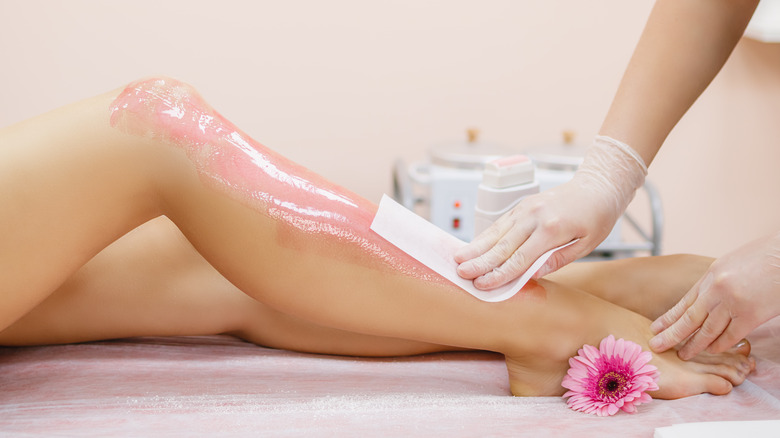 Anna Shiman/Shutterstock
Soft wax is best suited for removing hair on large areas that aren't too sensitive, including your back, legs, and arms. It's applied in thin layers with a disposable applicator and removed with a wax strip. With soft wax, you can quickly cover a lot of ground, making it a bit faster to use than hard wax. 
However, soft wax sticks to both the hair and the top layer of skin, so it can be irritating to sensitive skin, dermatologist Dr. Hadley King explains to Healthline. For this reason, Dr. King advises that even if you miss some hairs on the first try, you shouldn't wax the same area twice. Instead, you can treat your sensitive skin after waxing with soothing hydrocortisone cream, aloe vera, or tea tree oil, according to Healthline. Because soft wax can be a bit painful, it's best not to use it on sensitive areas. That's where hard wax comes into play.
Use hard wax for smaller sensitive areas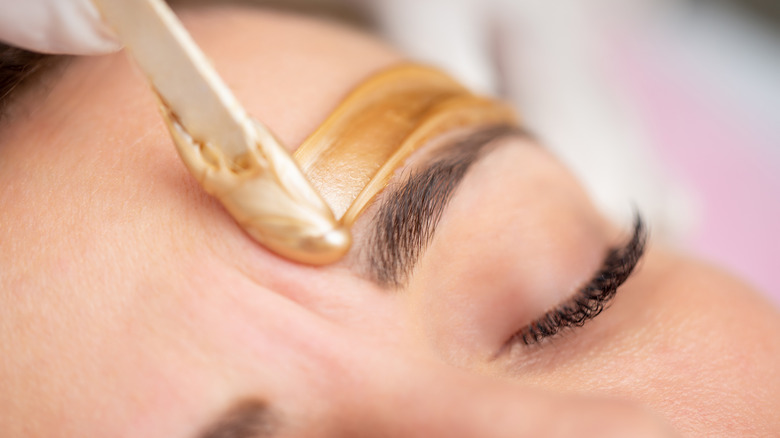 Casarsaguru/Getty Images
For super sensitive areas like the bikini line, armpits, and anywhere on the face, hard wax will be your best friend. Hard wax is gentler on the skin because it only removes the individual hairs and not the top layer of the skin, shares Healthline. "Hard wax is strong enough to remove the coarsest hair in the most sensitive areas," licensed esthetician Deidra Green tells Well+Good.
Hard wax has a thicker consistency compared to soft wax and doesn't need a wax strip to remove it. It's applied with an applicator and removed by swiftly pulling on the end of the wax itself once it dries. Just be sure to remove the wax in the opposite direction of hair growth. While soft wax is often applied generously and removed with a strip, hard wax is usually applied in smaller amounts, one area at a time. Because it's gentler on your skin, you most likely won't experience irritation if you need to wax over the same area twice.