The Viral TikTok Hack That Can Seamlessly Crop Your Oversized Button-Downs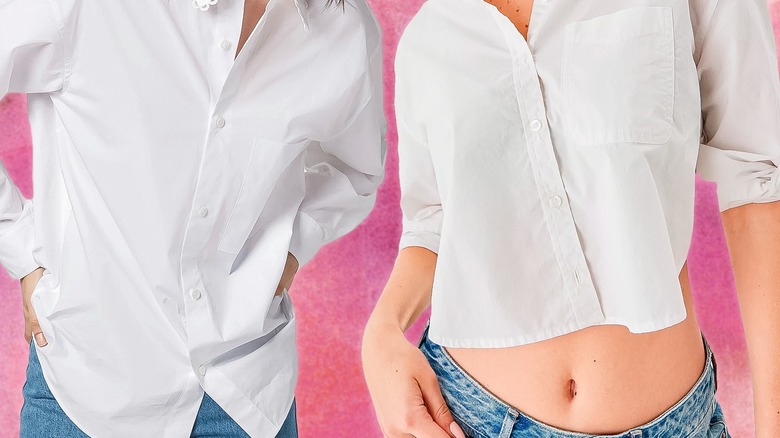 Static Media/Shutterstock
Do you have a stylish button-down shirt you hardly wear because it's too long? Before you give up on wearing it altogether, there's a way to crop the shirt in seconds without having to hem it or go to the tailor. An oversized style can totally work, but it's always good to have some new tricks up your sleeve. Luckily, TikTok has a super simple hack to help you crop and style a button-up shirt that's too long for your liking.
Clothing hacks are super popular on TikTok in general, with hashtags like fashionhacks reaching over 16 billion views.   Though you can't always trust all the hacks you see on the app, this one can actually come in handy. One video of the hack in particular, made by TikTok creator Caroline Hu, has received almost 200,000 likes. Before we get into it, it's important to note that this tip works specifically for long or oversized button-down shirts with collars.
The cropped button-down hack
Put on your favorite oversized button-down, and secure the very top button of the shirt. Then, take the buttons in the middle of the shirt and fasten them behind you, bringing the fabric around your neck so it sits underneath the collar. It may help to pop your collar up as you're doing this. The length of your cropped shirt is up to you. For an extra crop, you'll want to take the buttons further down the shirt to fasten behind your head. For a typical crop that isn't too short, do this with the third or fourth buttons. 
Once the buttons are secured behind your head, you can button the rest of the shirt and you'll have a newly cropped version of your oversized button-down. You can either unbutton that top button or leave it if that's the style you're going for. This easily crops the shirt without having to hem or alter anything.
What about the back of the shirt?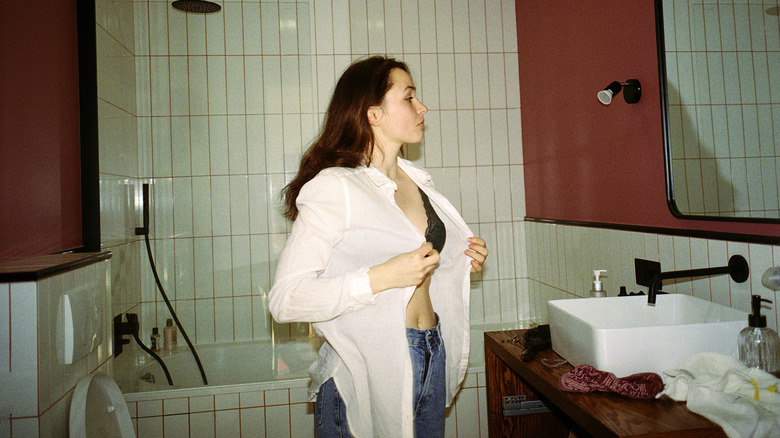 Oleh_slobodeniuk/Getty Images
Now that you have the front of your shirt cropped, there will likely be some excess fabric in the back. Depending on your style, you can either leave it as is or tuck in your shirt. It may help to tie the back of the shirt with a rubber band or hair tie and tuck it underneath the shirt, as Doranellys Patton demonstrated in this TikTok tutorial. This way, the rest of the shirt is comfortably tucked away and not hanging down. If you don't mind the top being longer in the back, you can leave it as is. It can still work as a half-up, half-down look. 
Though your collar should hide the buttons behind your head, it's possible the shirt may look scrunched up in the back. If you're worried about this, long hair can cover it. On the other hand, if it's not too hot out, you can wear a light jacket over the button-down shirt so it still shows off the cropped front.