Chainmail Is Trending For A Y2K-Inspired Going-Out Look In 2023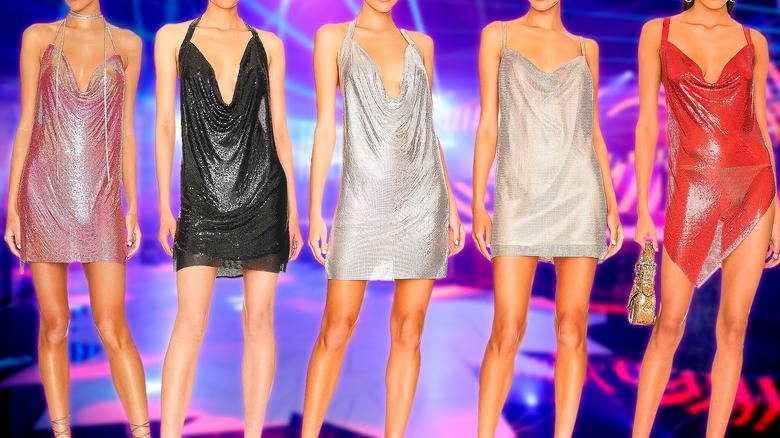 Static Media/Shutterstock
There's no more significant movement right now than the Y2K-inspired fashion trend. This rather unique era in fashion history has infiltrated everything from hair accessories to jewelry in 2023, with the newest item to enter the rotation being the go-to party dress of the early aughts: the chainmail dress. Chainmail tops and dresses are unironically nostalgic, especially for those who enjoy late-night, club-inspired looks. Boasting a disco touch, chainmail can give your party dresses a glamorous and retro feel while still feeling evergreen. After all, disco peaked several decades before the Y2K era.
As we've seen throughout 2023, we aren't saving our best outfits for a particular day — going-out looks are infiltrating our daily outfit rotations to bring something festive to work, errands, and more, for which we can, of course, thank the COVID-19 pandemic. What's more, brands like Christian Dior and Jean Paul Gaultier continue to prove that there's plenty of inspiration to go around with this metallic trend. And don't worry if you want more coverage, as this material also brings fantastic versatility that can make it as see-through or opaque as you want. With this flexibility, you can be as daring as you want but still have all the glitz and glam you need.
Chainlink tops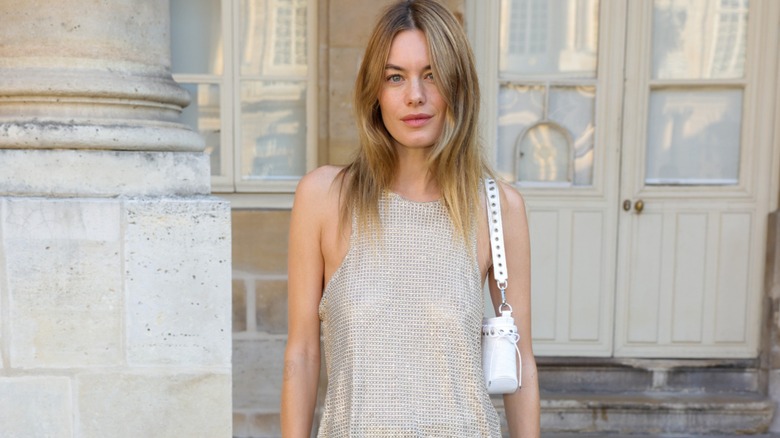 Pierre Suu/Getty Images
Chainmail dresses aren't the only version of this trend that's popping up everywhere in 2023. You can easily play up any solid-colored trousers with these chic and modern blouses for a balanced and cohesive look. You can even rock chainlink tops with jeans or pants for all your casual, everyday activities. The chainmail detailing will give you a party touch that you can transition from day to night. (Now there's a good Barbie doll idea!)
Sheer dresses
With chainmail dresses, you can dabble in two trends at once: the sheer and Y2K fashion movements. After all, chainmail material can be quite sheer and give a holographic effect depending on your garment. While sheer clothing is more difficult to wear in the daytime, it can make excellent statement looks when styled with the right layers and shoes.
Silver and sparkles galore
When you think of chainmail items, you likely automatically think of a silvery, edgy piece. Since silver naturally enhances fabrics, it pairs especially well with shimmery materials. Tom Ford showcased this fashionable combination at its Autumn/Winter 2019 runway show, with the brand's collection embodying how a silver chainlink material can elevate any look — and they were years ahead of the curve. Ultimately, if you want to jump on the chainlink trend, there's no easier route than wearing a dress with a chromatic finish that brings out the shine and glam of its material.
Vintage dopamine dresses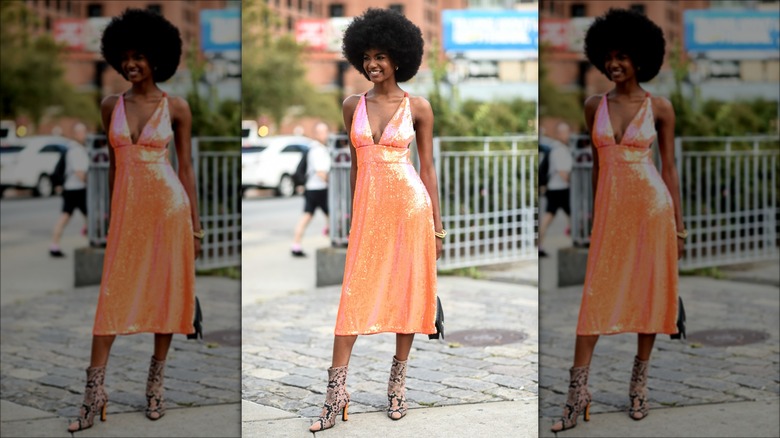 Daniel Zuchnik/Getty Images
While the cool-girl style automatically comes with chainmail, there's no reason you can't get a bright and cheery look out of it, too. When paired with a chainlink material, bright colors and unique patterns become fashion statements all their own. For Spring/Summer 2022, Missoni showcased a kaleidoscopic chainlink dress, showing how this bohemian mix could be a daily must-have — and a year later, it's finally struck a chord. This taught us that we shouldn't be afraid to elevate our dopamine dressing with a bit of chainlink to make the colors and textures truly shine.
Cut-out chainlink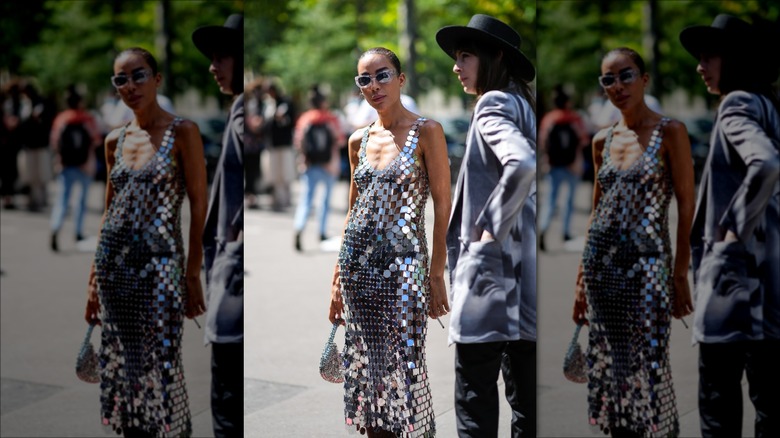 Edward Berthelot/Getty Images
While tighter chainlink materials are more wearable for daily activities, there's something about a cut-out chain-link piece that screams "disco queen." While this might be on the more risqué side, it's a statement style that's become almost instantly iconic thanks to street-style stores like Zara selling these pieces en masse. However, no brand does the mirror-like, chainlink style better than Paco Rabanne, which has been crafting looks with the material since the '60s. Still, you don't need designer pieces to rock this look.