Certain Hair Types May Want To Avoid Air-Drying - Here's Why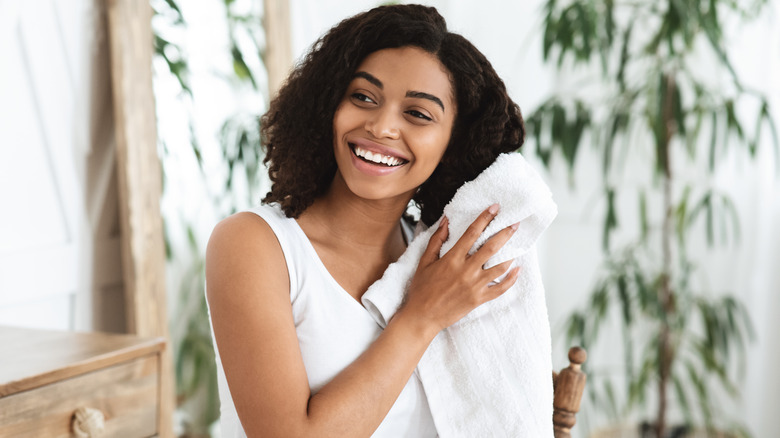 Prostock-studio/Shutterstock
We all know heat can be rough on our hair. That's why it can feel like you're doing your mane a favor by kicking the blow dryer to the curb — bye-bye hot air, hello au naturel air-dried locks. But here's a plot twist: Air-drying could actually be more harmful to your hair than blow-drying. A 2011 study published in the Annals of Dermatology found air-drying to be associated with damage to the hair's cell membrane, and the least damage was found in research participants who blow-dried their locks at a distance of at least 15 centimeters.
Part of the issue with air-drying has to do with how much longer the hair stays wet. "Hair can absorb up to 30% of its own weight in water," Adam Reed, ghd UK ambassador, told Refinery29. "Natural drying takes time. The longer hair stays wet, the more the cortex swells and cracks, permanently damaging hair."
However, not all hair types are impacted equally. According to experts, people with thick tresses are especially vulnerable to damage and other hair woes caused by air-drying.
Drying thick hair quickly can prevent damage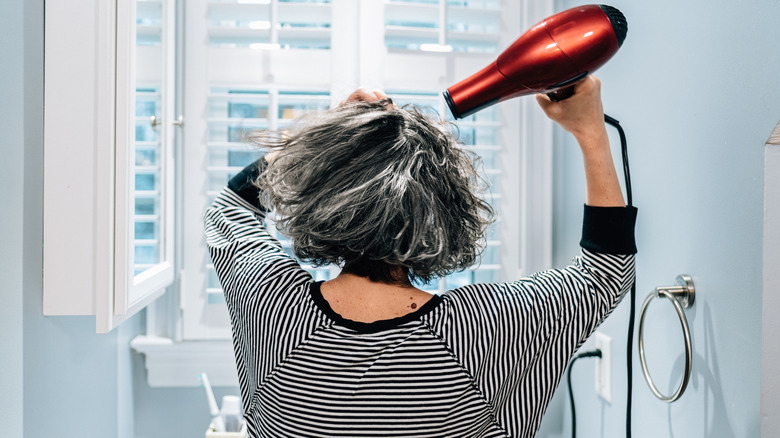 Ferrantraite/Getty Images
Thick hair has a towel-like ability to sop up a lot of water, making blow-drying a long and tedious process. However, that's precisely why people with thick strands should blow-dry rather than wait for hair to dry naturally. "Thick hair can absorb a lot of water and be prone to more damage, as hair is weakest when wet," Shaun Pulfrey, a hairstylist and the founder of Tangle Teezer, explained to Healthline. "But thin hair is less likely to absorb water, and it will be less susceptible to this damage." In other words, thick locks stay wet longer, making them more vulnerable to damage compared to fine hair. That could mean more breakage, frizz, and other hair issues.
Air-drying can also impact scalp health for people with thick tresses, as Janet Jackson, L'Oréal Paris hair expert and owner of Toronto's JouJou Hair Studio, revealed to The Kit. Because thick and coarse hair stays wet longer, moisture-loving bacteria on the scalp have more chance to thrive. Jennie Roberts, a celebrity hairstylist and texture hair educator, offered a similar warning to InStyle, saying, "Hair that stays wet or damp for a long period can attract bacteria and fungus, especially if you have very dense hair." Roberts added that afro-textured hair, in particular, can take days to air-dry, making blow-drying a much safer option.
How to safely blow-dry your tresses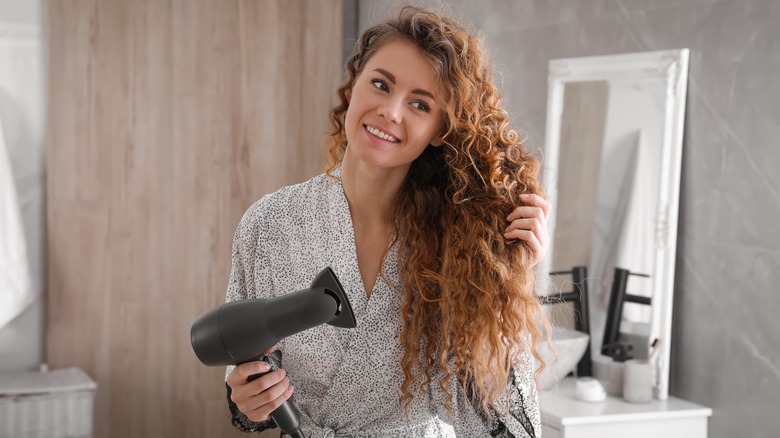 New Africa/Shutterstock
Air-drying might not be safe for thick hair, but frying strands with a blow dryer isn't a good idea either. And, unfortunately, a dense, heavy mane can require a lot of time spent in front of the mirror with a blow dryer before it's no longer wet. To speed things up, begin by gently removing excess water with a towel. "In general, the dryer your hair is, the less heat you have to use," Dr. Shilpi Khetarpal, a dermatologist at the Cleveland Clinic, shared with Self.
Hair products can also help protect your locks, such as quick-dry hair sprays and heat protectants. Just be sure to steer clear of heavy formulas. "Products, especially oils and heavy creams, slow down drying time drastically, so if you must use one, opt for something super-light like a spray for just your ends," Sheenon Olson, a celebrity hairstylist and creative director of ATMA Beauty, explained to Women's Health.
Invest in a powerful, high-quality blow dryer that doesn't waste much of your precious time (look for a dryer wattage between 1800 and 2000, as celebrity hairstylist Kristin Ess suggested to Glamour). Then, just like the 2011 study on hair-drying methods suggested, keep your blow dryer at least 15 centimeters away from your hair.