How To Transition Your Summer Festival Wardrobe Into Fall And Beyond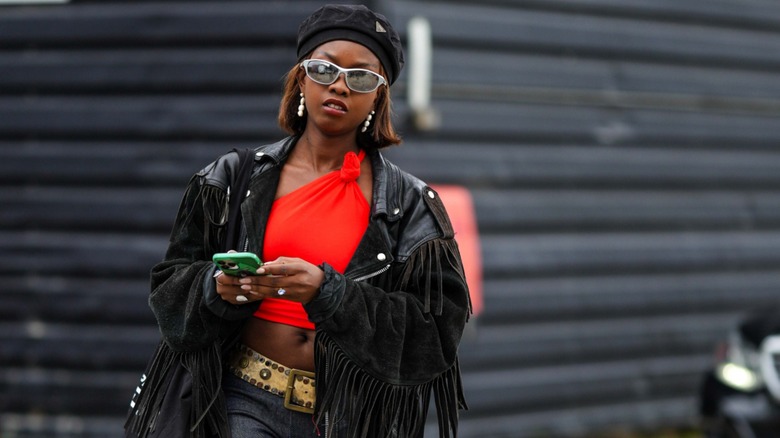 Edward Berthelot/Getty Images
While everyone is still reeling from all the summer festival fashion trends, it's time to wind down and prepare for the fall. Although there are hardly any fall festivals to look forward to, it doesn't mean we can't bring this same energy once the weather dips. Wearing festival fashion in the fall doesn't mean wearing denim shorts in freezing weather, but adding glam and fun to your cozier rotations. Small and straightforward accents can help bring your favorite festival memories into the new season.
Some recent festival trends to take from summer include sleek styles like westerncore and Barbiecore. These trends can easily be brought into fall with the adjustment of a few small details. You can go as extravagant or subtle as you want; festival style will add some life to a fall-neutral color palette, while on the other hand, maximalists will enjoy all of the intricate details of festival fashion. Bring the Coachella vibes year-round, regardless of the weather. 
Westerncore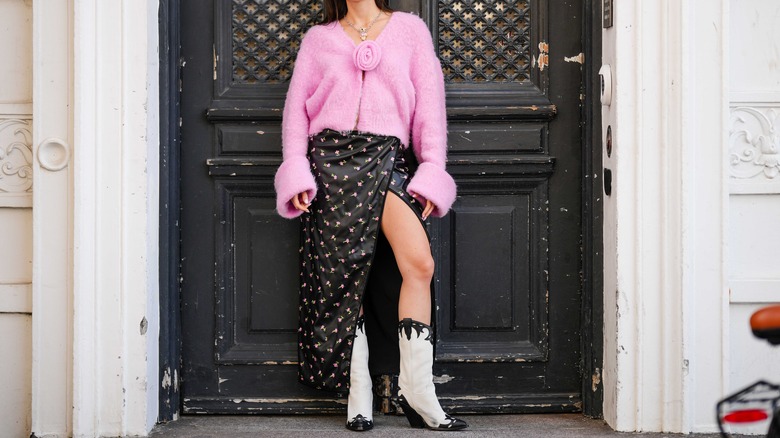 Edward Berthelot/Getty Images
Westerncore was a big winner for the fashion trends in 2023. With country aspects popping up in footwear and clothing, there's no doubt you can bring this into your fall wardrobe. The easiest way to incorporate westerncore into your closet is via midi dresses that boast a softer country look. However, for those looking for an authentic westerncore vibe, cowboy boots are a must-have. Go head-first with your westerncore aesthetic with cowboy boots, as shown during the DSquared2 Fall Winter 2023 Co-Ed Fashion Show.
Metallic madness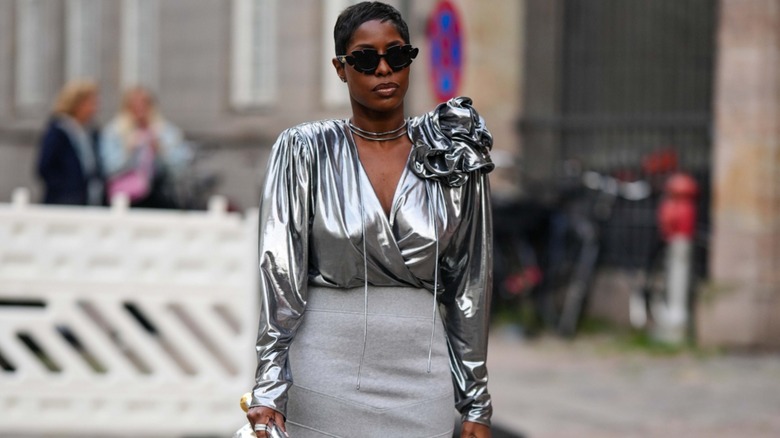 Edward Berthelot/Getty Images
This Coachella season, we saw the rise of metallics in all shapes and forms. Silver, gold, and bronze were everywhere, from accessories to full-on clothing. Bring this shiny glam into your fall wardrobe with subtle accents of metallics. Silver bags and gold accessories are easy ways to bring the festival fun to fall. Bold fashion lovers will want to incorporate metallic items like bodysuits or jackets for a glamorous warm look.
Sequins and feathers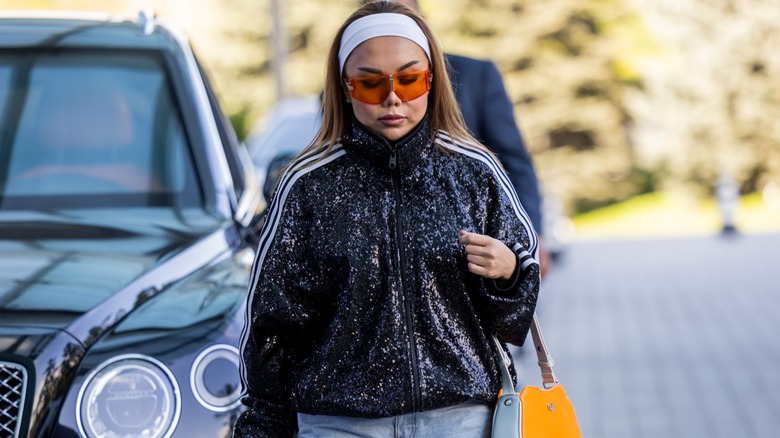 Christian Vierig/Getty Images
What's a music festival without sequins or feathers? Keeping on the pattern of disco-inspired fashion trends, sequins and feathers are some of the boldest ways to bring festival fashion year-round. Sequined pants or bodysuits can add an interesting visual effect, while feather trims add flair. Opt for these extravagant details on your fall purchases for more movement in your clothing.
Crochet couture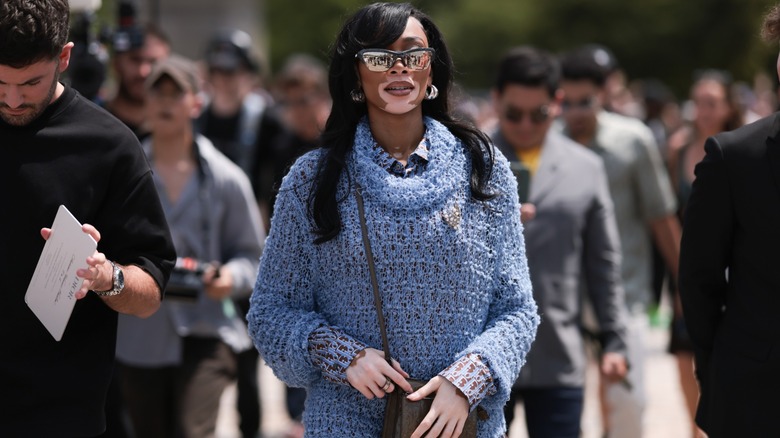 Jeremy Moeller/Getty Images
Nothing can beat crochet for the summer. Especially when it comes to the hot desert weather, crochet can give your 'fit a sense of freshness. However, for fall, crochet can add another layer of texture and warmth when paired with lighter layers. Wear a crochet sweater over a simple tee for peak visual interest, or opt for a bohemian-inspired crochet bag for a low-key statement.
Sheer and mesh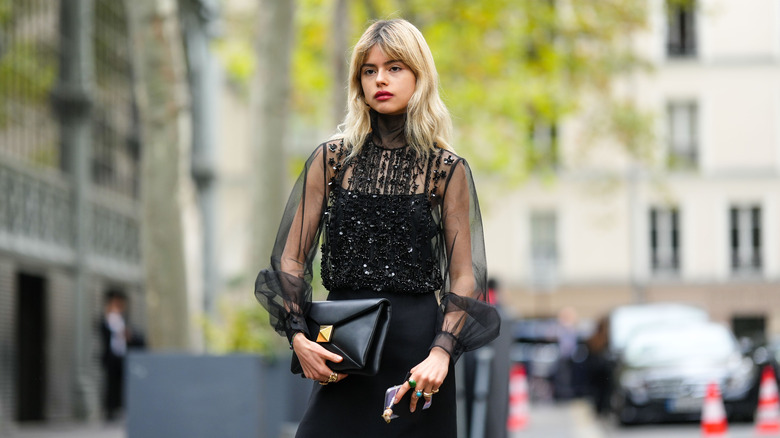 Edward Berthelot/Getty Images
We already revere the power of crochet, but you can't forget the classic sheer and mesh materials. In 2023, we've seen these fabrics become more prominent after being spotted on the runway by designers like LaQuan Smith and Miu Miu. Although you want to be careful of what you wear with sheer clothing, it's a trend that'll continue the summer fun well into winter. Use plenty of layers underneath and on top for more warmth and comfort.
Festival fringe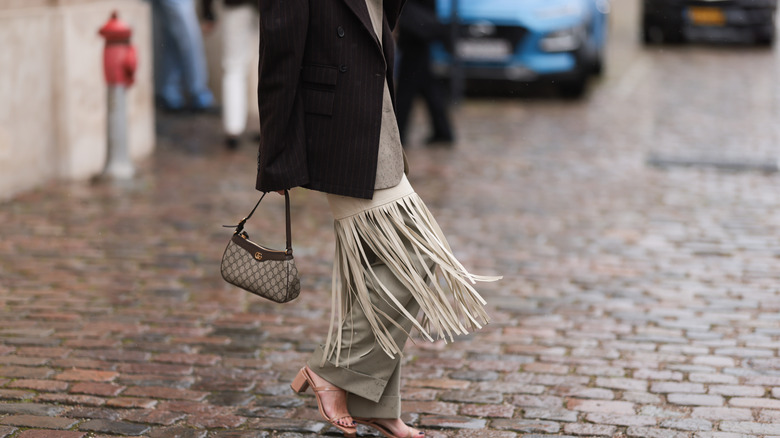 Jeremy Moeller/Getty Images
No one can forget the prime days of Coachella, where you couldn't spot anyone without a bit of fringe. Everything seemed to have this accent, from jackets to shoes. Bring this same feel into your fall wardrobe with the help of your favorite moving feature. Suede fringe will be your best bet for fall. While subtle, it will add some festival nostalgia to your closet. The fringe accent also allows you to include the westerncore style, giving you two fashion trends at once.