TikTok's Half-Back Hair Hack Is The Perfect End-Of-Summer Look
TikTok is the place for your niche interests and endless ASMR videos, but also to find the latest hair trends. The platform has us covered with the perfect hairstyle to get us through the wild weather that comes with the end of summer. Let's face it: As we get closer to fall, it's hard to balance the heat and the incoming cooler weather. One of the latest hair trends to take off is a heatless look that is an ode to summer fun while still being appropriate for fall temperatures. 
This viral hack is both chic and practical, keeping the hair off your face (ideal for those last-minute summer heatwaves) while still being pretty and feminine. Although you can wear any hairstyle at any time of year, there's no doubt that braids rule the summer; they're a stylish, heatless option for those hot weather days. With this half-back hair hack courtesy of TikTok, we can still get a splash of sunshine as the season comes to a close.
How to get the half-back hairstyle
Thanks to social media, we now know how to get our hair out of our face without compromising style. While there are plenty of ways of creating different looks with this one hack, it's a straightforward process for dressy hair. TikToker @jamievonslooten started her look in her video by braiding a small piece of hair on either side of the face. Once you've created the two braids, you want to pull the hair around the crown of her hair up and back. Afterward, pull your two braids forward and tie them together at the bottom. After tying them, pull them back and over your hair that you set aside earlier so the braids lay just underneath it. Remove your tie or clip on the gathered hair and let it fall over your braids.
While it may seem complicated from the outside, this look should take, at most, a few minutes to complete. Variations of this look can come with straight hair or wavy hair. Going with wavy hair will create more volume and movement. On the other hand, straight hair is sleeker and gives you a more polished look. This easy hairstyle is perfect for ending your summer hairstyle rotations.
Other heatless end-of-summer looks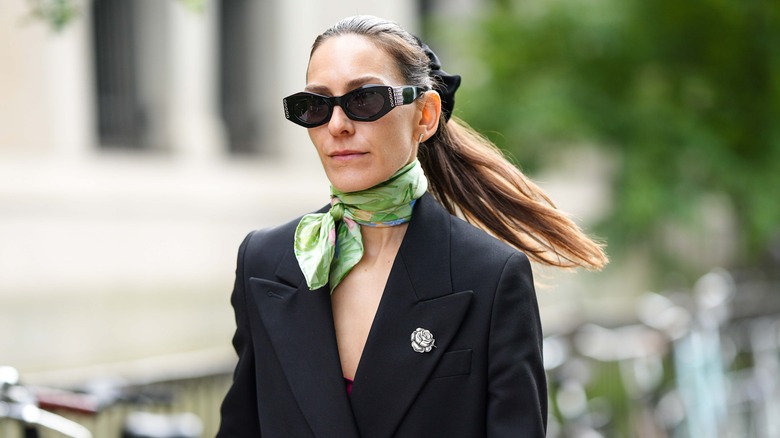 Edward Berthelot/Getty Images
While this viral look is the definite end-of-summer champion, other hairstyles can also provide plenty of freshness during the season's closure. One of the more popular movements we've seen during the summer is the inclusion of the hair claw. Claw clips are a direct '90s and Y2K trend, seemingly becoming our go-to hair savior. Instead of spending hours with intricate hairstyles and hair tools, simply gathering your hair under a claw clip provides a messy chic look that goes perfectly with the warmer weather. You can't go wrong with the claw clip for a quick five-minute hairstyle.
Although these are easy hairstyles to do on the go, one heatless alternative is best for dressier occasions. Slicked-back ponytails have become a constant trend because they're modern and polished but don't require much work. Pull your hair into a regular ponytail, and use a hair gel, styling cream, or balm to slick back the base of your hair. The hair products will help tame flyaways or frizz, giving you an ultra-slicked-back look. You could straighten the ponytail for a sleek look, or add some hair accessories for a more interesting vibe. Mix it up by opting for a high versus low ponytail or alternate to get different looks.