Billie Eilish Is Bringing Back Vivid, Colorful Roots - Again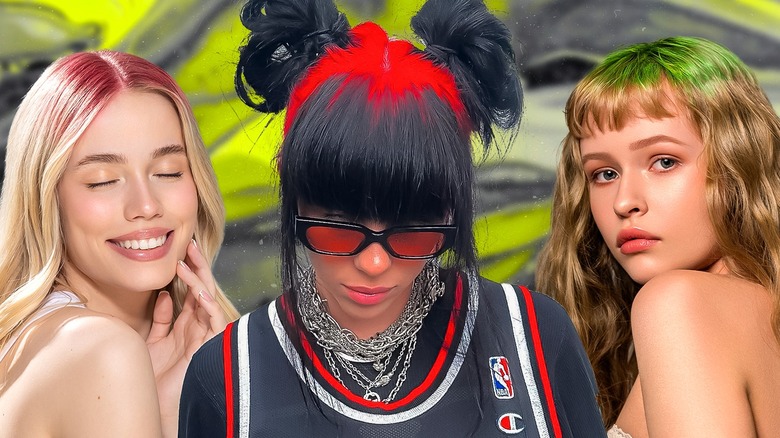 Static Media / Shutterstock
Along with writing beautiful music, singer Billie Eilish really knows how to pull off stunning hairstyles and colors. We've seen her hair journey go from silver and lavender to electric blue, black, brown, and blond. Still, one of her signature and most unforgettable looks is her colorful dyed roots, which she first debuted in 2019 with bright green roots and black hair. Four years later, Eilish has brought her colorful roots back, dyeing the center of her head a fiery red to contrast her all-black hair and bangs.
On August 3, 2023, the seven-time Grammy winner showed off her new red roots at Lollapalooza, an annual music festival in Chicago. Knowing her audience, Eilish's hair was perfectly paired with a red Chicago Bulls basketball jersey. Naturally, you can give your own roots a boost of color, whether dyeing your hair at home or at the salon — fun hairstyles and colors aren't reserved for celebs, after all. While Eilish contrasts her roots with dark black dye, your hair can be any color you prefer. Does new hair hint at new music coming soon? We sure hope so. But for now, we can admire the star's iconic sense of style and gather inspiration for our own looks.
Green roots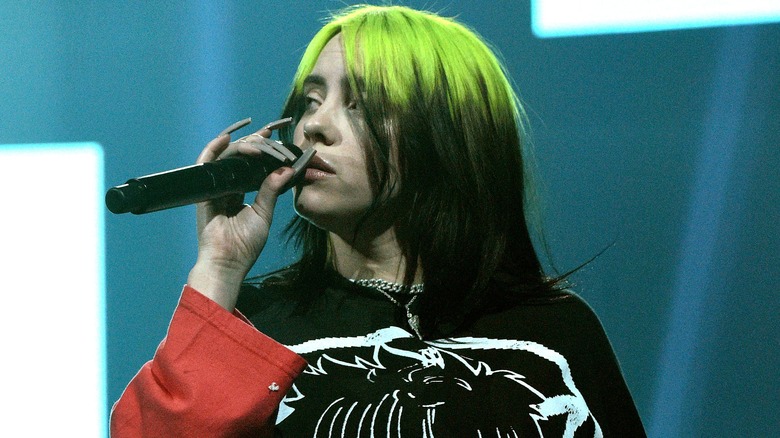 Kevin Mazur/Getty Images
Billie Eilish's green roots helped define the era surrounding "When We All Fall Asleep, Where Do We Go?" — the 2019 album that launched her to household name status. Contrasted with all-black dye, her roots were bleached and then dyed a vibrant lime green, which came down to her eyes. Lime green is one color option for dyed roots, but you can choose any shade you like, from neon to dark, forest green. It all depends on how bright you want the color to be. 
Blue roots
Blue is another popular take on the dyed roots trend. If you have light hair, a dark blue will create a cool contrast. For darker shades of hair, go for brighter blues that will really pop. You could even use two different tones of blue dye for multicolored roots. 
Purple roots
If you're looking for a gorgeous transition color to take you from summer to fall, purple or plum hair is a perfect choice. You don't have to restrict the dye to your roots, either; the color can extend down to frame your face. Whether you have dark, light, curly, or straight hair, purple is bound to be a colorful hit. 
Orange roots
Along with purple, orange sits prettily in the traditional autumn color palette, and it's sure to get you in the Halloween spirit. If you have bangs, you can experiment with other colors, too. For instance, adding a layer of dark green to the bangs can enhance the overall spookiness of your look.
Rainbow roots
If you're not afraid to go for vibrant, multicolored hair, a rainbow dye job might be for you. The rest of your hair can be any color, but for even more contrast, a black or brown base will make the rainbow colors really pop. Though this amount of dye will require touch-ups, it might be worth it if you want to achieve this stunning look.