What Fragrance Notes Do Vetiver Perfume Scents Hit?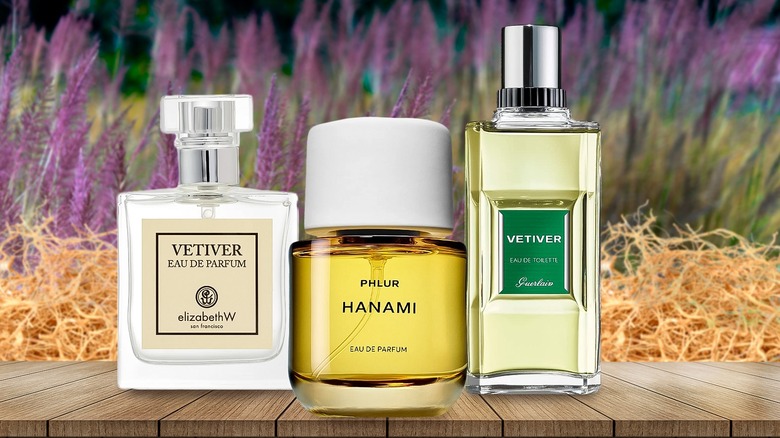 Static Media / Shutterstock
The easiest way to know whether you're going to like a fragrance is, of course, to smell it. However, with the advent of online shopping, even items intimately tied to the five senses — like perfumes and body sprays — are being hunted down online and bought on the recommendation of influencers. But as you might expect, buying a perfume on a trusting, scent-unsmelled basis can be hit or miss.
To ensure you can find the kind of fragrance you're actually looking for, it's important to understand the ingredients behind those wafting scents. Certainly, when trying to anticipate the fragrance behind a new product, it can help to find recognizable components in the formulation — like vanilla, citrus fruits, or the nutty base behind all those trendy pistachio perfumes. But sometimes the product you're ogling may be built on a foundation of something less familiar, like vetiver.
Vetiver is an aromatic grass grown in tropical and subtropical areas like India. Its essential oil, taken from the roots of the vetiver plant, started making its way into commercial perfumes in the early 19th century. With its warm, natural tones, vetiver has mostly been used for masculine fragrances, but some iconic perfumes also make use of this unique ingredient. And as earthy scents are trending in 2023, vetiver-based perfumes are getting a huge new chance to shine. So what should you expect if it appears on the ingredient list of your next fragrance?
The woodsy undertones of vetiver perfume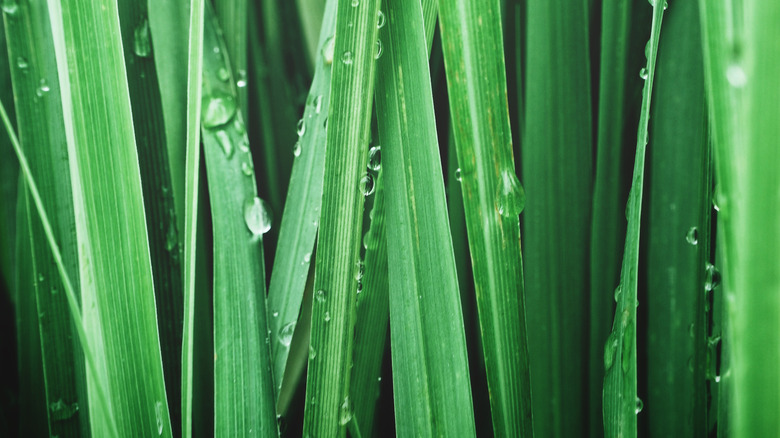 Luknaja/Getty Images
Now that vetiver is branching out from its masculine niche and into the wide world of fragrances, more perfume shoppers should understand what vibe it brings to the table. As a grass, vetiver naturally brings a subtly fresh scent. But remember, its essential oil comes from the plant roots, so its overall fragrance profile isn't overwhelmingly green. Rather, vetiver is a dry and mysterious scent. Out of the four fragrance categories in perfumery — floral, oriental, woody, and fresh — vetiver is primarily considered to be a woody scent. 
That said, vetiver is complex. It has been known to incorporate floral, citrus, spicy, leathery, and even smoky undertones. To complicate matters further, the scent of vetiver oil can vary depending on how it was distilled and where the plant was harvested. For instance, varieties gathered in Haiti are known to create cleaner scents, while Indonesian vetiver is considered to have a heavier, darker presence.
Overall, the sensual, earthy fragrance of vetiver can be said to balance sharpness and richness, like the mingling of green leaves and soil, or the tang of resin against freshly cut wood. And because vetiver boasts such a complex scent, there is no true synthetic alternative — meaning that we're likely to see vetiver maintain its strong toehold in the fragrance industry for a long time to come.
Vetiver perfumes for your scent collection
With its versatile fragrance profile, vetiver has appeal for almost any audience of scent lovers — from summery "tomato girls" to sultry and autumnal "gloomy girls." Fortunately, there is already a wide selection of iconic perfumes that utilize this irreplaceable ingredient.
For a timeless vetiver scent, the Chanel-exclusive fragrance Sycomore was created by Coco Chanel herself in 1930. Named after a tall, regal tree, it's only fitting that this perfume is characterized as deeply woody. Here, vetiver is complimented by iris, leather, and vanilla for sweet and robust undertones.
The Soleil Brûlant Eau de Parfum from Tom Ford is a sunnier fragrance formulated to compliment every gender. With notes of not only vetiver but also mandarin, bergamot, and peppercorn, this bright, warm scent is like having summer in a bottle.
For a musky and citrusy take on the unisex perfume trend, Prada also offers a vetiver-driven fragrance called, appropriately, Infusion de Vetiver. Accenting the resinous vetiver with floral bergamot, spicy ginger, and warm cardamom, this scent is bold but balanced.
And if you're on a budget, take heart. While many luxury perfumes favor vetiver as a driving fragrance, there are also more affordable options that incorporate this covetable scent. For instance, with its marriage of vetiver, lavender, cedar, and green tea, the Korres Vetiver Root Eau de Toilette proclaims to evoke autumn rain — and does so at a fraction of the price charged by bigger luxury brands.