Viral 'Tomato Girl' Aesthetic Is All About Summery, European Vacation Vibes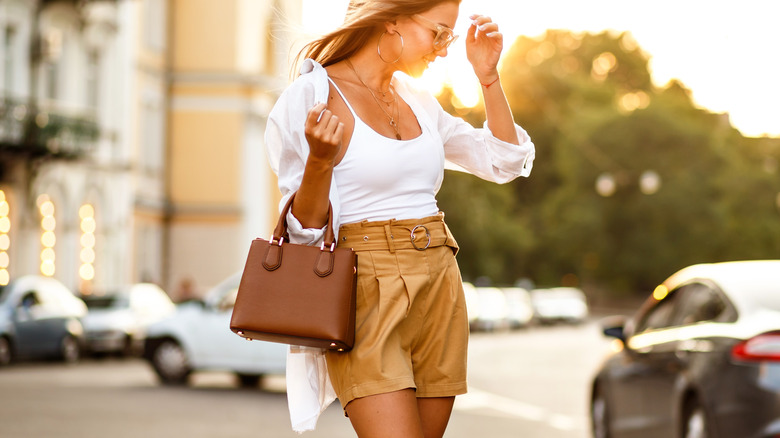 Ann Haritonenko/Shutterstock
Wellness-focused cucumber girls. Free-spirited berry girls. Sunny weather-loving, beach-obsessed mango girls. No, these labels aren't for girls who like to cook or enjoy fun food recipes, oddly. Like many other wacky yet intriguing TikTok style trends, these are now names for fashion and lifestyle aesthetics. One of the most highly talked about of the bunch is the "tomato girl."
According to TikTok, a "tomato girl" is someone you could picture sitting back and eating tomatoes on a hot summer day in Europe with her naturally beautiful unstyled hair, bright nails, holding delicious drinks, and wearing lively printed garments. Sounds like a pretty enviable life, so it makes sense that the carefree summer lifestyle-inspired look is trending in 2023.
Of course, some people think these trendy food-named aesthetics are unnecessary and excessive. TikTok user @goddamnit.dommy, who shared a video expressing confusion regarding the trend, wrote, "This is getting out of hand." Despite the trend's controversy, we enjoy it. If you also admire the tomato girl aesthetic, there are many tips for incorporating the look and vibe into your wardrobe and lifestyle.
Wear red, of course
Daring red is the 2023 trend you can start wearing right now, and it's the perfect hue for rocking the tomato girl aesthetic. After all, most tomatoes are red, so it only makes sense that red is the best hue to wear if you want to rock the tomato-named trend. You can still master the look in other colors, but red is the most on-brand with the aesthetic, so flaunt your red dresses, tops, bathing suits, and lipsticks to look like a trendy tomato girl.
Break out the bikinis
Tomato girls always exude summer vibes, so break out your bikini and go for a swim! Wear your bikini to the beach, pool, backyard, or balcony, and take some pictures to document your summery look. The bikini style you choose is up to you, but the string bikini is officially back, so consider buying a bikini in that carefree style for a free-spirited, trendy summer look.
Eat more tomatoes
This suggestion probably sounds silly, but how can you be a true tomato girl if you don't eat tomatoes? Try snacking on tomatoes more often to get the tomato girl perspective, and appreciate the beautiful look and delicious taste of the fruit — or vegetable. We don't have time to get into that debate in this article. And consider taking some cute pictures of yourself enjoying the tomatoes to prove you're a genuine tomato girl.
Pay attention to your hair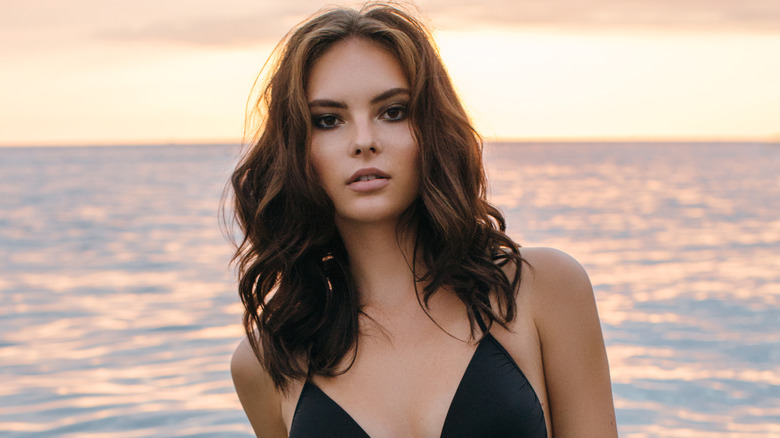 Coffeeandmilk/Getty Images
In one of the most viral TikTok videos about the tomato girl aesthetic, one of the first images viewers see is long, wavy, brown hair. So, if you naturally have long, wavy, or brown locks, you already have a component of the aesthetic. Regardless of your hair length and hue, opt for beachy waves, whether you braid your hair before bed and take it out in the morning or reach for a curling wand to achieve soft, effortless-looking waves.
Focus on looking summery above all else
The primary vibe that a tomato girl gives off is everything summery. Thus, the aesthetic isn't about looking edgy, glamorous, or trendy, so don't worry about trying to add edgy or fancy details. Moreover, since tomato girls wear summer pieces that show skin, including bikinis, sleeveless garments, and short bottoms, some outfits will have a sexy look, but you should aim to look summery rather than sexy.
Think about your nails, but don't overdo them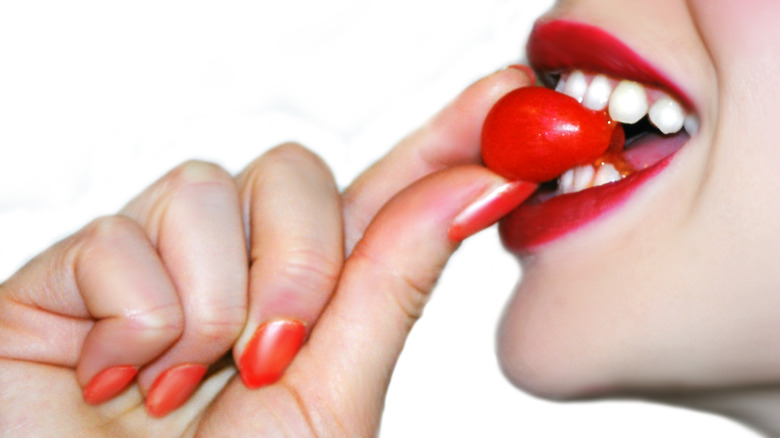 gvictoria/Shutterstock
We imagine a tomato girl rocking white, red, yellow, or orange nail polish to fit the summery theme, so these are the best manicure hues for the aesthetic. Or, consider adding some tomato-inspired decals or nail art if you're super committed to nailing the look. However, overly fancy, expensive nail treatments and manicures don't fit the carefree tomato girl energy, so don't opt for anything too elaborate.
Take inspiration from European films
If you want even more inspiration regarding how to master the tomato girl aesthetic's European flare, watch some European films to see what tomato girl-type characters are wearing on-screen. For instance, movies, like Caught by a Wave, can provide plenty of inspiration regarding the tomato girl aesthetic, as dressing like movie stars in Italian and other European summery films can be the first step to help you learn to become a tomato girl.