Daring Red Is The Spring 2023 Trend You Can Start Wearing Right Now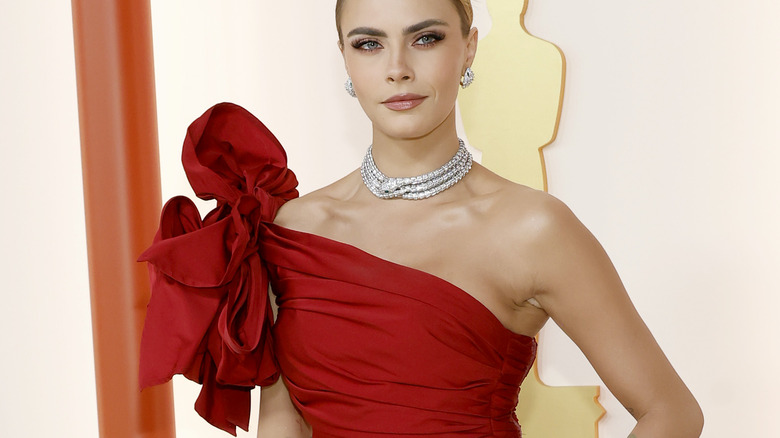 Mike Coppola/Getty Images
First, let's make one point clear: Red is never out of style. While more specific hues such as coral, red-orange, and hot pink go in and out, classic red is always a beloved color in fashion and beauty. Just think of all the iconic red moments in pop culture, from Lana Del Rey's famous lyric, "I got my red dress on tonight," at the beginning of her moody song, "Summertime Sadness," to Taylor Swift's "Red" album, to Jessica Rabbit's beloved body-hugging gown in "Who Framed Roger Rabbit."
In 2023, red fashion is arguably trendier than ever before. For instance, supermodel Cara Delevingne was one of the best-dressed people at the Oscars in her beautiful asymmetrical red gown. Moreover, regardless of how you felt about Rihanna's performance at the 2023 Super Bowl, everyone can agree that she looked stunning in her monochromatic red Loewe outfit. If these gorgeous and talented women have you feeling inspired to wear more red this spring, we have some tips on how to add more red to your wardrobe.
Rock a red dress
If Lana Del Rey, Cara Delevingne, and Jessica Rabbit taught us anything, it's that red dresses are perfect for making bold statements. So, every woman should have at least one red dress in their closet, as these pieces are undeniably dramatic and sexy. Whether you opt for a skin-tight, short option with lots of cut-outs for a night at the club or a flowing floor-length look for a formal event, you'll be sure to turn heads.
Flaunt a red top
Red shirts are so much fun! A bright red top will instantly serve as the focal point of your look, so you typically won't need to worry about elevating a red top with accessories, statement bottoms, or elaborate hairstyles. Wear a red blouse with flattering trousers for work, a sexy red crop top with leather pants for a night out with friends, a basic red shirt with sweatpants or joggers for streetwear looks, or a red tank top with leggings for the gym.
Explore red footwear
Of course, red heels are famously seductive and look stunning with black dresses, jumpsuits, and short skirts. You can never go wrong with red heels for glamorous, commanding femme fatale energy. Furthermore, red boots are striking footwear options for chilly days, and red sneakers are ideal for adding a pop of color to your favorite casual neutral ensemble.
Make a statement in a red coat or jacket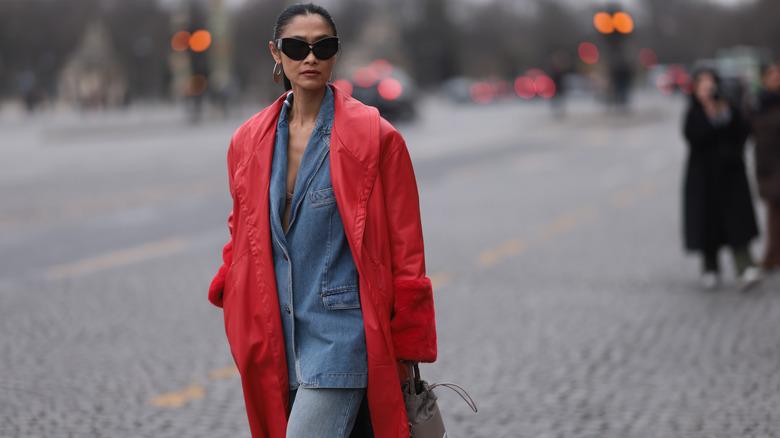 Jeremy Moeller/Getty Images
Wearing a red coat or jacket is one of the easiest and most exciting ways to elevate a simple, minimalistic, or even dull outfit. By donning outerwear in such a daring hue, you'll be transforming your ensemble and will make an entrance wherever you wear it, whether you opt for a long red trench coat, glamorous faux fur option, chic blazer, edgy leather jacket, or even a cozy oversized hoodie.
Experiment with red jeans
Do you love wearing jeans but get tired of always sticking with the same denim blue color? Try a pair of red jeans for something different! Red jeans are a fun twist on classic denim and are more versatile than you'd initially think when it comes to styling. Wear them with a black or white top to let the jeans be the main character, pair them with a bright yellow or orange top for hot, happy-go-lucky looks, or even wear them with an opposite color top, like blue, for contrasty color blocking.
Try a red purse
A red purse will add a cute pop of color to any outfit in your closet, so it's a great statement accessory to consider. Plus, you'll probably never lose it because the daring hue is so difficult to ignore or overlook. So, if you enjoy bold accessories and can be forgetful, you should invest in a red purse.
Use red nail polish
Who says the red trend only applies to clothing? Red nails are eye-catching and glamorous, so consider buying some red nail polish, too. And we've all heard about TikTok's red nail theory, which posits that guys like it when girls wear red nail polish. Whether or not this theory is true, we can all agree that red nails look stunning.