Forget To Pick Up Your Sephora Birthday Gift? Don't Worry - There's A Fix For That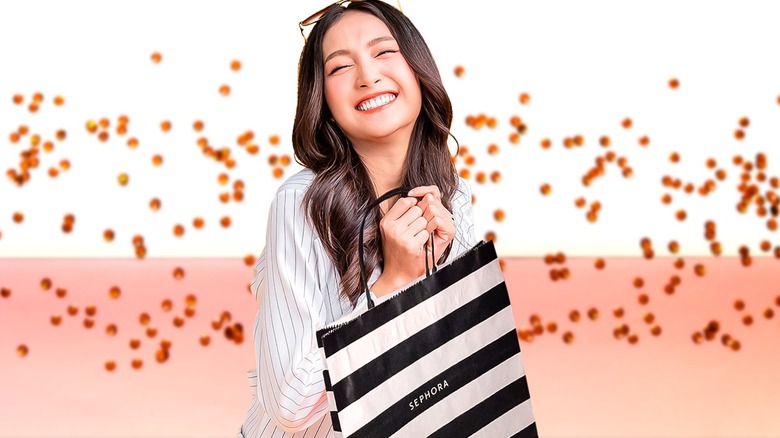 Static Media/Shutterstock
We may receive a commission on purchases made from links.
The Beauty Insiders rewards program at Sephora features several exclusive perks, including free shipping, discounts, and a free birthday treat. Sephora rotates the available options, but you can expect to choose one free treat from a handful of popular hair products, skincare minis, or makeup favorites. If you find that none of the birthday goodies appeal to you this time around, then you can always opt for bonus points in lieu of a gift.
During the whirlwind of birthday celebrations and daily happenings, it's easy for Sephora's once-a-year birthday perk to slip your mind — don't worry if you suddenly realize a month later that you forgot to pick up your free gift. According to a TikTok hack posted by a former Sephora employee, you are still entitled to a birthday gift, even after your birthday month has passed. As it turns out, the best way to go about redeeming a late birthday gift is to take a direct approach and visit a Sephora location in person. 
What is Sephora's birthday policy?
Sephora's rewards program allows members to redeem a free gift either in-store or online within the month of their birthday. The policy explicitly states that you can receive your free gift two weeks before or after your birthday, or any time during your birthday month, per the fine print on the Sephora website. However, Tiktoker @sheiskyra reveals that as long as you have not previously redeemed your birthday gift — either online or in-store — you can bypass this rule and head to your nearest Sephora to pick up your birthday gift, anyway. 
In a YouTube video with nearly 2 million views, beauty influencer Mar decided to put this hack to the test by walking up to the checkout counter 8 months after her birthday to ask for her free gift. In her video, Mar lined up to purchase a lipgloss set before asking for her birthday freebie. While the official policy does state that, as of May 2023, a minimum purchase of $25 before shipping and taxes is required, this only applies if you plan to redeem through the website.
Does this hack always work?
If you find yourself in a position where over half a year has passed since the day of your birthday, there is a chance that your nearest Sephora location will refuse to hand over a free gift. Sometimes, this hack's success boils down to the specific employee you come across during your visit. Where one individual might take a look at your exact birth date and deny you from redeeming your free gift, another employee might not. Certain Sephora stores and workers prioritize stricter adherence to policies than others. This will determine how easily you can get away with picking up your free gift well past your birth month. 
For instance, the cashier in beauty influencer Mar's YouTube video was clearly skeptical about handing over a free birthday gift 8 months past her actual date of birth. As shown in the video, the Sephora employee conducted a thorough search on the influencer's account to determine if she'd previously redeemed a gift before making a decision. After verifying that she had not, in fact, received her birthday gift, the cashier had no issue letting Mar select her birthday beauty treat. In this case, a friendly smile and determined attitude go a long way.