Score Meghan Markle's Go-To Sneakers To Top Off Your Casual Look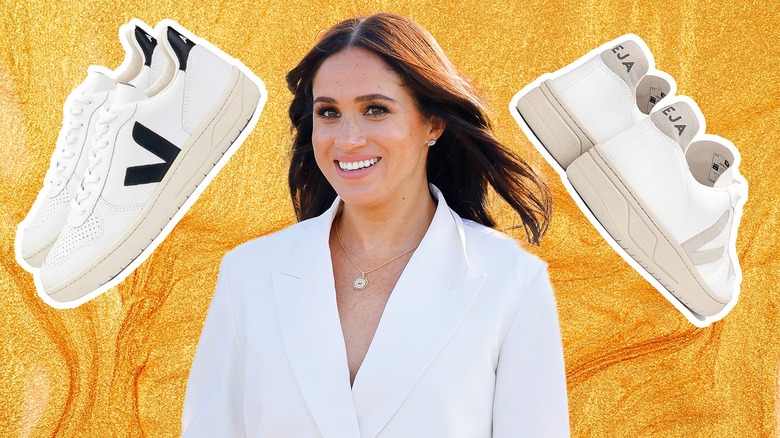 Static Media / Shutterstock / Getty
Between Meghan Markle's TikTok favorite foundation and her post-royal fashion, we enjoy looking to the duchess for beauty and style inspiration. Regardless of your opinions of the "Suits" actor, she's a style icon for her stunning yet never too over-the-top ensembles. So, we especially appreciate seeing her more casual everyday outfits. And of course, that includes her stylish footwear — who doesn't love seeing someone as famous as Markle rocking sneakers? Perhaps surprisingly, the fashionable royal-slash-actor wore a pair of sneakers that don't have what we'd expect to be a royal or TV star price tag.
Markle wears Veja sneakers — a sustainable French brand. The sneakers are relatively attainable, as you can purchase them not only from the Veja Store website but also from retailers like Nordstrom and Madewell. While the white Veja sneakers are still over $100 — so they're nowhere near cheap — most of them don't cost over $200, a relatively reasonable price to pay for a celebrity look. Thus, anyone comfortable spending between $100 and $200 on sneakers can wear that Markle-approved look.
Purchase these Veja sneakers to give Meghan Markle vibes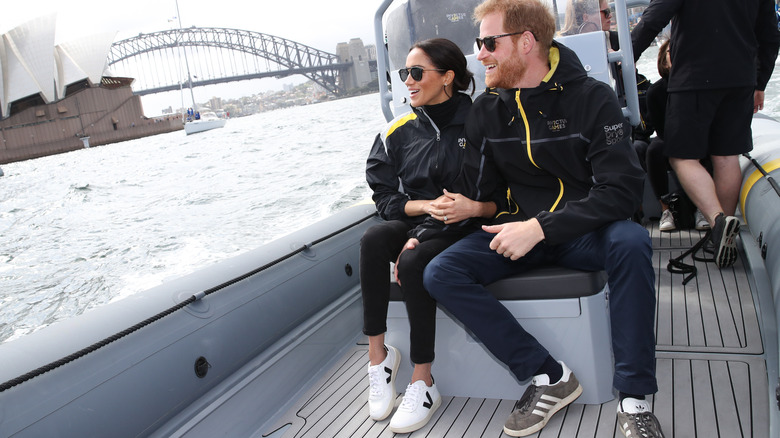 Chris Jackson/Getty Images
You have many stylish sporty options if you want to rock white Veja sneakers like Meghan Markle. Pictured above, Markle wore the Veja sneakers during a trip to Australia in 2018. Her specific pair was white with the black V logo. We believe those were the V-10 CWL White Black sneakers, one option for anyone looking to avoid sneakers featuring any genuine leather but still wants that chic look — C.W.L. means "Cotton Worked as Leather," available for $195. The Veja website offers many more white sneakers with black details, too, such as the Campo Chromefree Leather White Black sneakers, selling for $175. Furthermore, the Esplar Leather White Black sneakers are available for $150 on the Veja website, and they're ideal for anyone who appreciates sleek leather looks.
You can also purchase Veja sneakers from Nordstrom, such as the Veja V-12 Sneaker in Extra-white Cyprus, available for $175. These white sneakers have subtle dark green details instead of black, and have five out of five stars at the time of writing. Madewell also offers a plethora of Veja sneakers, and anyone looking for a slightly more colorful option should check out the Veja V-10 Sneakers in Colorblock, available for $195. Plus, they have 4.3 out of five stars with around 100 ratings at the time of writing, earning high scores for quality, style, and value.
What to know about the brand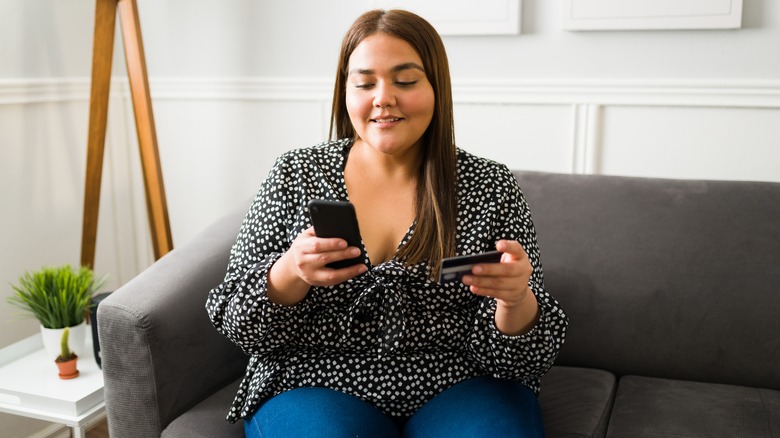 antoniodiaz/Shutterstock
Veja is super transparent about its materials and how the company makes the footwear, sharing on the Veja website that the brand uses materials like Amazonian rubber and makes the products in Brazil. Veja's site also explains that they believe strongly in treating factory workers fairly and respectfully, unlike other brands that take advantage of workers. Veja also makes an effort to be mindful of the environment through intentional acts like varying box sizes to prevent being wasteful. Thus, Meghan Markle fans who like to shop for sustainable products will likely enjoy Veja sneakers.
Regarding reviews of the brand, Veja has four out of five stars on Trustpilot with over 25,000 reviews at the time of writing — and named a "great" brand. One pleased reviewer even described Veja as, "My favorite brand now." Therefore, Veja isn't only an amazing brand for celebrities and royals — real-life "normal" shoppers seem to enjoy sporting sneakers from the brand, too.