Princess Diana's Favorite Perfume Is A Floral Scent Fit For A Royal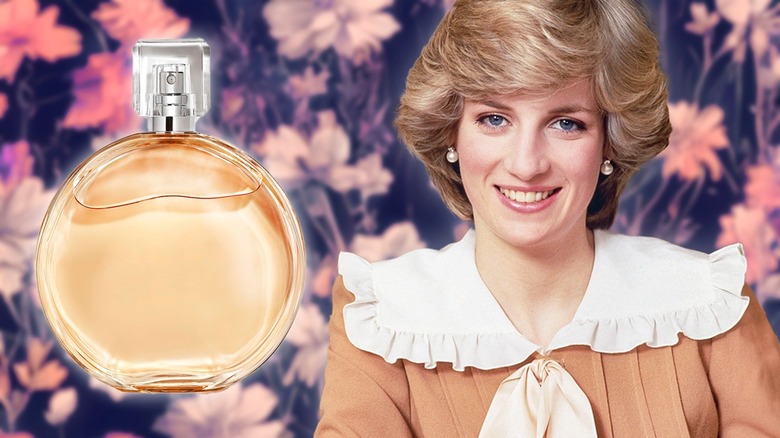 Static Media/Shutterstock/Getty
Before Kate Middleton and Meghan Markle, one of the most stylish royals was Princess Diana. The mother of the British heir apparent, William, Prince of Wales, Diana put the royal family on the fashion trends list with her keen sense of style. "What Diana did when she came onto the scene in the early eighties [was] she made [royal fashion] exciting," journalist and author Elizabeth Holmes explained (via Fashion Magazine). "She wore fashion-forward and trending pieces that were bold and bright."
While she may no longer be around to delight us with her captivating looks, we are still taking cues from the royal for our clothing and beauty choices. Diana's heightened sense of fashion and beauty knowledge is even evident in her preference for perfume. Her favorite fragrance from Hermès is the perfect floral scent that will help anyone feel as luxurious and graceful as the late princess. This iconic option is still favored by many and is a staple that may just become the perfume you splurge on and reach for every day.
Princess Diana adored Hermès 24 Faubourg
Perfume played a recurring role for Princess Diana. "She always, always, always wore fragrance, which is a huge thing in a woman's life," Mary Greenwell, the royal's makeup artist, shared with ABC News. Diana had at least three favorite fragrances, and, according to her butler Paul Burrell, Hermès' 24 Faubourg was her go-to scent.
As Hermès describes it, Hermès' 24 Faubourg evokes the scents of the Mediterranean Sea and the Indian Ocean, which is fitting for someone like Diana who was passionate about traveling and discovering new places. "With floral and amber notes, 24 Faubourg eau de parfum is bursting with the scent of white flowers, from radiant orange blossom and sunny jasmine to enveloping vanilla," reads the fragrance description. It is warm and sensual, making it a timeless addition to Hermès' lineup since its creation in 1996.
Although the cost may seem steep at $218 for 3.38 oz, the price is worth it for this gorgeous scent and its unique bottle design. Whether you're looking for a new signature fragrance or a decorative piece for your vanity, taking a tip from the late royal and giving this perfume a try is definitely worth considering.
Other fragrances worn by Princess Diana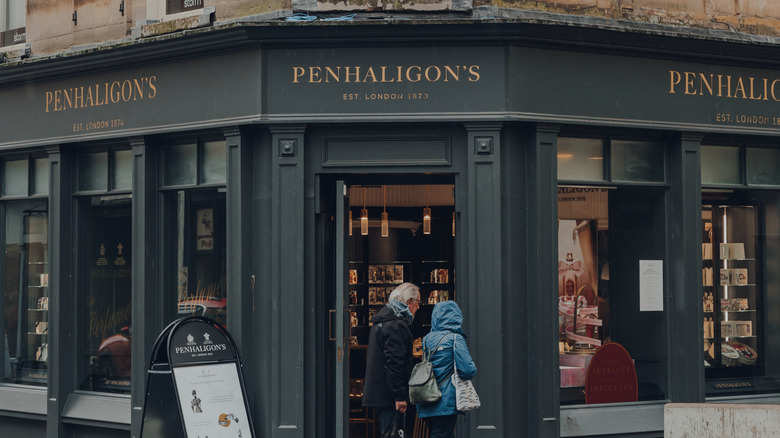 Alena Veasey/Shutterstock
With the abundance of fragrance options available to royals, it is unsurprising that at least two other perfumes caught Princess Diana's attention. The first of these scents shares the same floral profile as her signature Hermès fragrance and was the perfume she chose for her wedding day to the now King Charles III. Quelques Fleurs, produced by Houbigant, is an iconic fragrance that was reportedly one of the first majorly produced multi-floral perfumes on the market. Since its development in 1912, this fragrance has stood the test of time by containing numerous scents such as jasmine, tuberose, lily of the valley, violet, and rose.
The other fragrance that earns the royal top spot is no stranger to producing favorites for the famous family. Penhaligon's Bluebell is the third scent that was among Princess Diana's preferred perfumes. Penhaligon has a long history with the royal family and has provided many of their signature scents for years. With citrus, hyacinth, and clove, Bluebell is a woodier scent that is still airy and reminiscent of spring weather. This dazzling perfume, with its gorgeous blue hue, is perfect for those seeking a softer choice that feels cozy.