The Viral Butterfly Highlighter Hack That Will Brighten Up Your Makeup Routine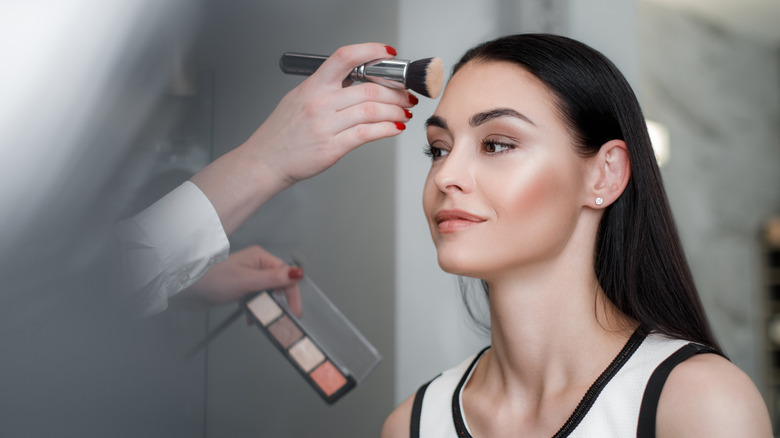 Olena Yakobchuk/Shutterstock
Highlighter can be tricky to get right, especially when you're in a rush. This is something that professional makeup artist Lisa Eldridge knows very well while working on set. With an impressive list of celebrity clientele, including Dua Lipa, Kate Winslet, and Nicole Kidman, Eldridge definitely knows what she's doing when it comes to adding some extra dimension and brightness with highlighter. That's why we're so excited to share a pro tip from one of the world's leading makeup artists herself. 
This tip is a game-changer whether you're a professional makeup artist who needs to work quickly on set or if you're a makeup novice at home looking for an easier way to apply your own highlighter. Eldridge's video has received over 600,000 views on TikTok along with hundreds of supportive comments. The next time you put on your highlighter, try out Eldridge's tip so you can dance the night away, just like Dua Lipa.
The butterfly highlighter hack
When Lisa Eldridge is on set, sometimes she only has mere seconds to give her client a touch-up. That's why she uses her "butterfly technique" to quickly give a little extra shine to the cheekbones.  
Eldridge applies a liquid highlighter on the sides of her hands (near the pinky fingers) and rubs her hands together to heat the product so it goes on more evenly. She applies the highlighter in a butterfly shape, slightly cupping her hands and using a rocking motion up to the temples. To seal in the shimmer, she lightly taps the product into the skin with her fingertips. 
"Honestly, I believe that hands are often the best makeup tools," says Eldridge in her video tutorial. The specific part of the hand she uses fits perfectly with the shape of the cheekbones. Eldridge uses her very own Elevated Glow Highlighter in her demonstration, but you can choose whichever highlighter is right for you. You can also try this hack with blush as well. 
According to lifestyle blog Steph LaReine, liquid higlighter is an especially good choice for those with dry skin. If you have skin that's on the oilier side, it's a good idea to only use a small amount of product, as your butterfly highlighter could look less dewy and more shiny. 
How can you try the butterfly technique on yourself?
In makeup artist Lisa Eldridge's video, she's using her butterfly method on a model. So there were a few commenters wondering how they could do it on their own faces. Good news: This hack can certainly be done by yourself. Replying to one of the commenters, Eldridge says, "On yourself, using the fleshier part of the side of your hand, pat onto the cheekbone [and] use a rocking motion up to your temples."
To see this done more clearly, Glamour's social media manager Luca Wetherby-Matthews made her own video trying out Eldridge's hack on herself. She puts the highlighter on the padded area under her thumbs, rubbing the product together and then applying it to her cheekbones. "It was such a flawless finish and looked really blended into my skin," Wetherby-Matthews says in her video. If you've struggled with highlighter before, the butterfly technique is a sure way to make your gorgeous skin glow.