The TikTok Nail Art Hack That Shows You How To Paint Salon-Worthy Flowers At Home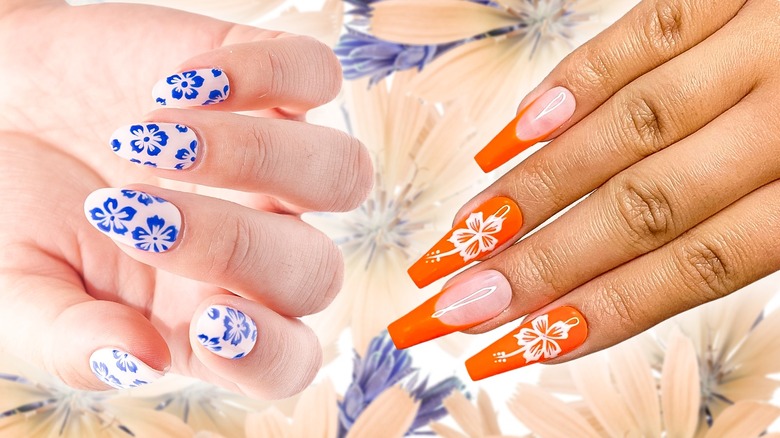 Static Media/Shutterstock
We may receive a commission on purchases made from links.
There are many beautiful floral-inspired nail art looks to explore, from the ditsy daisy nail trend to the rosette manicure. However, attempting some flower-inspired nail designs at home can be messy, time-consuming, and stressful. For a long time, many people only trusted professionals to apply these floral looks to their nails. However, the problem with relying on nail experts is that we don't always have the time or money to see them regularly, so those floral looks had to be reserved for special occasions.
Fast forward to the 2020s, and thanks to TikTok, we can now do many of our own floral nail designs without breaking the bank. The social media platform offers many helpful tips, such as a technique that prominently involves just dots and lines to create a hibiscus flower design. We are grateful for TikTok's role in making some of the most stunning nail designs more accessible to everyone!
TikTok shows viewers how to make hibiscus floral nail art
As soon as we saw @zacrylics's video teaching viewers how to create the hibiscus nail design, we became obsessed with it. In the clip, the TikToker applies white dots in a circular outline on the canvas. The dots are close together, but not touching each other. Then, they add more dots to a few areas outside the circle, creating corners. Using an ultra-slim nail brush tool, the TikToker creates tiny lines, pulling the middle of the dots closer to the center of the circle, creating the flower. After this, they add a curved line from the middle of the floral hibiscus shape to the outside and some more dots, finishing off the striking hibiscus flower-inspired art.
While you might be able to create the dots with a toothpick, we recommend investing in a nail art tool for more precision, as shown in the TikTok video. For example, the 5 pc 2 Way Dotting Pen Tool Nail Art Tip Dot Paint Manicure Kit sells for under $5 on Amazon. Furthermore, you'll benefit from using a slim nail brush like @zacrylics did in the tutorial, such as the Winstonia Pro Nail Art Long Striping Brush Striper Pen, available for under $10 on Amazon.
Other TikTok hacks for achieving salon-worthy florals at home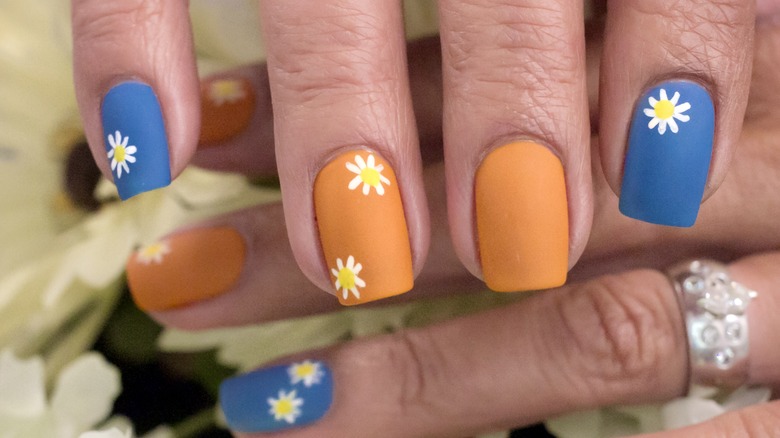 Christina Radcliffe/Getty Images
We not only appreciate TikTok's hibiscus flower nail art tutorial, but we also found some other exciting ideas on the platform. For instance, nail-focused TikToker @micheleekhxn shared a video demonstrating how to create a more basic flower design. In the clip, the TikToker starts by making small dots in a smaller circular outline and then extends them closer toward the center for a floral look. They incorporate a yellow dot in the middle for a minimalistic flower design.
If you prefer a larger petal look, Dha Beauty posted a video with a similar idea. First, paint four larger dots framing the bottom corner of your nail. Then, use a skinny tool to make a line from the middle of each to the nail corner. Next, use that line as a center guideline to create the petal outline around it and fill it in with the polish. Then, add a dot in the center to connect those larger petals. While this strategy seems like it could be trickier than the others, we think it will become easier with practice.