6 Hairstyling Mistakes To Avoid With Wavy Hair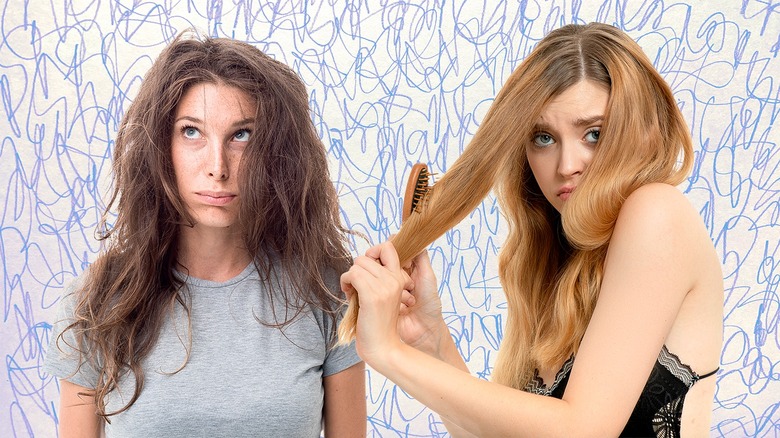 Static Media/Shutterstock
People with exotic tight curls on the one end of the spectrum versus those with sleek and shiny locks on the other — both are gorgeous looks that require a straightforward haircare routine with specifically targeted products for each type, hence their typically impeccable hairstyling.
But where does that leave wavy hair? Not quite straight and not quite curly either, wavies struggle to find the right balance of hairstyling to suit their hair type. From fine, slightly wavy hair strands (type 2a), to wavy with a slightly more defined S shape (type 2b) and wavy hair with well-defined S-shaped waves (type 2c), tending to wavy tresses can be challenging.
In their quest for beautiful waves, many search for tips for styling naturally wavy hair. And, yet, the majority frequently make hairstyling mistakes and ruin their natural waves instead of accentuating them. For example, picking the wrong hair product or choosing to treat your waves as straight (which they are not) or as curly (which also they are not) are common mistakes that leave your strands looking dull.
Picking the wrong hair product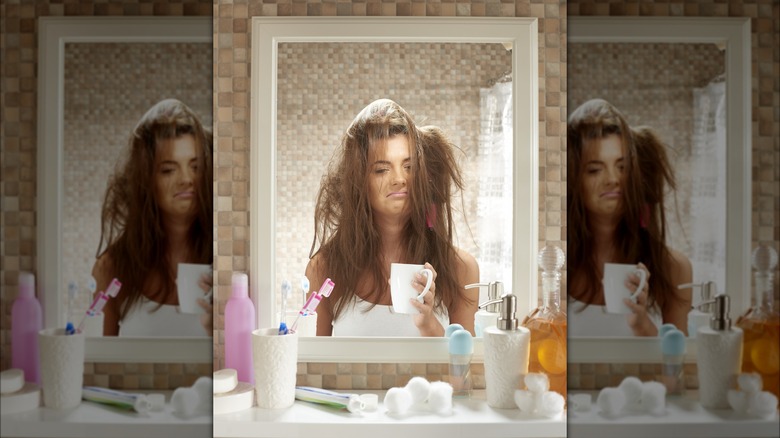 Sturti/Getty Images
Much like our bodies, our hair needs proper nourishment. You can't expect your waves to look healthy if you use products not suited for them. You shouldn't use shampoos tailored for curly hair or conditioners targeting straight locks. While it can be enticing to opt for cheap shampoos at the supermarket counter, these less expensive products contain harsh ingredients, such as sulfates, that take away the hair's natural moisture, making it susceptible to breakage and damage from dryness.
The best shampoos for wavy hair contain frizz-reducing agents and are free from sulfates (tip: if you're unsure whether your shampoo contains sulfates, check how much lather it creates — sulfate-free products don't lather). Instead, look for moisturizing products that contain natural ingredients to deeply hydrate your strands. For example, glycerin, oils, and butter are excellent for keeping your hair moisturized. Shea butter, argan oil, jojoba oil, and coconut oil will nourish your wavy locks and keep them looking shiny and glossy. If you're looking for natural detangling products, seed oils are light and fragrant, are easily absorbed, and perfectly seal the moisture around your strands. Great choices include Abyssinian seed oil and black seed oil. When choosing a conditioner, opt for one that's lightweight and which won't weigh down your hair.
Using a regular towel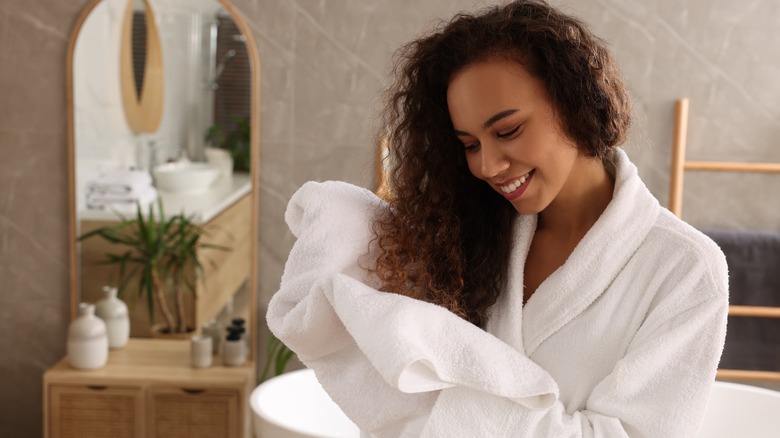 New Africa/Shutterstock
Using a regular towel to dry our hair is a mistake many of us are guilty of. We don't give it a second thought once we hop out of the shower. We grab a towel and wrap it around our hair to dry it off. There's no harm in that, right? Well, no, actually there is. Using a regular towel instead of a microfiber towel can lead to frizz and damage. Microfiber towels are gentler on the hair, so they protect it from breakage.
Hairstylist Sarah Klein told Makeup.com By L'Oréal why microfiber towels are great for wavy hair. "It actually absorbs more water without causing excessive dryness. It doesn't tangle or snag the hair, which overall causes less breakage," she said. Wet hair is more fragile than dry hair, so the rough texture of a cotton towel and the rubbing motion of the material on the head to dry our hair may damage the hair cuticles. Microfiber towels are great for any hair type but especially for wavy hair because the gentler drying allows the waves to assume their natural, smooth finish while drying.
Brushing your hair while dry (and using the wrong pillowcase!)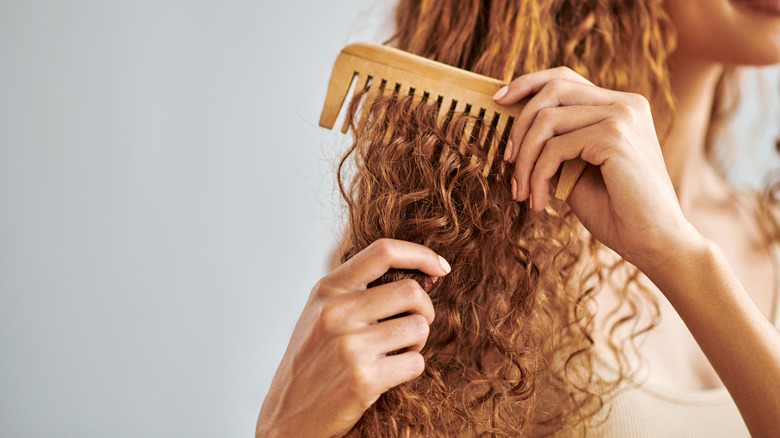 Delmaine Donson/Getty Images
Brushing your hair while dry can ruin your hair's natural waves and leave you with fizzy, unruly locks. Dry brushing causes friction and leads to breakage and split ends. Instead, brush your hair while it's wet after applying a leave-in conditioner using a wet brush or a wide-toothed comb.
Sometimes, wavies feel that brushing their dry hair is unavoidable, especially when waking up in the morning with frizzy locks. If you have ever experienced this wake-up hair nightmare, you might need to reconsider your pillow case. Yes, it seems an unlikely culprit, but cotton pillow cases are, in part, responsible for our hair's frizziness.
L'Oréal Professionnel Hairstylist Christine Fitzpatrick tells Makeup.com By L'Oréal that a cotton pillow case "creates friction with all the fibers. This causes damage and your hair can get these frizzy knots and split ends." She explains that the cotton fibers can sometimes actually absorb the hair product, leaving your hair untreated. Silk pillowcases, however, are soft on the hair and don't cause friction. Adds celebrity hairstylist Jen Atkin who founded OUAI Haircare and Mane Addicts, "These pillowcases work wonders for all kinds of hair types and textures as they keep the cuticle layer of the hair intact, and don't cause the friction traditional pillowcases do."
Resorting to heat styling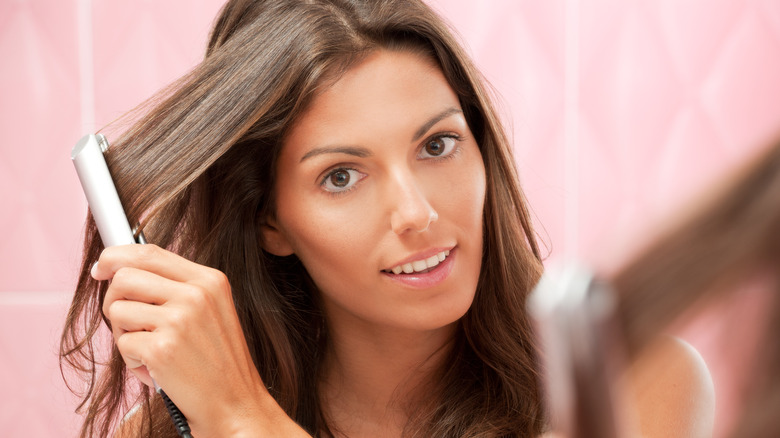 4fr/Getty Images
The heat versus no-heat debate seems to be as old as time. As technology evolves, heat-styling products are gentler on the hair, protecting them and offering a shiny end result. However, the truth is that resorting to heat styling repeatedly results in some form of damage and breakage. So, what exactly does heat do to our hair?
Heat alters the hydrogen bonds in our hair by temporarily breaking them and, thus, changing our hair's natural shape — so you can go from curly to wavy to straight. Of course, our locks will resume their natural shape after a while since heat styling impacts the hydrogen bonds but not the disulfide bonds (which can only be broken using chemicals, as is the case with chemical straightening techniques).
What about blow drying? Well, this, too, can damage our hair if we are not careful. Blow drying with high heat can cause damage by rapidly evaporating moisture. Lack of moisture leads to frizziness, making our hair look dull, dry, and brittle. If you must use a hair dryer (and can't wait for microfiber towels to work their magic), opt for a diffuser set on low temperature. If you have split ends from heat styling and need to resort to a haircut, take a look at these 40 cute wavy hairstyles.
Distributing hair product unevenly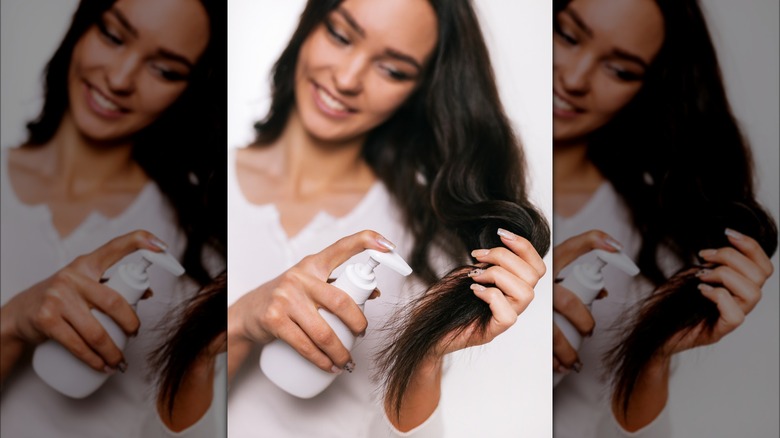 style-photo/Shutterstock
So, you've got your hair products carefully chosen according to your wave type. You choose products low on sulfate, staying clear from heavy conditioners that weigh your hair down. You don't buy cheap shampoo, and you diligently follow your hairstylist's advice on the best haircare products for wavy hair. This means that you are good to go. Right? Well, not exactly, because even with the perfect hair products, you could be guilty of distributing hair product unevenly.
Why is uneven hair product distribution an issue? If some of your strands get a lot of product and others don't, your waves won't have a consistent appearance once dry. Some will look smoother, and others will look frizzy. So, to ensure that all your locks are beautifully defined and your s-shaped waves are lusciously enviable, you need to apply product carefully.
To achieve even distribution, brush your hair while wet and section your tresses. Then, put a small amount of product on your fingertips and gently apply it to one of the sectioned tresses. Repeat the process until all of your hair has received an equal amount of product, be it butter, oil, or gel.
Forgetting to scrunch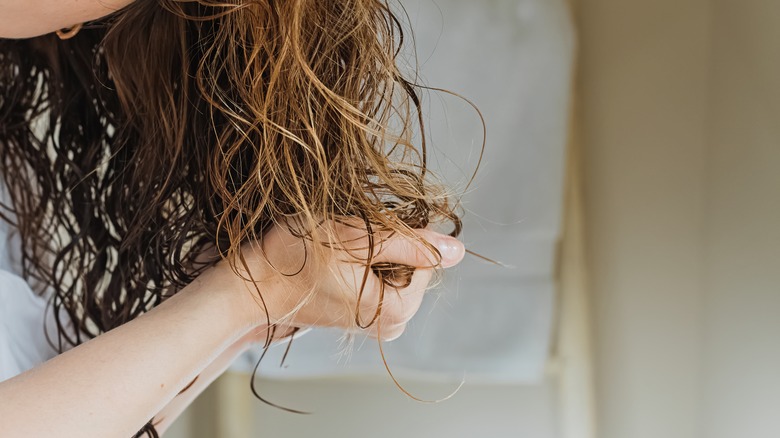 Chiociolla/Shutterstock
How you apply haircare products is just as paramount as what products you use. Even if you use top-notch products, if you forget to scrunch your hair at the end, you won't give your waves the boost they need to dry in a perfectly-defined shape. Remember that you need to apply your product on slightly damp hair to allow for maximum absorption and to section the hair in tresses to ensure even application. Then, once each strand is coated in product, you need to scrunch! Scrunching helps your hair assume its natural shape and reduces frizz. Just apply a small amount of foam on your palms and work the foam on your waves while scrunching them towards your scalp. Alternatively, you can try the upside-down styling method and scrunch while keeping your head down.
If you're in a hurry and can't wait for your hair to dry naturally, you may want to consider using a diffuser attachment on your hair dryer. A diffuser gently disperses the airflow, helping to maintain the integrity of your waves without causing excessive frizz. However, remember that heat is not your waves' friend, so keep it at a low setting to avoid any heat damage. Scrunching, whether done manually or with a bit of help from a diffuser, ensures your waves are beautifully defined and frizz-free, helping you rock the beach S-wave look!