We Tried Sol De Janeiro's After Hours Perfume Mist, & It's Fall Magic In A Bottle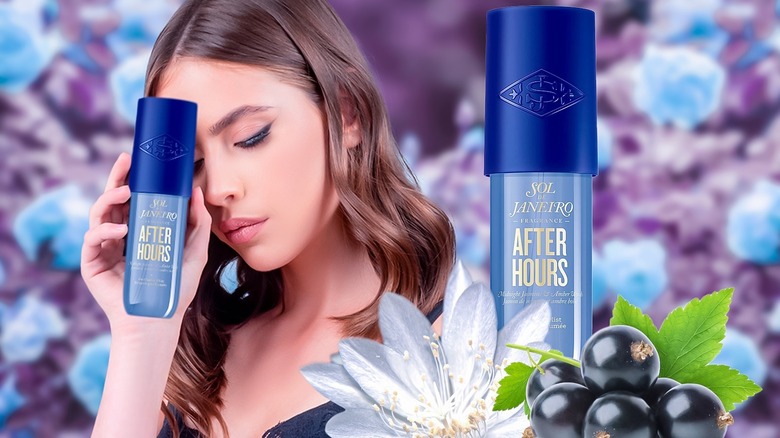 Static Media/Shutterstock
You don't need to be a perfume connoisseur to know about Sol De Janeiro, the women-led beauty brand responsible for the viral Brazilian Bum Bum Cream. The cult-favorite product has amassed over 300 million views under #bumbumcream on TikTok — and even Selena Gomez is a fan, incorporating the sweet-scented formula into her morning routine. Its claim to fame? It features delectable fragrance notes, from pistachio to heliotrope, as well as smoothing ingredients like guaraná extract for a skin-tightening appearance.
Bum Bum Cream may be Sol De Janeiro's most viral product, but the company also produces a stunning array of fragrances inspired by the sights and smells of Brazil. From Sol Cheirosa '62, said to be the Bum Bum Cream's eau de parfum counterpart, to Cheirosa '68, a beachy body mist, there's no shortage of scrumptious scents from the growing brand.
Its latest release, however, takes things to a slightly darker side in the best way imaginable. Recently, Sol De Janeiro launched a limited-edition perfume mist known as After Hours. Inspired by Rio de Janeiro's nightlife, the novel fragrance fuses Sol De Janeiro's signature sweet scents with captivating notes like midnight jasmine and amber woods. At Glam, we decided to take After Hours for a spin — and were met with truly magical results.
Our initial impression of Sol De Janeiro's After Hours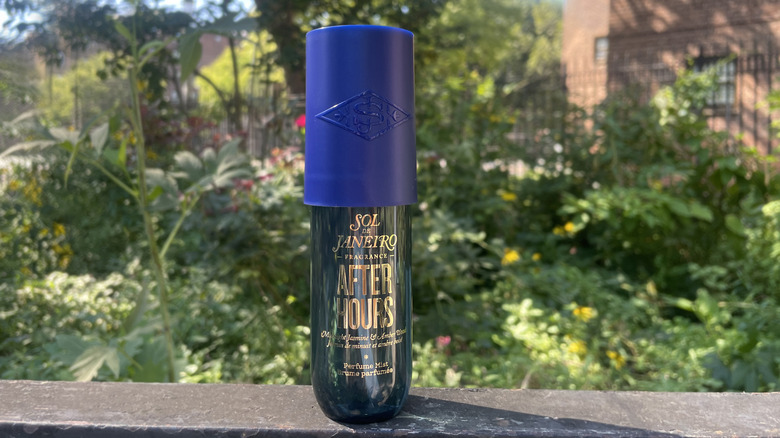 Robyn Song/Static Media
We can clearly recall our first foray into the world of Sol De Janeiro — a quick spritz of sunny Sol Cheirosa '62 perfume mist — and always associated the brand with playful daytime scents. Upon hearing about After Hours, we were curious to see how the brand would approach an evening fragrance. According to Sol De Janeiro, the $24, 3.04-oz perfume mist is an amber floral that unfolds with top notes of black currant and pear nectar.
During our first spray of After Hours, we didn't quite pick up on the fruity elements straight away. Instead, we were met with pure, ambery warmth, though Sol De Janeiro only lists amber woods among the base notes of the perfume. After we allowed the scent to settle into our skin, we noticed a wave of berry-like juiciness, as well as a flash of sweet vanilla. From there, the soft floral duo of jasmine and freesia entered the mix, and the gourmand notes faded into the background.
In its earliest stages, After Hours reminded us of a few of our favorite berry and amber fragrances from the past, like Britney Spears' Midnight Fantasy and BCBG Max Azria Bon Genre. It's incredibly sweet and fruity, but it has a bit of an edge — even if it takes some time to surface. By the second hour, After Hours' amber woods note had mellowed, and we detected the sweet and spicy undercurrent of caramelized patchouli.
Final thoughts on Sol De Janeiro's After Hours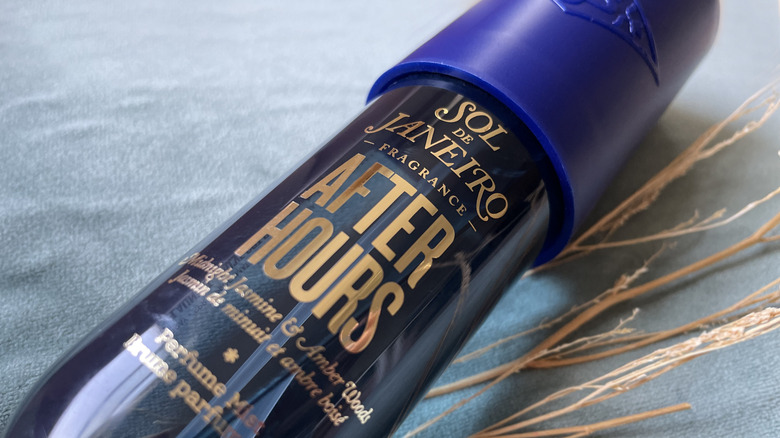 Robyn Song/Static Media
Wearing After Hours on the eve of a full moon seemed like the perfect time to give it a go, and we're glad we did. Its initial burst of sweetness was intense but short-lived, and it developed a sultrier, more evening-friendly profile as the night wore on.
That said, we wished this limited-edition scent came in different concentrations, like the brand's Sol Cheirosa '62 fragrance. Because After Hours is a perfume mist, not a perfume, its staying power left something to be desired. Still, while its top and middle notes disappeared fairly quickly, the amber woods held on for far longer than we expected. We sprayed After Hours onto our chest — misting the neckline of our sweater — and it was still perceptible two to three hours later. Although the caramelized patchouli note wasn't as pronounced as we would have liked, it provided a pleasant hit of greenery to break up the perfume's sweetness.
Despite its bold bouquet of notes, from jasmine to patchouli, After Hours' lightweight concentration makes it ideal for any season, though the notes remind us of fall. For even longer wear, try pairing it with other Sol De Janeiro favorites, like the Beija Flor Renewing Body Wash and iconic Bum Bum Cream. Above all, After Hours is a perfect evening solar fragrance, especially for fans of sweet gourmands, and it's versatile enough for standalone wear or layering over other fall scents in your perfume cabinet.