What Kind Of Scent Does A Solar Fragrance Have?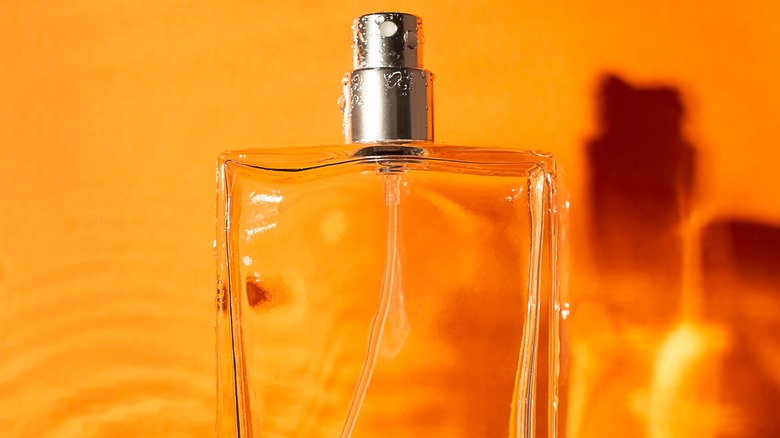 shinshila/Shutterstock
Fragrance lovers, rejoice. Although summer may be coming to an end, there's still a way you can enjoy a dose of sunshine as colder months approach. Solar fragrances are a burgeoning category in the perfume industry, and just like their name implies, they deliver bright, happy notes evocative of the sun's rays.
Advertisement
Even if you haven't heard of solar fragrance before, you may have already been acquainted with scents that would be considered solar. If you've ever slathered on fragranced sunscreen at the beach, you're familiar with some of its characteristically sunny notes. And these cheery scents might do more than you'd expect. For example, anecdotal and clinical evidence point to the possible anxiety-reducing effects of citrus extracts (via The Brazilian Journal of Anesthesiology).
That's not to say there isn't a moodier side to the solar fragrance category. With its extraterrestrial connotations, Thierry Mugler's Alien was one of the first solar fragrances to be introduced back in 2005. Redditor r0dlilje writes that the perfume "feels like a huge bouquet of jasmine flowers, basking in warm sunshine ... I love to wear Alien in the late spring and early summer, as the weather warms and the world ... seem[s] to come alive again."
Advertisement
The beauty of solar fragrances is their ability to project feelings of warmth throughout the seasons. Whether you're more into sipping pink lemonade or pumpkin spice, there's a solar fragrance to fit your personality perfectly.
Solar fragrance at a glance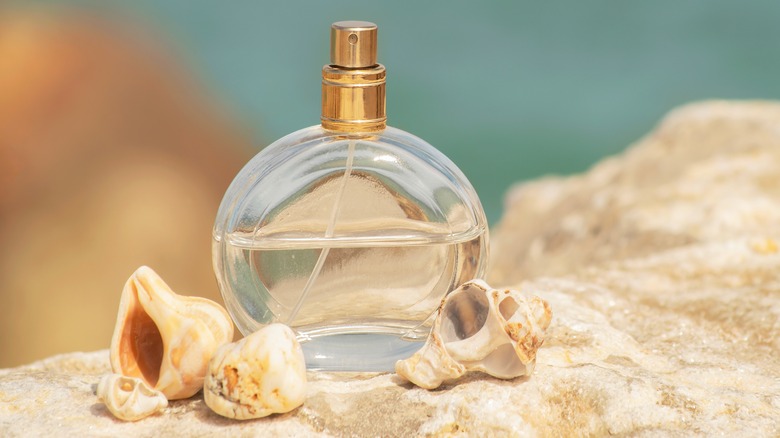 TANYARICO/Shutterstock
When taking a deeper look at solar fragrances, it's helpful to learn about their notes, which are the main ingredients that compose their scent. When it comes to solar fragrance notes, a few are synonymous with the category.
Advertisement
Some of the most recurrent notes in solar fragrances are citrus fruits. In fact, yuzu, lemon, bergamot, and neroli all play a role in popular formulations and help brighten the mood when sprayed. Floral ingredients such as jasmine, ylang-ylang, and heliotrope are a fresh addition to many solar scents. In addition to gourmand notes, like coconut, there are less commonly known but invaluable inclusions such as salicylates and marine notes. What's more, when asked to describe what vacation smells like, master perfumer Olivier Cresp told The Cut, "All the solar fragrances made with salicylates."
The solar fragrance is a somewhat new descriptor for a scent profile that has existed for almost a century. The first products to usher in the concept of solar fragrance were — you guessed it — sunscreens, like L'Oréal's Ambre Solaire, which debuted in 1935 (via L'Oréal). Ambre Solaire was one of the earliest cosmetics containing benzyl salicylate, a UV-blocking compound responsible for the scent we now associate inextricably with sunscreen.
Advertisement
Newer additions to the solar fragrance family include Phlur's Phloria, Issey Miyake's A Drop d'Issey, and Gucci's Gucci Bloom Profumo Di Fiori. With new solar fragrances being released consistently, you're sure to uncover one that appeals to you.
Choosing a solar fragrance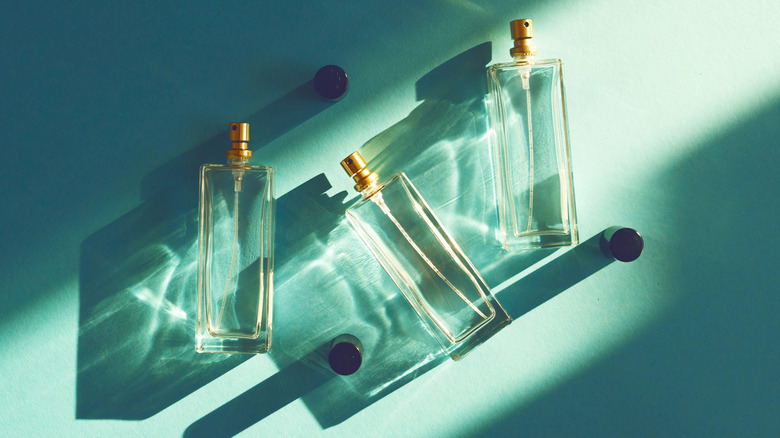 KaterynaTkachenko/Shutterstock
When choosing a solar fragrance of your own, there are a couple of factors to consider. First, think of your budget. Some solar perfumes go for as much as $235 per bottle, like Maison Francis Kurkdjian's Aqua Vitae. On the other end of the spectrum, H&M's Sunray fragrance delivers beach-inspired notes at $6.99.
Advertisement
Your personality also plays a role in figuring out your favorite solar fragrance. If you can't smell the scent in person and are purchasing an untested fragrance, a fragrance's mood can be determined by looking at its description.
Let's put it this way: if you decorate your place for Halloween in August, you'll probably prefer evening solar scents described as dark or atmospheric, like Sucreabeille's Old Soul, which utilizes woody and amber notes. For those that lean toward fragrances on the lighter side, look for reviews that mention daytime or bright qualities, like Dior's J'Adore Parfum D'Eau, a new alcohol-free perfume that features neroli and Chinese magnolia.
As with any fragrance, be aware of perfume dry-down and how your body chemistry can interact with your solar scent's notes. While the first few hours' top notes may charm you, you could develop a love-hate relationship when the fragrance settles on your skin. For that reason, you may want to utilize trial or sample sizes, or if possible, try a spray of the scent in-store to see how it performs on you.
Advertisement