Neutral Glam Nails Are The Manicure Trend Bringing Sparkle To Your Basic Design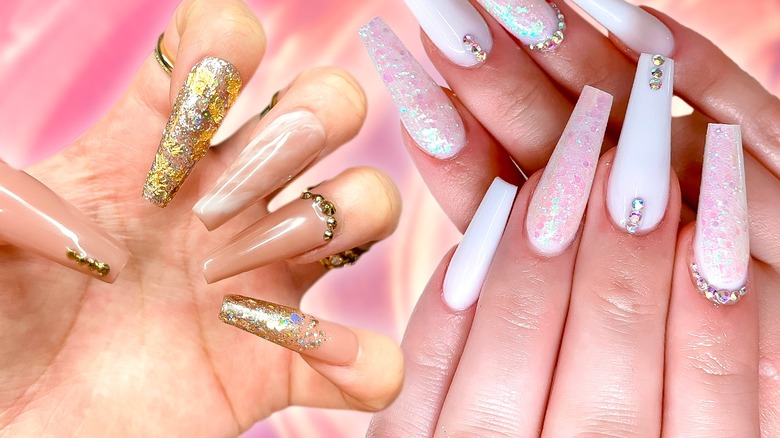 Static Media / Shutterstock
While maximalist nail art featuring bright, loud hues can be fun, those over-the-top looks aren't for everyone nor are they practical for many different settings, careers, and lifestyles. Thus, we enjoy exploring every variation of the minimalist manicure trend in 2023 for more pragmatic, yet chic, options. But keeping it neutral doesn't mean having to settle for boring manicures! Your manis don't need vivid colors to look glamorous; elevated neutral nails will reign in fall 2023, bringing the glam in the most practical ways.
If you appreciate sparkly manicures but want to stay within the neutral range, your nails will look trendy and beautiful in neutral polish with some shiny touches. "This fall we will see the exact opposite of the overtly girly manicure trends we've been seeing for almost all of 2023," Mazz Hanna, CEO of Nailing Hollywood, told Byrdie. "Moody grays and metallic gunmetals will add a moody twist this autumn. If you want to jazz things up a bit with your at-home mani, opt for a polish with a bit of shimmer..." 
We're excited to lean into this more neutral, minimalistic spin on glamorous nails!
Try sparkly black nails
There's no question that black manicures appear edgy, yet sleek and classic, with no extra embellishments. But what if you want your timeless, versatile manicure to look more glamorous? Just add some glitter! A striking dark manicure with some sparkly details on top will make it appear more unique and exciting.
Explore shiny French manicures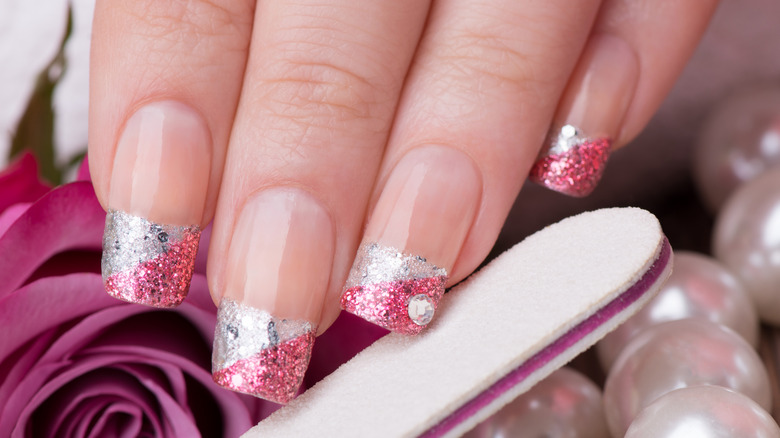 Flufi/Getty Images
Anyone who wants a glamorous twist on a classic French manicure should opt for a sparkly version that's also known as naked glitter nails. Whether you substitute the traditional white tips with glitter, incorporate some sparkly touches or gems to the bottoms of your nails, or just add an ultra-glossy top coat, French manicures will look more modern and trendy when they're shiny.
Experiment with sheer shimmer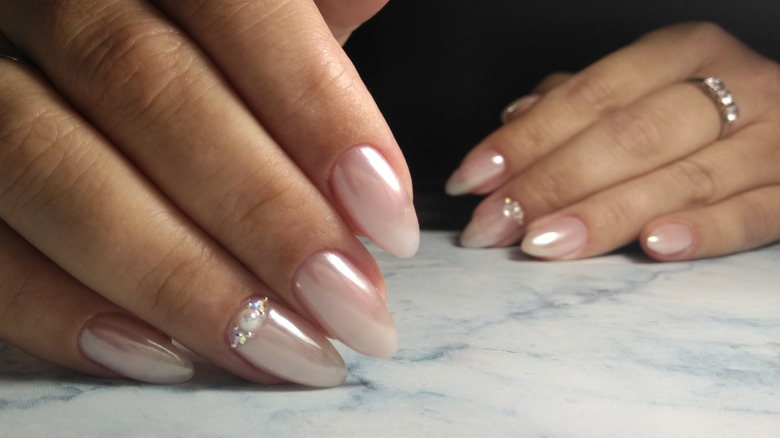 Olejohny/Getty Images
Do you want your nails to exude dainty glam? Go sheer instead of classic opaque for a low-key, yet super chic, look. For shiny nails that won't look too overpowering, find a see-through polish option featuring light sparkles. It'll be perfect for both work or special occasions.
Opt for glitzy grays
Get ready to see many shiny gray manicures in fall 2023. Since gray is such a practical, low-key nail polish color, it's one of the few manicure options that allows you to add all the shimmer, gloss, or glitter you want — and rock the look wherever you want — without it coming across as too bold.
Don't forget dainty, shimmering pastels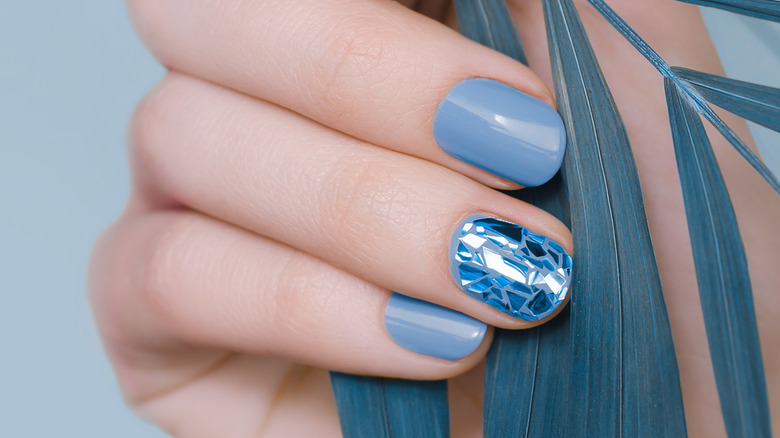 Dev_Maryna/Shutterstock
Finally, for a super subtle color, try pastel nail polish. Pastel pinks, blues, lavenders, and peaches are excellent choices if you're looking for soft, barely-there nails. Just don't forget to add some light shimmer on top to fit the delicate theme with a fun touch of playful glam.